Las Vegas is located in Mojave Desert in Nevada State. We have spent only 3 days in Las Vegas during that trip after returning from Hawaii. Nevertheless, we had enough time to visit many of the most famous hotels and the surrounding areas of desert.
Check out these articles about Hawaii.
Click on the small arrow from the map (top left corner) to expand the map legend and visualize all the touristic attractions mentioned in this article.
---
This article contains the following categories:
---

LOCATION
Las Vegas / Nevada State / USA;
DURATION & MONTH
3 days in December, 2018;
TRANSPORT
Airline tickets to the USA → momondo.com – flight from Honolulu where we have previously spent 1 week;
Car rental → Budget;
ACCOMMODATION
---

Las Vegas history
Las Vegas or Sin City was settled in 1905 when a railroad was open to link Los Angeles (California) and Salt Lake City (Utah). Initially it was only an attraction for some farmers from Utah. City's urbanization has begun in 1931 when work started for the Boulder Dam (currently known as Hoover Dam). Many theaters and casinos were built to entertain the dam construction male workers. When the dam was ready, the power supply provided by it allowed the construction of many hotels along the Strip. In the same year, 1931, after figuring out that gambling is very profitable for the local business, Nevada state legalized it at local level. It was the beginning of Las Vegas becoming the gaming capital of the world.
Fremont Street
Fremont Street was the most representative place of Las Vegas at that time. It was the first paved street and it received the first traffic light from the city.
As Las Vegas Strip depicts nowadays the glittery lights of the city, same did Fremont Street at that moment. Today Las Vegas is the city that never sleeps, famous for its vibrant nightlife. The main attractions are found on the Strip. Some of the themed hotels are MGM Grand, Bellagio, Caesars Palace, Venetian, Wynn, etc.
---
3-day itinerary in Las Vegas 
---
Detailed itinerary
DAY 1

We arrived in Las Vegas from Hawaii. It was a long day in which we changed 3 planes. After arriving in the airport, we went to pick up our car from Budget and eventually arrived at the hotel around 2 a.m. As expected, the first part of next day was dedicated to recover after the exhausting trip.
Whole Foods Market
For lunch we chose our favorite American supermarket chain called Whole Foods Market. It is an USDA Certified Organic grocery store. Besides the fresh organic produce, it also offers a large selection of vitamins and supplements, as well as handmade soaps, fresh flowers etc.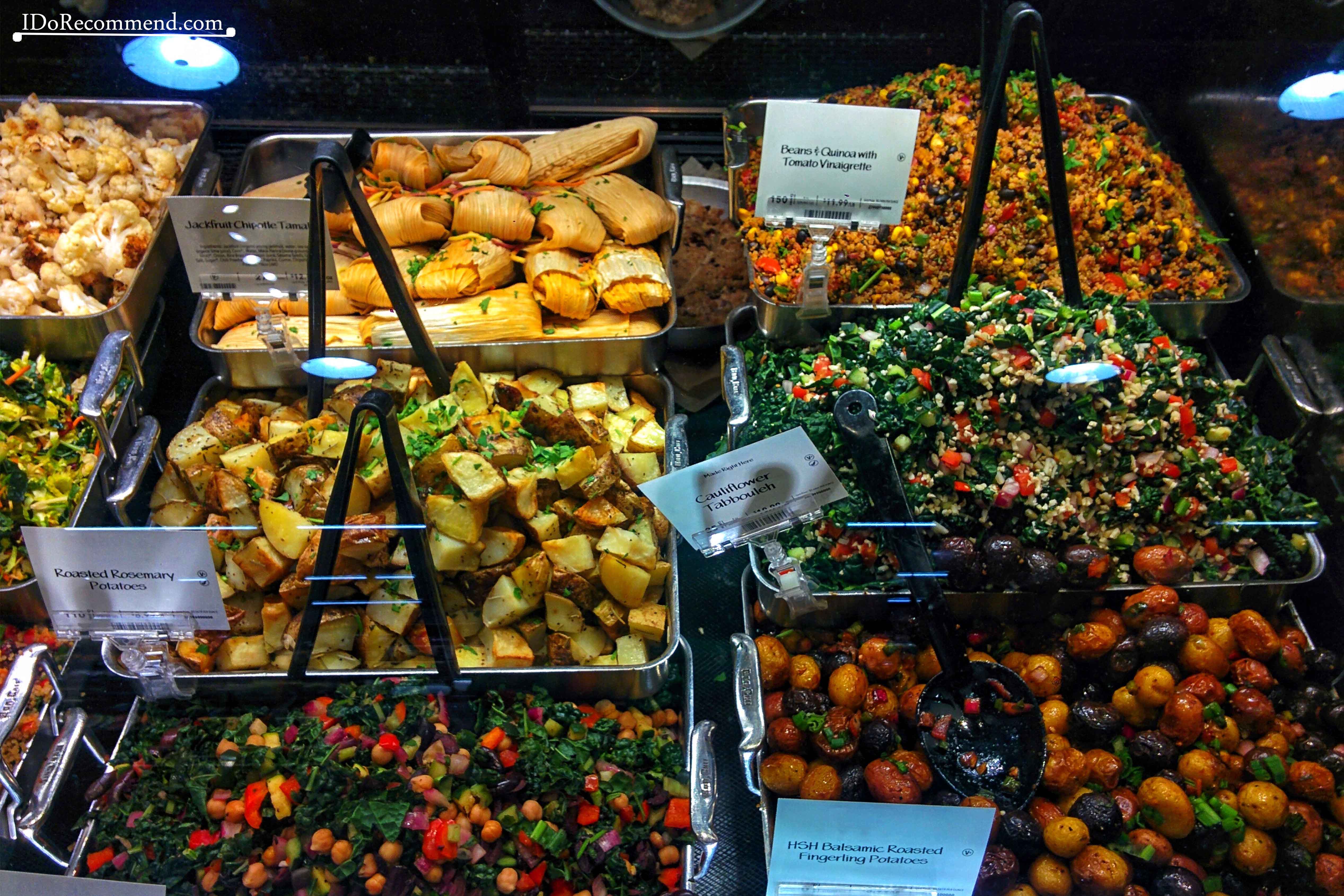 Whole Foods Hot Bar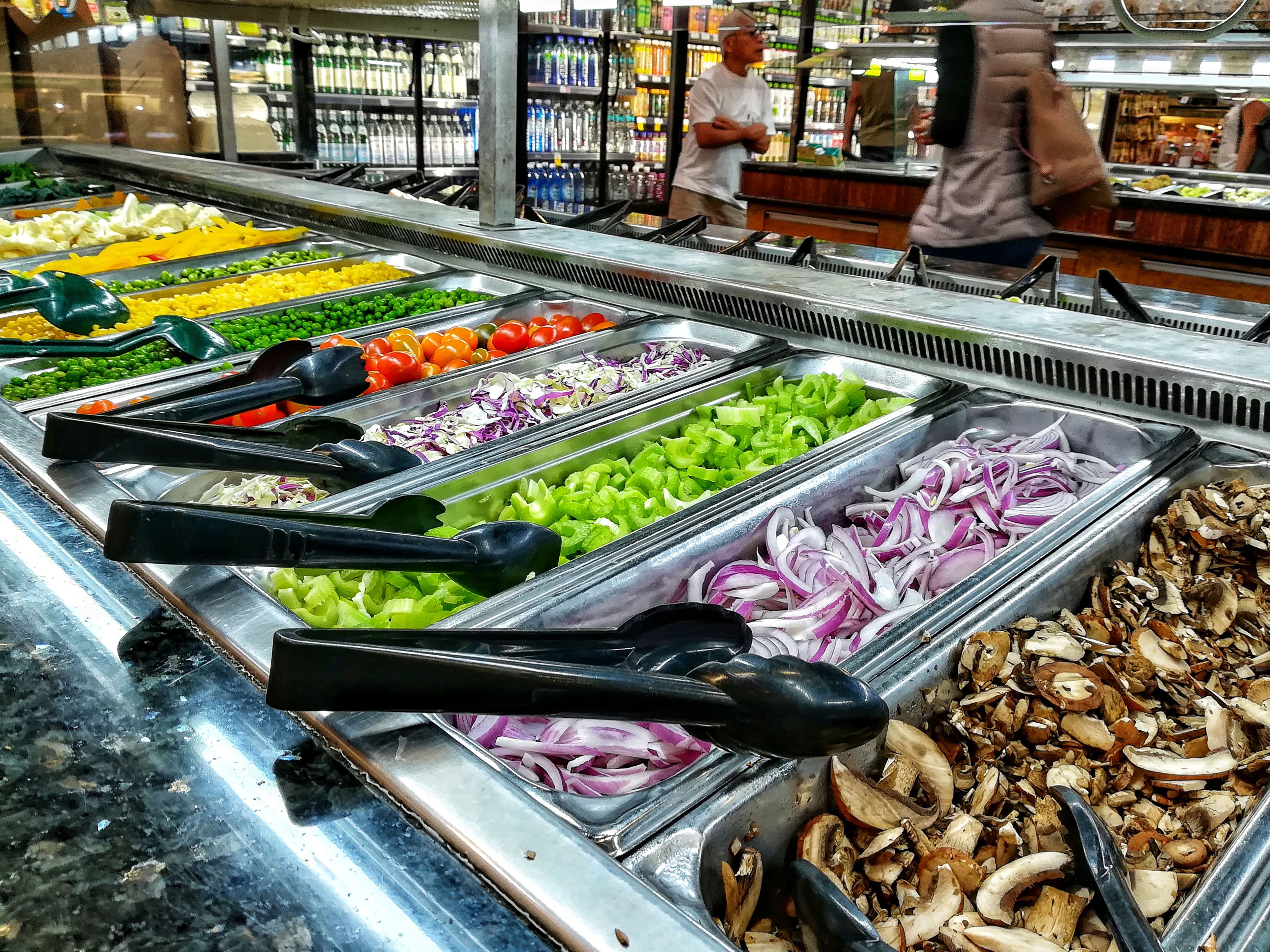 Whole Foods Salad Bar
We like to mix several dishes from the hot bar with salads and always with a fresh juice or an immunity shot (my favorite is the one made of wheat grass and ginger which has the strongest taste).
Each WFM store has a designated area for eating or enjoying a beverage. It's not the cheapest location for eating, but we preferred to spend money on quality food rather than on gambling (which by the way, as weird as it may sound, we have not tried even once 🙂 ).
Valley of Fire State Park
⚠️Entrance fee $10/vehicle or $75/one year and 20$/camping/night.
official website: valley-of-fire.com;
located in Nevada, less than 1h drive from Las Vegas;
Nevada's oldest and biggest state park, a desert environment with stunning rock formations;
the park offers many hiking trails;
no phone signal in the park;
The previous night, we checked a blog that we really loved, Earth Trekkers, and found there some spectacular photos from a natural area near Las Vegas. That day, immediately after lunch, we decided to take advantage of the nice weather and go visit the Valley of Fire State Park, 1h away from Las Vegas by car. It's like a blessing to walk around in the middle of the desert in December with temperatures around 15°C/59°F . In summer the average temperature is about 39°C/102°F.
Check out this article for more photos from the Valley of Fire.
The Valley of Fire National Park consists of many bright red sandstone that create amazing vistas. There is a winding scenic loop road that passes by many points of interest (check out the entire list here) like the Beehives, White Domes, Seven Sisters, Atlatl Rock, Arch Rock etc.
I was simply amazed by the natural beauty from the Valley of Fire. Anywhere you looked around, there was a breathtaking view. You can spend more than a day in the park. There is even a camping place for tents/RVs. You can have a picnic in the shaded areas or hike one of the various trails (Rainbow Vista, Pink Canyon, The Fire Wave, White Domes etc.).
Sunset near Las Vegas
On the way back to Las Vegas we saw one of the most amazing sunsets. The sun greeted our eyes with a wide range of red tones.
Fremont Street at night in Downtown Las Vegas
At night we visited Fremont Street in Downtown Las Vegas. It was the first paved street in Las Vegas. To this day, it's still one of the most famous streets in Las Vegas besides Las Vegas Strip.
I didn't like it that much because it was extremely noisy and not as stylish as the sophisticated hotels from the Strip. But it is an experience to see how Las Vegas looked like in the beginning. The street is home to live concerts, many cheap gift shops, a free light show on the world's largest video screen (Viva Vision). Under that screen there is a zip line (SlotZilla) where you can fly above Fremont like Superman.
---
DAY 2

Las Vegas outlets
In the first part of that day we went shopping. In Las Vegas there are two big outlets: LV North and South Premium Outlets. I was surprised to find out that there is a parking fee ($5 for 0-3h and $10 for more than 3h). I consider that it's not normal to charge this additional fee in a place where people spend enough money anyway.
Shop more for less.
I am not a shopaholic, so we didn't spend much time there 🙂 We bought some sport items for our upcoming mountain hikings and some items for our families' members. Prices are almost halved, depending on the article. The NorthFace company has a store in the center of the North Outlet with lots of quality sports items. That is our favorite. From them we bought in the past a 2-person tent for camping in the American National Parks (that trip itinerary will be posted on the blog later).
All the items fit in a luggage that we bought directly from the US (Walmart) – our only cabin luggage for the whole trip. When leaving Europe, we took with us only hand luggages (a 25L, respectively 35L hiking backpacks and an extra normal backpack for valuables). We were about to change 10 planes in total throughout the trip and we did not want to risk losing a cabin luggage. Moreover, we saved some money.
Lunch
For lunch we wanted to try another organic supermarket, Sprouts Farmers Market, but the variety of products was not as high as we had expected. Therefore, we decided to have lunch as usual at Whole Foods Market, from where we bought some supplements and vitamins as well.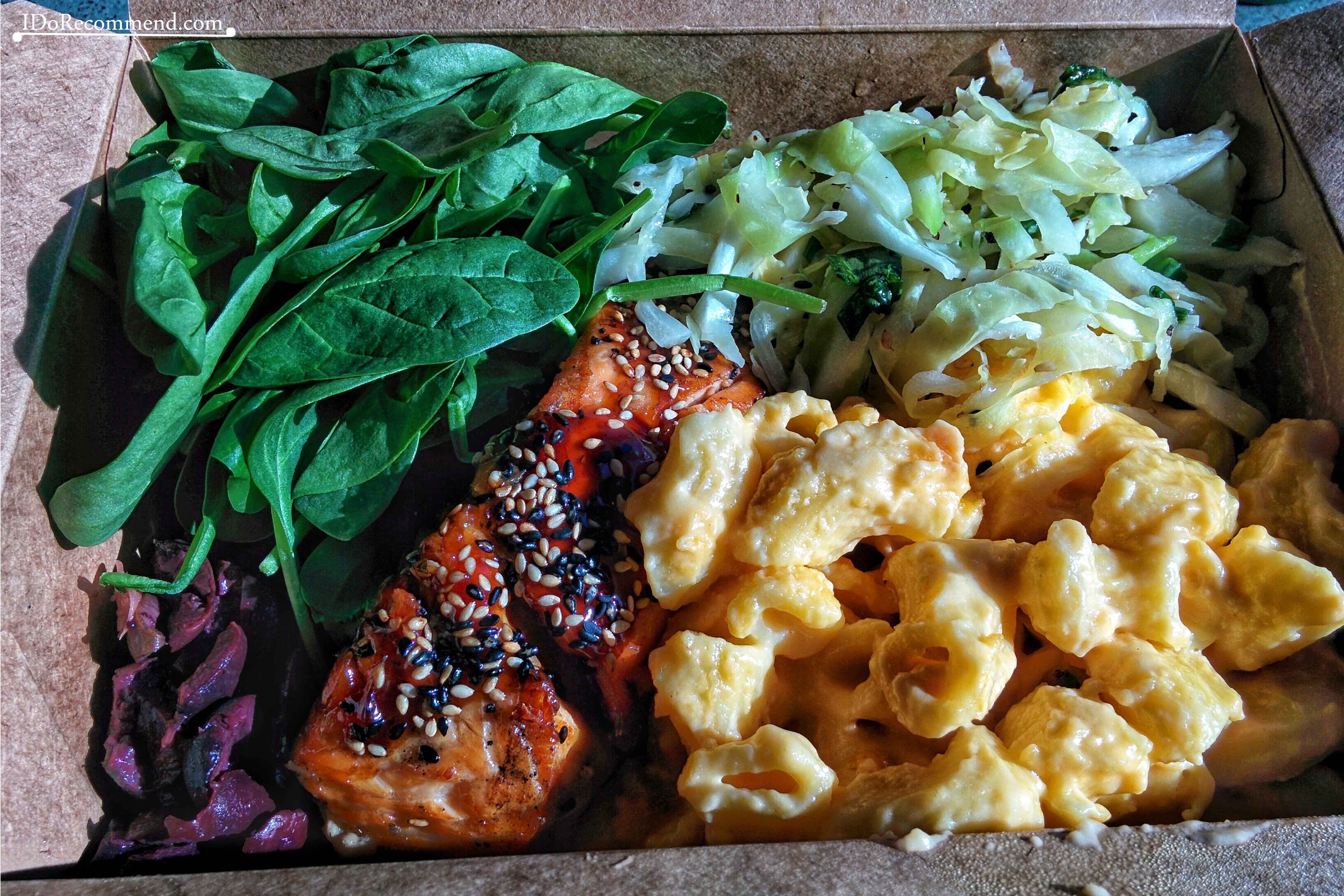 In America there is a huge variety of products of any kind, so if you want to save money, the best it is to avoid going shopping. Otherwise, it's impossible not to buy something, even though you don't necessarily need it. This is also valid in other countries, but from our experience we can say that America is the top when talking about shopping. There you can find anything. And the way the products are purposefully presented, packed and placed on the shelves, makes you take the money out of your pocket.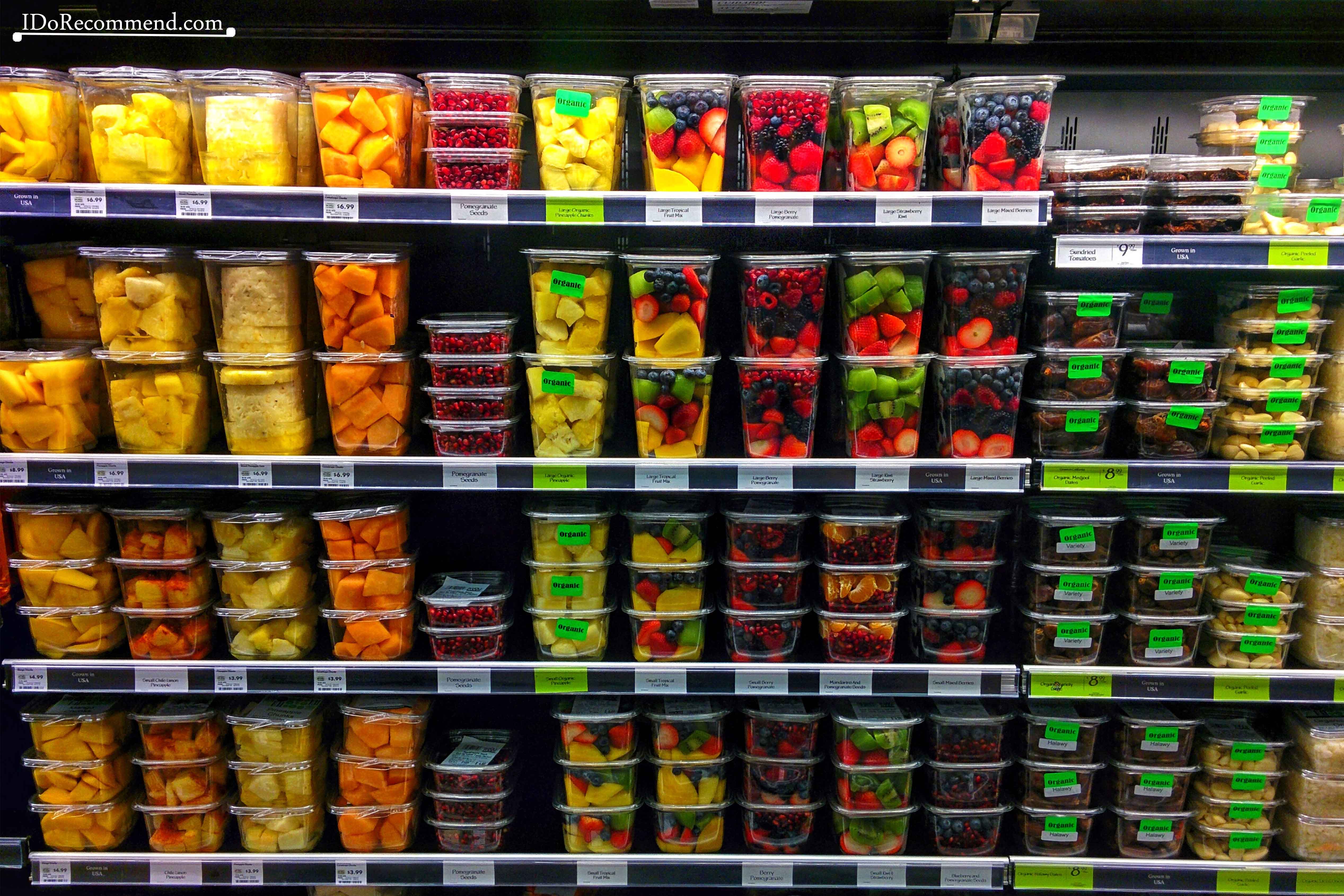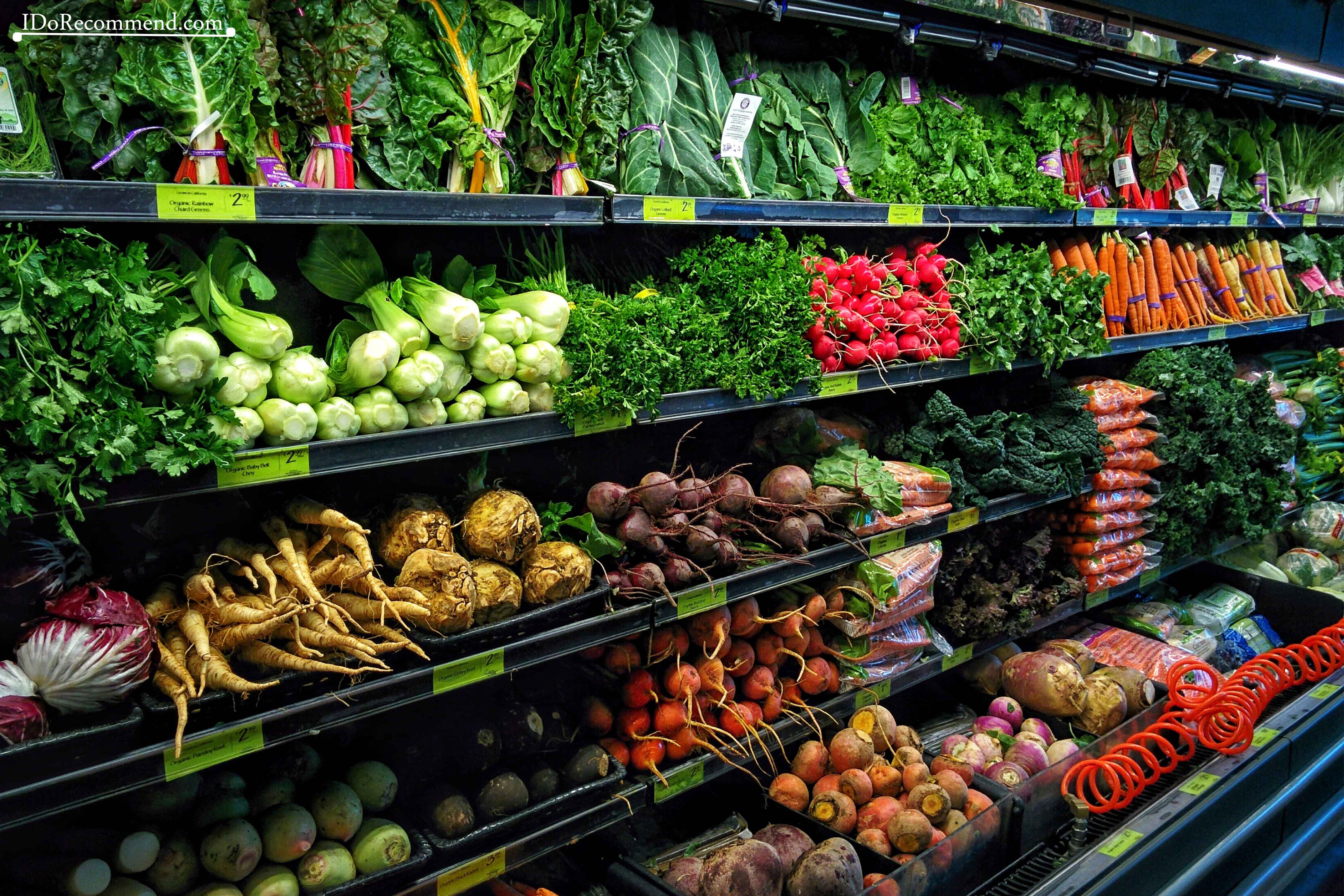 Dinner
For dinner we chose a typical American restaurant, Ellis Island Barbeque. To get to the restaurant, we had to pass through their casino. So the gambling enthusiasts had no reason to leave the complex. If they were hungry, they would go in the back to the restaurant where the portions' size were big, with an affordable price.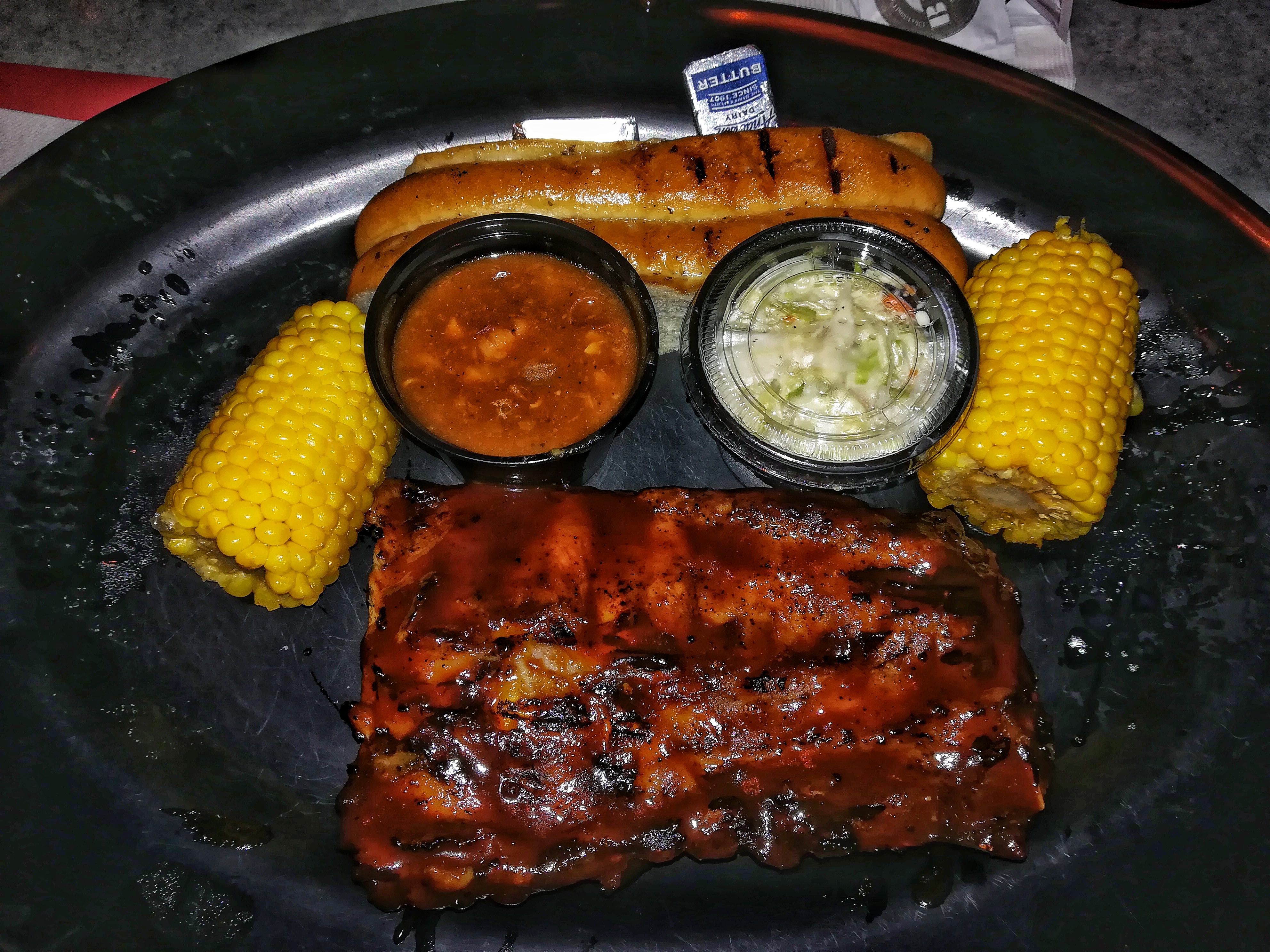 Apart from the moments when I'm traveling, I eat rarely meat. But that time I made an exception. At Ellis Island Barbeque I ordered pork ribs which came with an unusual side to my taste, but which eventually turned out to be good. The side consisted of boiled corn, white beans, cabbage salad and a sweet bread bar. That bread reminded me of my childhood when I ate daily bars sprinkled with poppy seeds at school (as the one seen below). Yummy!
At the restaurant, at the table next to ours I saw a boy in his early 20's who had dinner with his grandmother. I imagined that lady playing roulette after having dinner 🙂 And I did a comparison with our grandmothers' habits which are totally different in Romania. Most of the time, our grandmothers spend their time watching TV.
Las Vegas Strip
During daytime, we took a walk along the Las Vegas Strip. Each hotel has a casino area, an interior esplanade/area with numerous shops, restaurants, bars, clubs, resort pools, spas, (wedding) salons, and much more to fulfill any desire. They also offer other services like: Las Vegas / Lake Mead / Hoover Dam / Grand Canyon tours (by helicopter / jeeps), scenic day trips (e.g.: by car to Valley of Fire) and other wonderful excursions. But for more details you can ask directly at any Concierge desk and they will assist you with the arrangements.
In our next trip in the US, I plan to try the experience of being aboard a helicopter and see the Grand Canyon from above. This time we couldn't make it as it was not on the budget (the price for a helicopter flight exceeds $200 / person).
I will list below some of the main attractions for each hotel we've visited.
1. Wynn Las Vegas & Encore
The Wynn resort complex includes the Wynn Hotel, as well as the Encore Hotel. The complex is the world's 7th-largest hotel and one of the finest hotels in the world.
It hosts various shows like: singing performances (Diana Ross, Robbie Williams etc.), stand-up comedy (Chris Tucker) and acrobatic (Le Rêve – The Dream).
Le Rêve – The Dream – Acrobatic show set inside an aqua theater-in-the-round, voted "Best Production Show" in Las Vegas.

Follow the show's heroine, The Dreamer, through a suspenseful dream sequence on her journey to choose between the dueling desires of true love and dark passion.
This section is extremely interesting for food lovers, but not only. There are several classes available like cooking with a 5-star chef, learning how to decorate cakes like a pro, preparing the perfect steak, mastering the art of sushi, and many more. Check out the entire list of classes here.
2. Bellagio
Designed to mesmerize.
Bellagio resort was inspired by the Italian town with the same name, Bellagio, which is located on Lake Como. The hotel is famed for its elegance. What I liked the most there are the Fountains of Bellagio and the Conservatory and botanical garden which are free to visit and attract people from around the globe. In terms of shows, the "O" production of Cirque du Soleil is by far one of the most impressive shows I've ever seen until now.
In front of the hotel, there is a big lake which houses the Fountains of Bellagio. This is a dancing water fountain, synchronized to music. Watch the video below to get into that atmosphere.
The Conservatory is located next to Bellagio's lobby. Right before getting there, you will see a spectacular glass ceiling set in floral patterns,  whose framework is the sculpted green metal of oxidized copper.
Each season, many horticulturalists and designers transform the Conservatory into amazing floral displays. There are 5 displays over a year, one for each season, along with a special display for Chinese New Year. When the displays rotate, 90% of the flowers, plants and trees which were used are recycled.
The Cirque du Soleil's aquatic production called simply "O" is a stunning spectacle featuring aerial acrobatics, water dives and special effects. The show is housed inside Bellagio's elegant theater.
Weaving a tapestry of artistry, surrealism and theatrical romance, 'O' pays tribute to the beauty of theatre. Inspired by the concept of infinity and the elegance of water, world-class acrobats, synchronized swimmers and divers create a breathtaking experience.
3. Cosmopolitan
Cosmopolitan is another luxury resort located on Las Vegas Strip.
The Chandelier is an original and interesting architectural structure that houses 3 unique bar experiences. It is created by shimmering, beaded curtains of light.
---
DAY 3

Pawn Stars
As I am passionate about antiques, in the morning of the third day spent in Las Vegas, we went visiting World Famous Gold&Silver Pawn Stars. It appears in the American reality television series, Pawn Stars, which depicts staff's interactions with customers who bring in artifacts to sell or pawn. There were a lot of items to buy from paintings, jewelry, coins, concert tickets from the past or posters with Led Zeppelin, Aerosmith, Queen etc. For a collector, that's an amazing and exciting place to be. I didn't buy anything because our luggage was already full, but I loved to take a look over there.
Red Rock Canyon
⚠️Entrance fee $15/vehicle/day. Otherwise, buy America the Beautiful Annual Pass to enter more than 2000 American Natural Parks and Recreation Sites ($80/valid 1 year).
official website: redrockcanyonlv.org;
located in Nevada, less than 30 minutes drive from Las Vegas;
check out this link to see the hiking trails;
The weather was sunny, so we took advantage of it and visited Red Rock Canyon, another spectacular national conservation area, which is very close to Las Vegas (30 minutes by car). It is located in the middle of Mojave Desert. This touristic place is formed by many large red rock formations like sandstone peaks and walls. For me it wasn't as spectacular as the Valley of Fire (check out the article here), but it has beautiful landscapes.
After paying the entry fee, we've entered the 13-mile Scenic Loop Drive. We've been passing through arid landscapes like Calico Hills (trail map here) and Lost Creek Canyon (this is suitable for visitors of all ages). It is a popular destination for hiking and rock climbing.  Nevertheless, there are many other activities than you could do in the area like: horseback riding, mountain biking, have a picnic, camping, night skies. Ask the people from the Visitor Center for more details or check yourself this website.
Las Vegas Strip
After dinner, we took a walk along the Las Vegas Strip to visit more resorts besides the ones seen one day ago (article here). Each hotel has a casino area, an interior esplanade/area with numerous shops, restaurants, bars, clubs, resort pools, spas, (wedding) salons, and much more to fulfill any desire. They also offer other services like: Las Vegas / Lake Mead / Hoover Dam / Grand Canyon tours (by helicopter / jeeps), scenic day trips (e.g.: by car to Valley of Fire) and other wonderful excursions. But for more details you can ask directly at any Concierge desk and they will assist you with the arrangements.
You can find below more information about those resort hotels, together with some entertainment activities offered by each one of them.
1. New York – New York
The New York-New York resort, evokes New York City in its architecture. It includes several towers and monuments as the ones found in New York: Empire State Building, Chrysler Building, the Statue of Liberty and more. The list of entertainment activities offered by this hotel is found here.
Fasten your safety belts and prepare for liftoff!
This coaster offers a 4D experience in a high speed ride combined with immersive graphics.
Video source – Coaster Force
It is a seductive show for people 18+.
2. MGM Grand
The MGM Grand resort is the 3-largest hotel complex in the world.
KÀ's technical marvel remains unmatched.
This is another jaw-dropping production signed by Cirque du Soleil. The KÀ show features acrobatics, martial arts, pyrotechnics and aerial adventures.
The arena hosts concerts, championship fights, premier sports action (basketball tournament) etc. If you plan to go there, check out this link for the upcoming events.
Dinner at Outback Steakhouse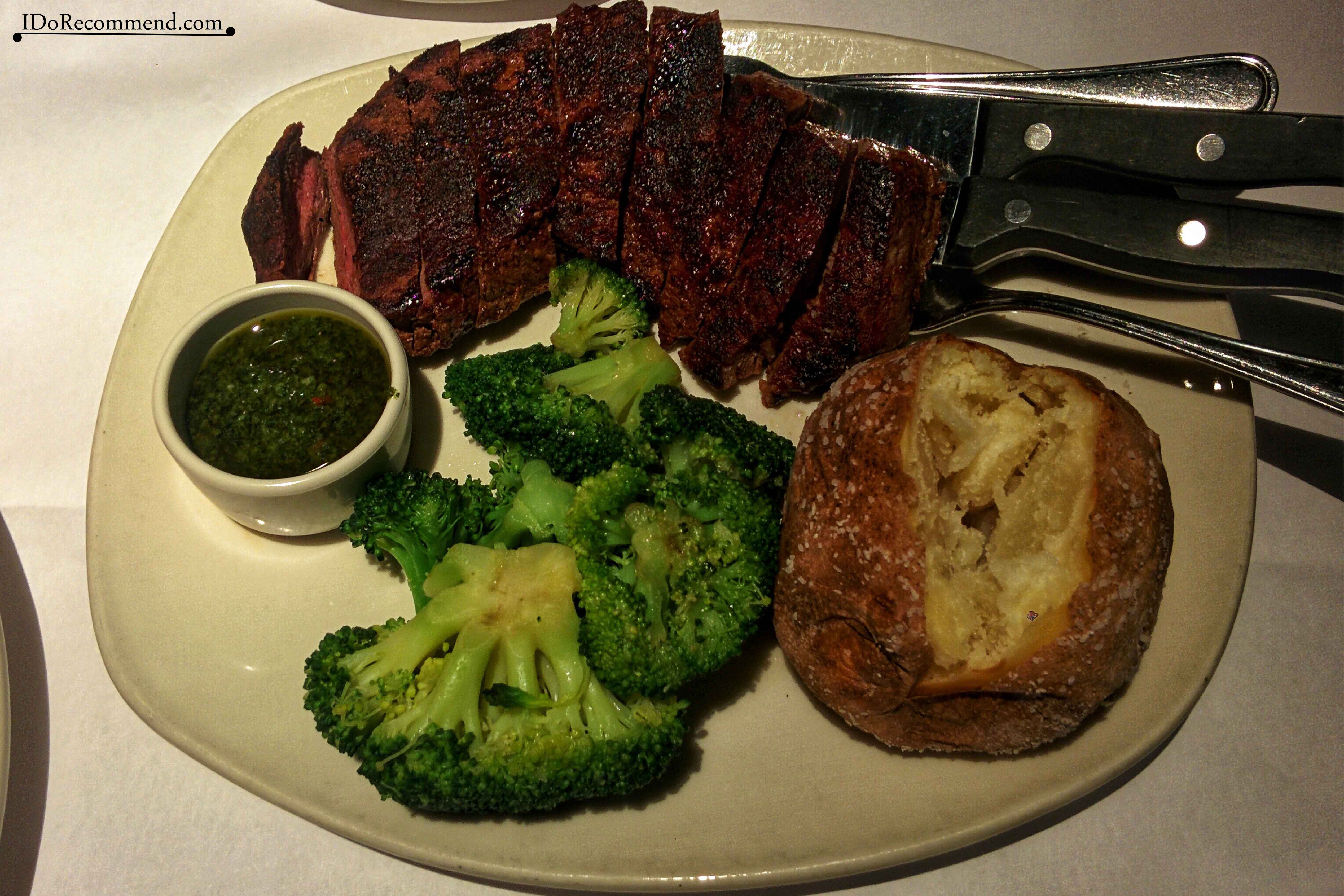 Outback Steakhouse is an Australian-themed American chain, which is located on the Strip. It has a cozy and casual atmosphere. The steak that we had was juicy and really good.
In addition, the restaurant is located just across from the hotel resort called Mirage. While we were eating, we were watching the Volcano eruption show from Mirage's front yard.
---

During our vacation we have tried to visit as many hotels as possible because we were curious how the Christmas decor looked like.
As we are not into gambling, we have preferred to spend the rest of the time in the nature admiring the desert landscapes. It was a relief after all that noise and agitation from the resorts. There are some incredible natural areas close to Las Vegas. It took us about 1 hour to get there by car. The classic desert scenery is like that one that appears in Hollywood westerns. Their rock formations are spectacular and allow the tourists to spend a relaxing half a day cycling or hiking in the area.
Here are some impressions after the 3 days spent in Las Vegas:
HOLIDAY DURATION
The holiday duration was neither short, nor long. For us it may become tiring to spend more than some couple of days in Las Vegas because of the continuous noise and agitation. In that case is was like an energy boost after the week spent in the remote natural areas of Hawaii.
BEST TIME TO VISIT
December was the best time to visit the city due to the mild weather and the Christmas decorations. The weather was very pleasant (15°C=59°F during daytime) and during week time the city was not crowded at all. Most of the tourists came in the weekend right before the Christmas. In summer it is extremely hot and almost impossible to walk long distances on the Strip during daytime.
HOTEL
Plaza Hotel is next to Fremont Street, but you need a car to get to the Strip.
ENTERTAINMENT
Las Vegas is always a good destination for entertainment. The possibilities of having fun are endless.
GAMBLING
It was surprising to see slot machines even in the airport and at the car rental office.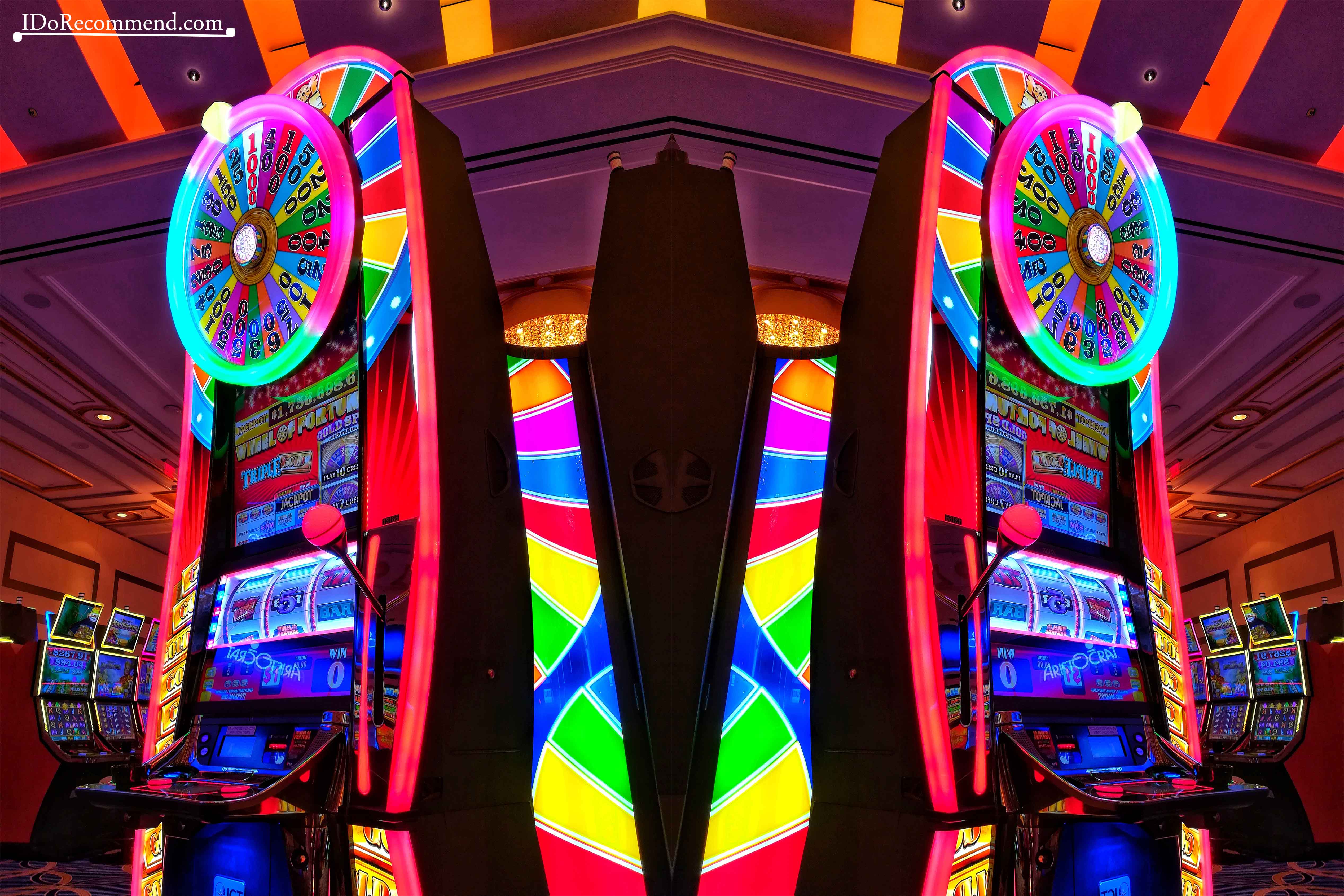 NATURE
USA has one of the most amazing landscapes. We never get bored to visit its nature and it always surprises us with something new and spectacular (in this case I am speaking about the Valley of Fire).
FOOD
Whole Foods Market, a chain that is very popular for its organic selections, was the best option for buying our meals. It has a huge variety of healthy and fresh food and juices.
TAXES
We have paid a lot of unexpected state taxes after returning the rented car (it had nothing to do with the car rental company).
SPENDING
We have spent more money on food than on anything else, but we have avoided the junk food. Moreover, we have drunk daily fresh juices which are more expensive than the carbonated drinks so famous in the USA.
GENERAL CONCLUSION
Las Vegas is a special destination that has lots of things to offer to its tourists. The easiest way to visit the resorts from the Strip is by walking, but for shopping or for seeing the desert natural landscapes you need a car. We advise you to reserve at least 3 days to have enough time to explore the city and its surroundings.
---
Keep on reading IDoRecommend's articles to discover the glamorous Las Vegas and many other incredible places on Earth.