Day four spent on La Digue was reserved for other amazing places on that small island.

The itinerary was around 10 km long and the round trip takes about 3h, depending how fast you go or how many stops you make. The photos captured during that day are found at the end of this article in the special category called "The memories collection".
ADVICE – Download the offline maps from MapsMe in advance through a WiFi connexion as the data roaming rates are really high.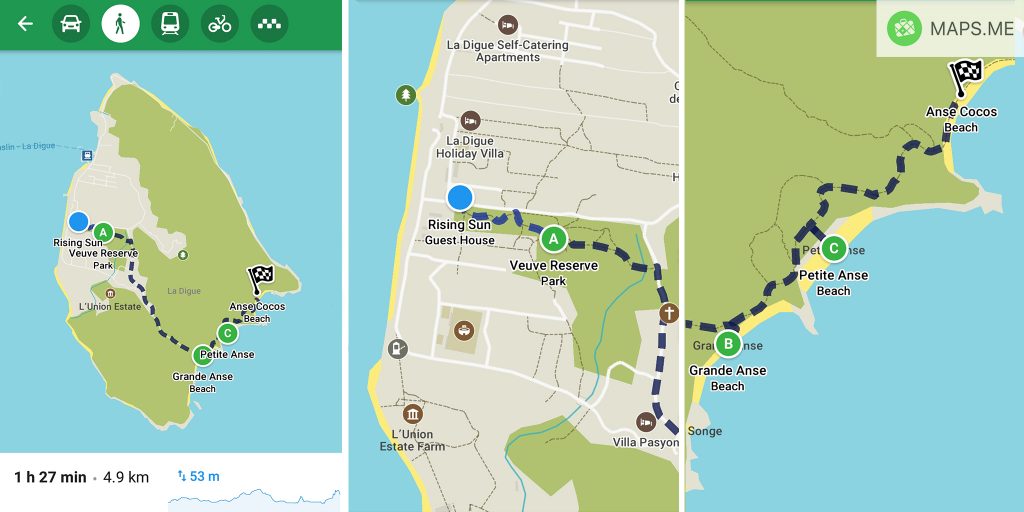 ADVICE – When going to or coming back from Anse Cocos choose the path that passes by Grand Anse. Don't try to use other paths because they are unmarked, not cleared of growing branches, difficult and you may get lost in the dense jungle.
The first stop that day was the small nature reserve called the Veuve Reserve. We loved it because it offers a lot of natural shade from the trees, which provides a high degree of protection from the strong sun and can easily be explored with little danger of getting lost.
ADVICE – The Veuve Reserve is home to mosquitoes, so bring insect repellent.
Then on our way we encountered the most original decoration of an outdoor bar. A guy in his late 20s has collected the trash found on beaches near his home – cans, shells, sunglasses, flip flop soles, plastic straw etc – and has used it to decorate in an unique way his own outdoor bar where he sells fresh fruit beverages and fruit platters. He has been very ingenious by finding a source of living and protecting the environment in the same time. If you ever arrive in the Seychelles, visit his place on your way to Grand Anse beach. You will recognize the place through its decor accompanied with incense sticks and good music.
Great job, young man!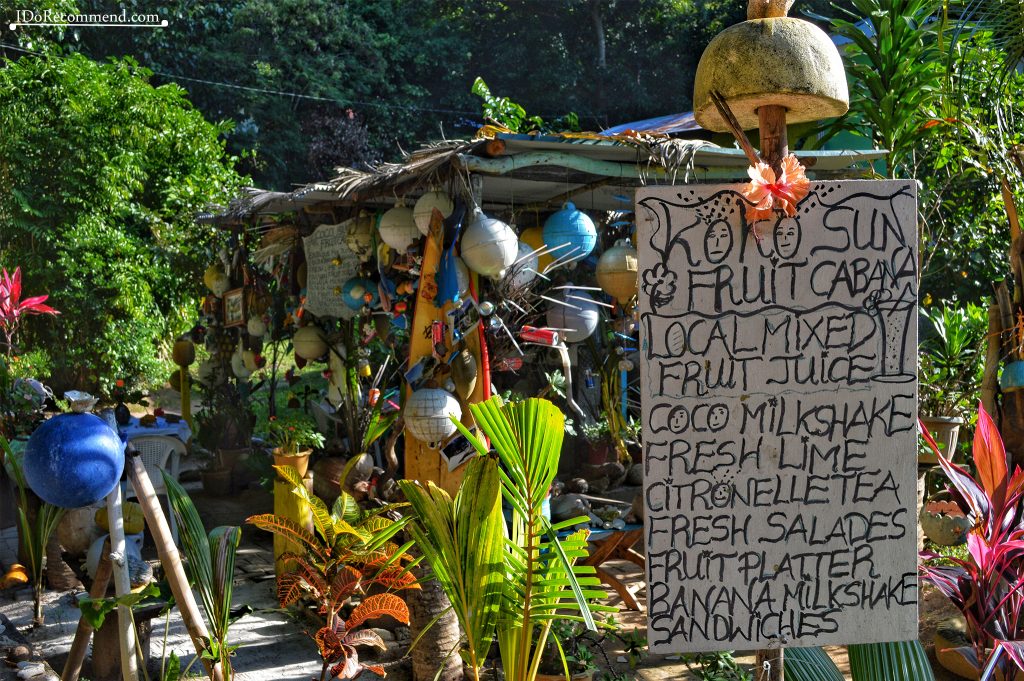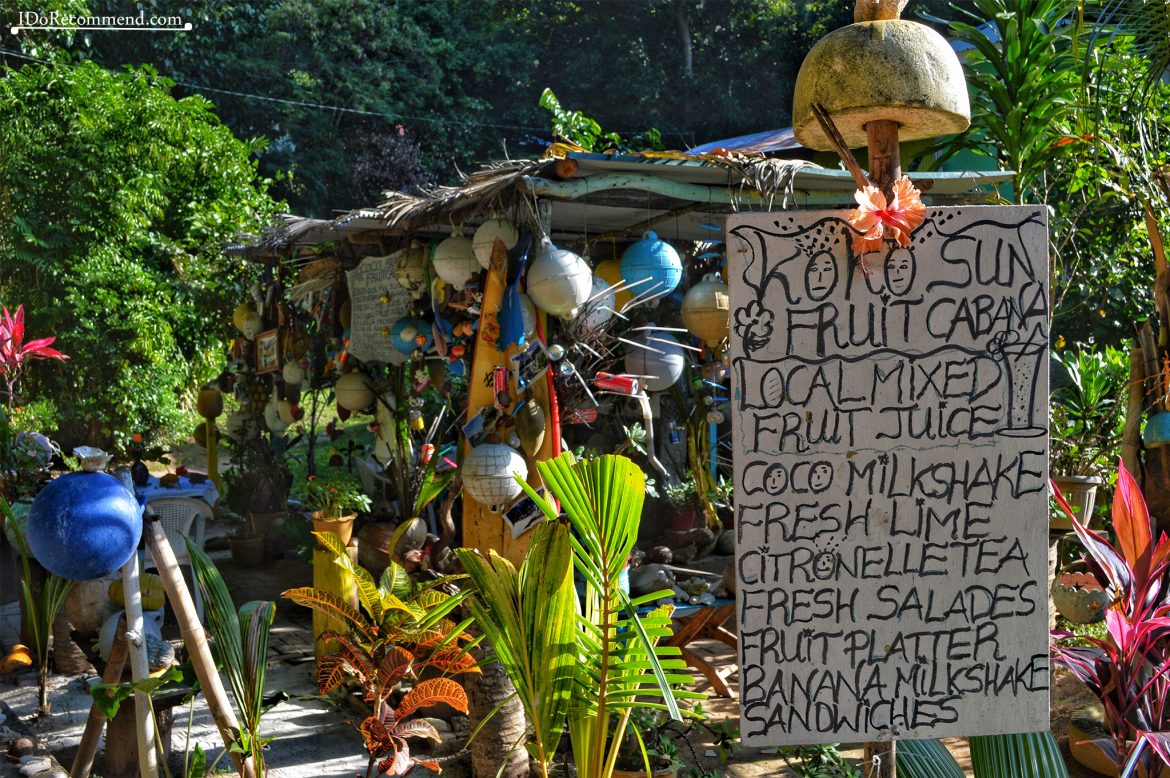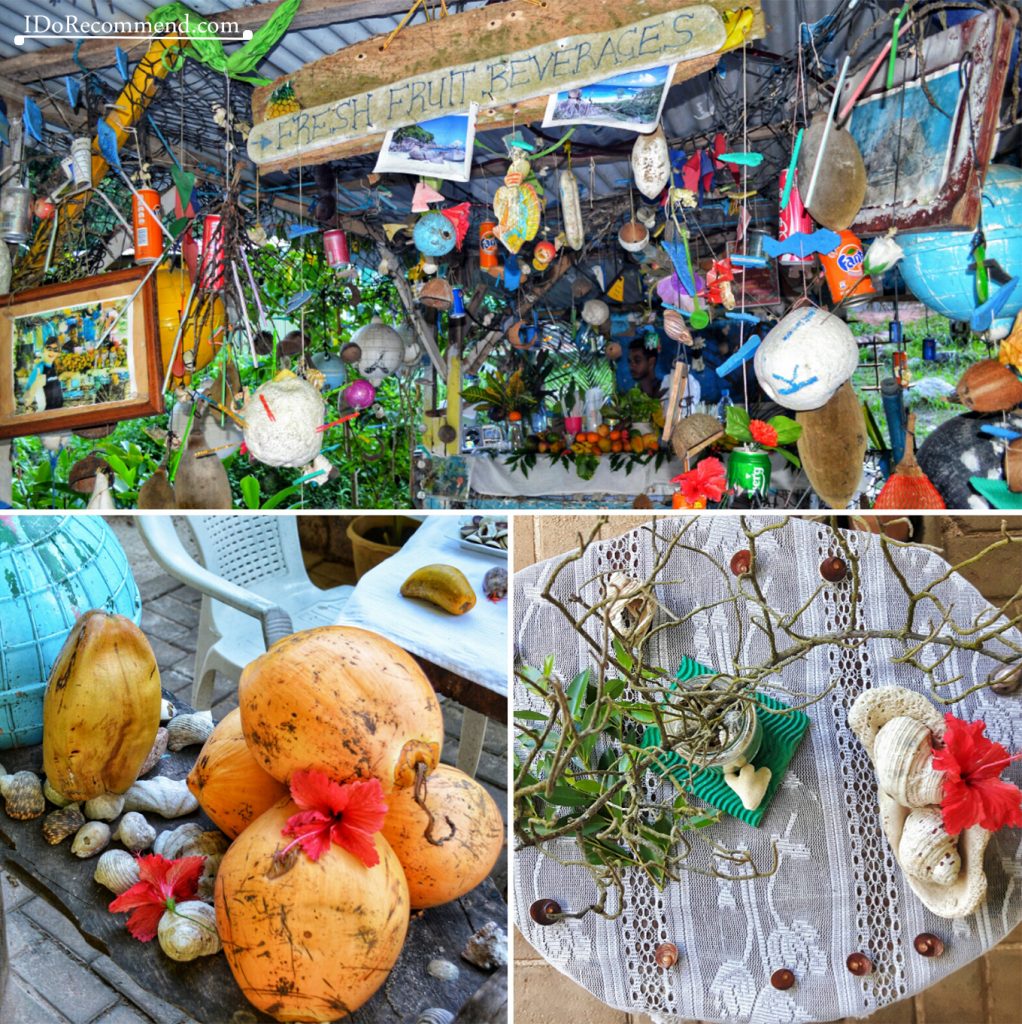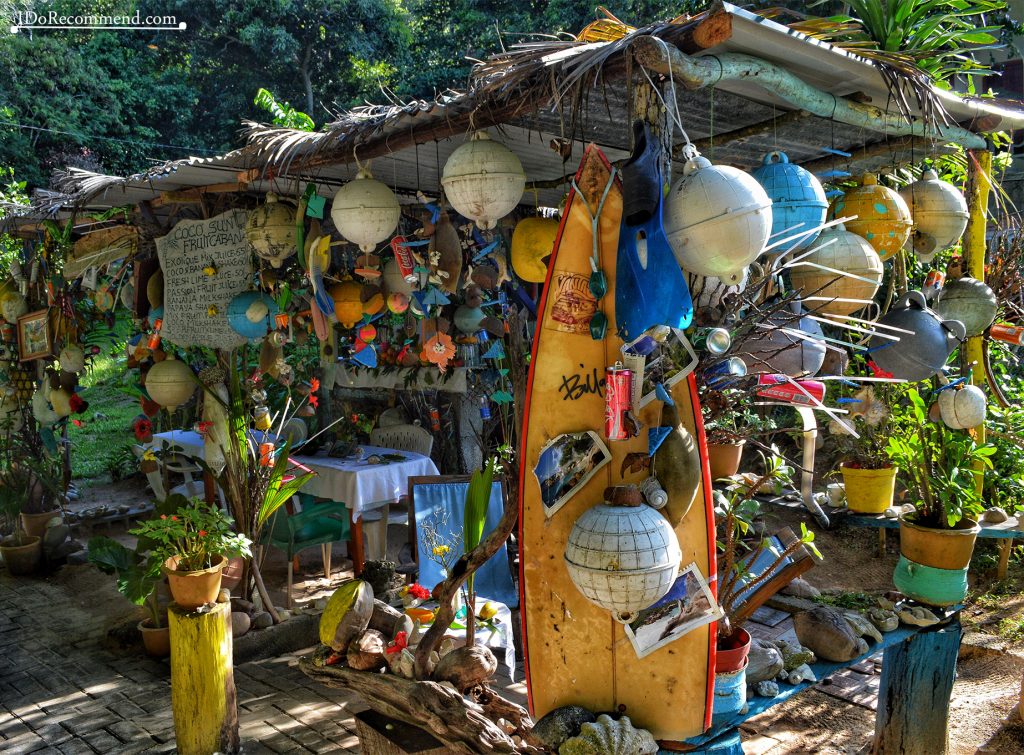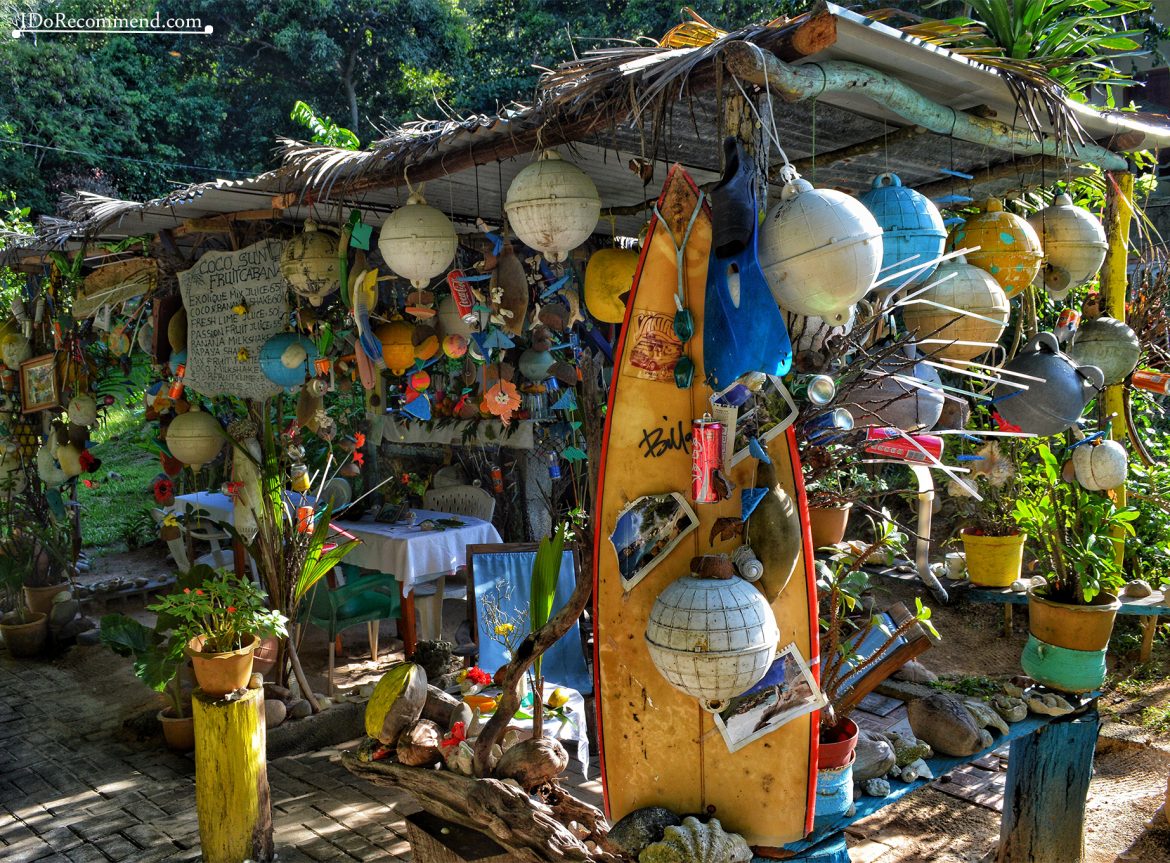 The next stop was Grand Anse beach. We've been amazed by the clear water which is in perfect harmony with the pristine golden-white sand. However, we didn't like the high waves because it looked very dangerous to venture into the rough ocean. Moreover, there is not much natural shade so it is very exhausting to stay a long time under the strong sun.
From Grand Anse we walked about 15 minutes to a similar, but quieter beach, Petite Anse. It has a peaceful atmosphere and the scenery is breathtaking.
The third beach, Anse Cocos, stole our hearts due to its shallow natural pool that are hidden by the typical Seychellois granite boulders at the north end. To reach this beach we took the beautiful jungle trail that starts from Grand Anse and passes through Petite Anse. The trail takes about 45-60 minutes, depending how many stops you make at the other beaches. You can hire a guide to get there. Robert Agnes is a pretty well-known guide on La Digue. However, we recommend you to walk by yourself, the path is quite easy and you can find other people during hiking to ask for help.
ADVICE – make sure to take enough water with you, a little snack and a pair of trekking shoes for that trail.
Watch the video below realized by the amazing guys from Seychelles.cc to get familiar to that trail.
---
You can find below the summarized information related to the places mentioned above.

Veuve Reserve
special reserve for the protection of wildlife habitats and plant species many of which are endemic to Seychelles
the primary use of the Veuve Reserve is to provide a protected breeding and feeding habitat for the Seychelles Black Paradise Flycatcher
located on the Western side of the island; it covers 21 hectares
officially opened in 1982
there is an information centre at the main entrance (the only environmental agency on La Digue)
can be explored alone or with a guide (advance registration requested)
opened from Monday to Friday from 8.00 am – 4.00 pm
Grand Anse
located in the east of La Digue
access is on-foot or by bike
few visitors
very dangerous for swimming (deep water and strong currents)
lack of shade
there is a small hut selling drinks at the back of the beach
gorgeous scenery
Petite Anse
located in the east of La Digue
access is on-foot via Grand Anse
wild beach with few visitors
swimming should be avoided due to dangerous currents
shade provided by trees and shelters built at the back of the beach out of palm leaves
peaceful location providing a stunning scenery
Anse Cocos
secluded beach located in the east of La Digue
access is on-foot with a bit of hike to get there, but the walk itself is worth the effort (there is a path from Grand Anse at about 45 minutes distance and another from Anse Fourmis in the north, but the second one is recommended only if you are with a guide)
few visitors
not safe to swim on this beach, but there is a natural pool sheltered from the waves by the surrounding boulders
some shade from the trees
facilities at ~45 minutes away on-foot (at Grand Anse)
the beautiful natural scenery makes the beach a real delight for photographers
---
Now let's enjoy this amazing collection of photos that we captured during that day ♥

Veuve Reserve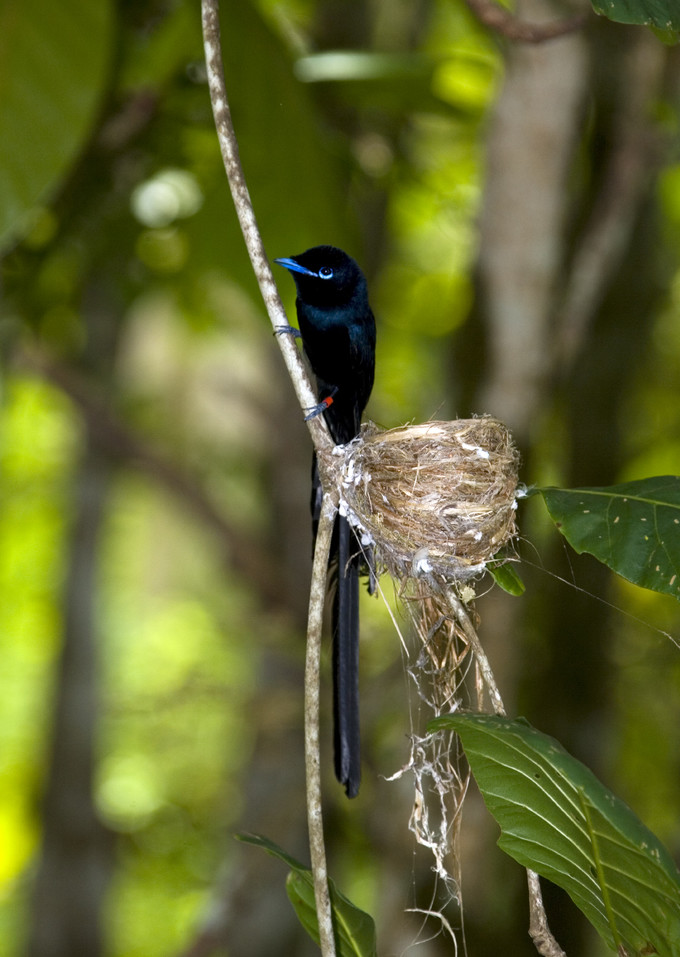 Seychelles Black Paradise Flycatcher © Seychelles Tourism Board – Photo: Gerard Larose
Grand Anse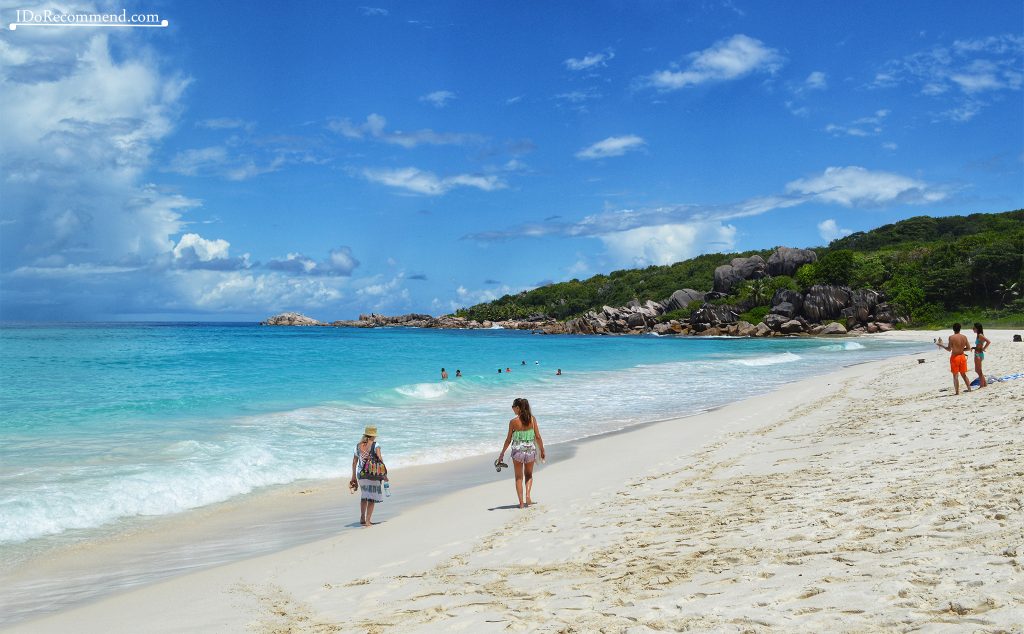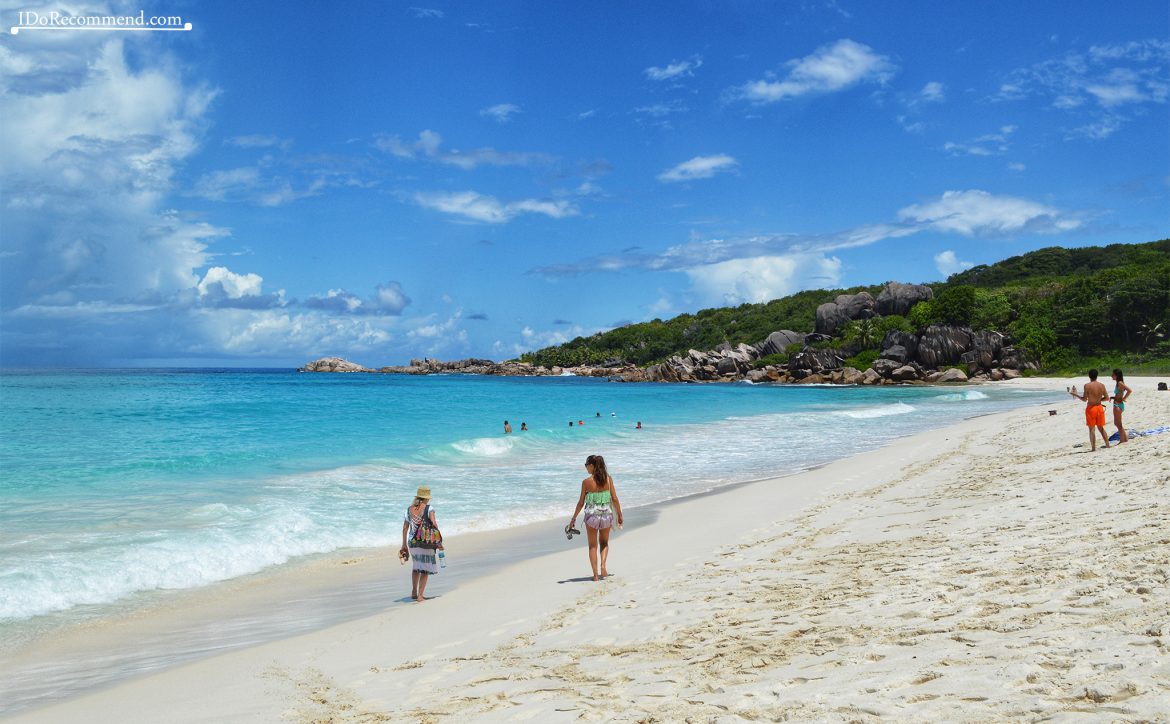 The trail from Grand Anse to Petite Anse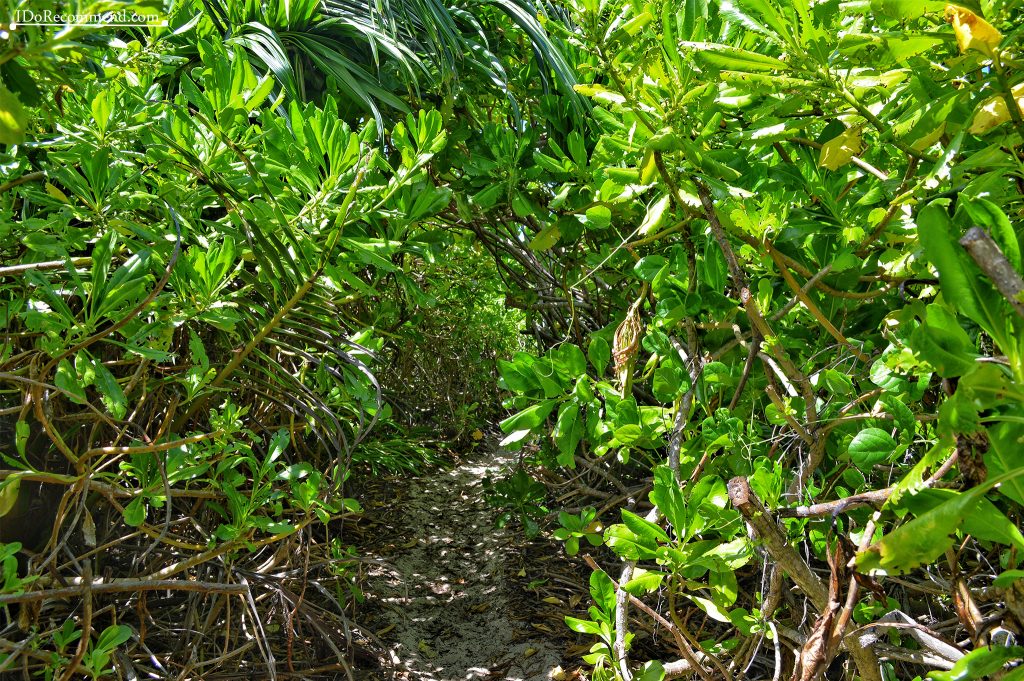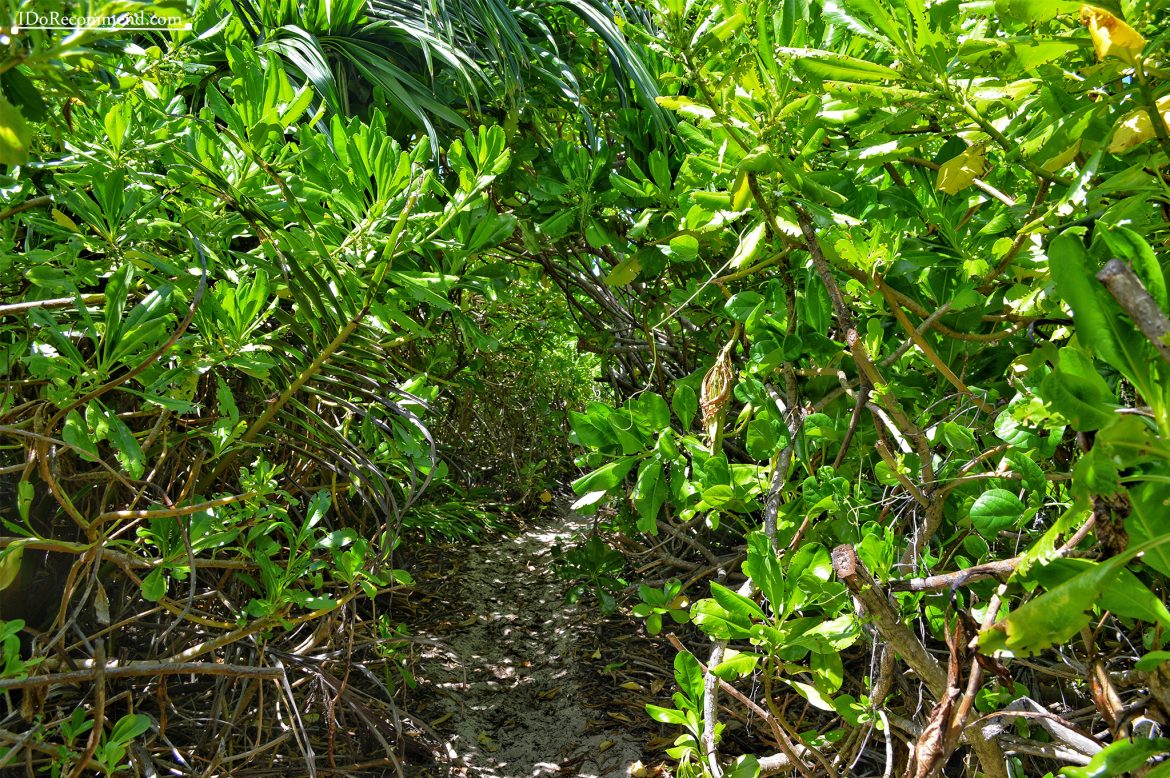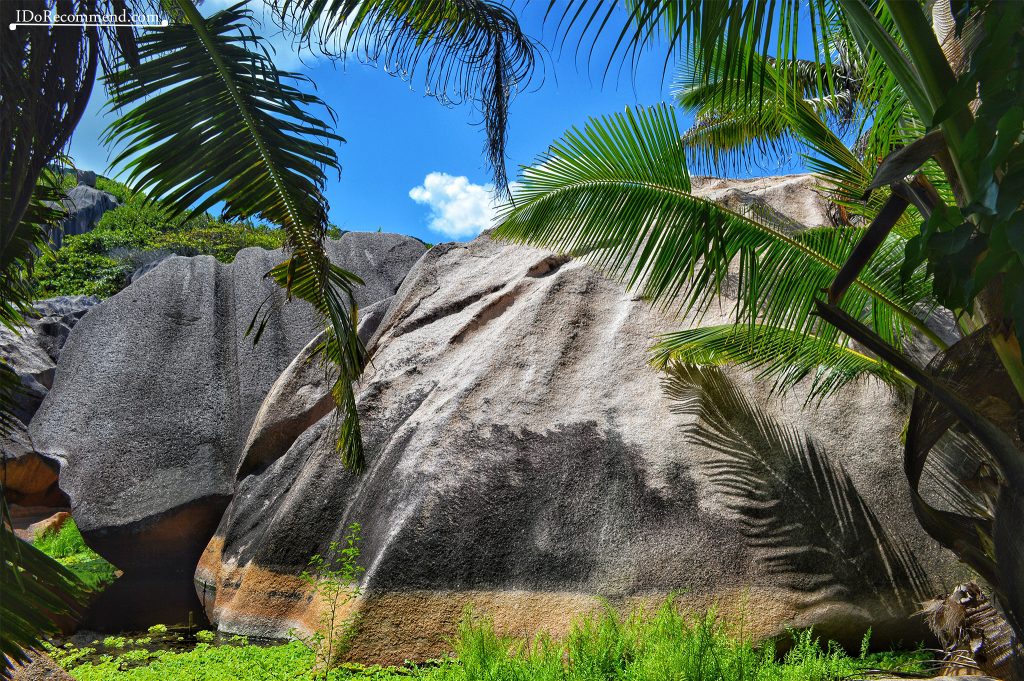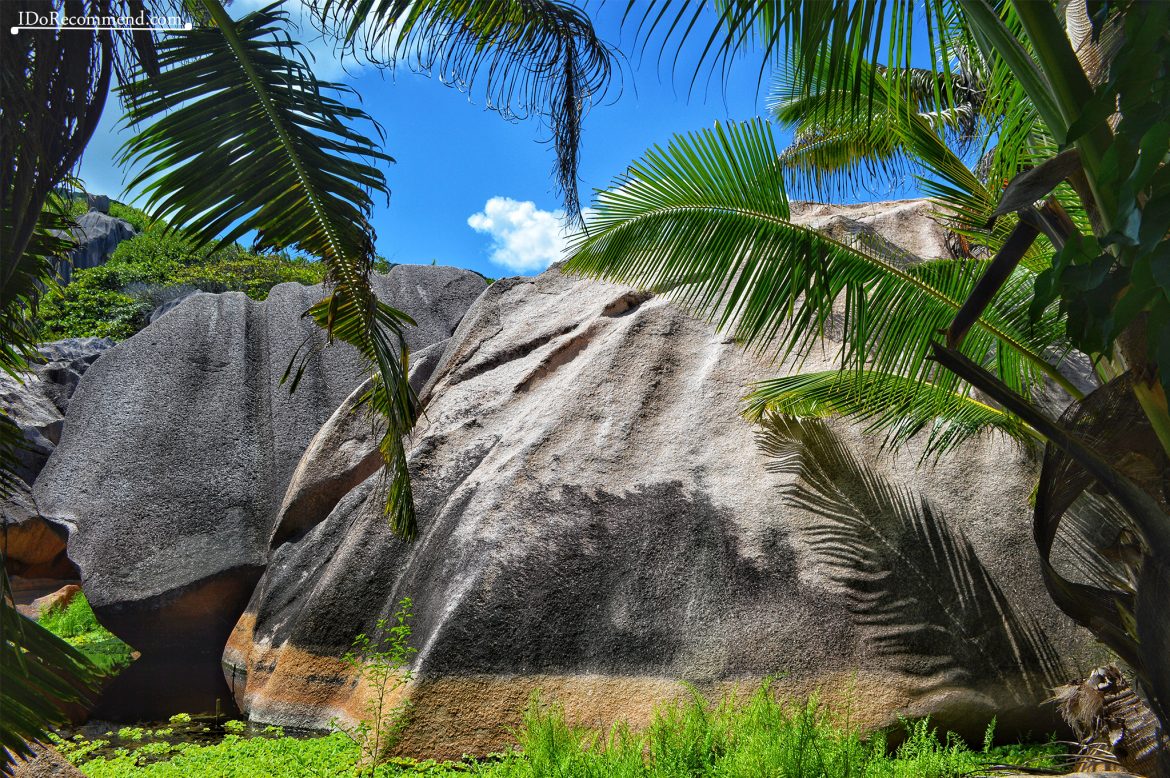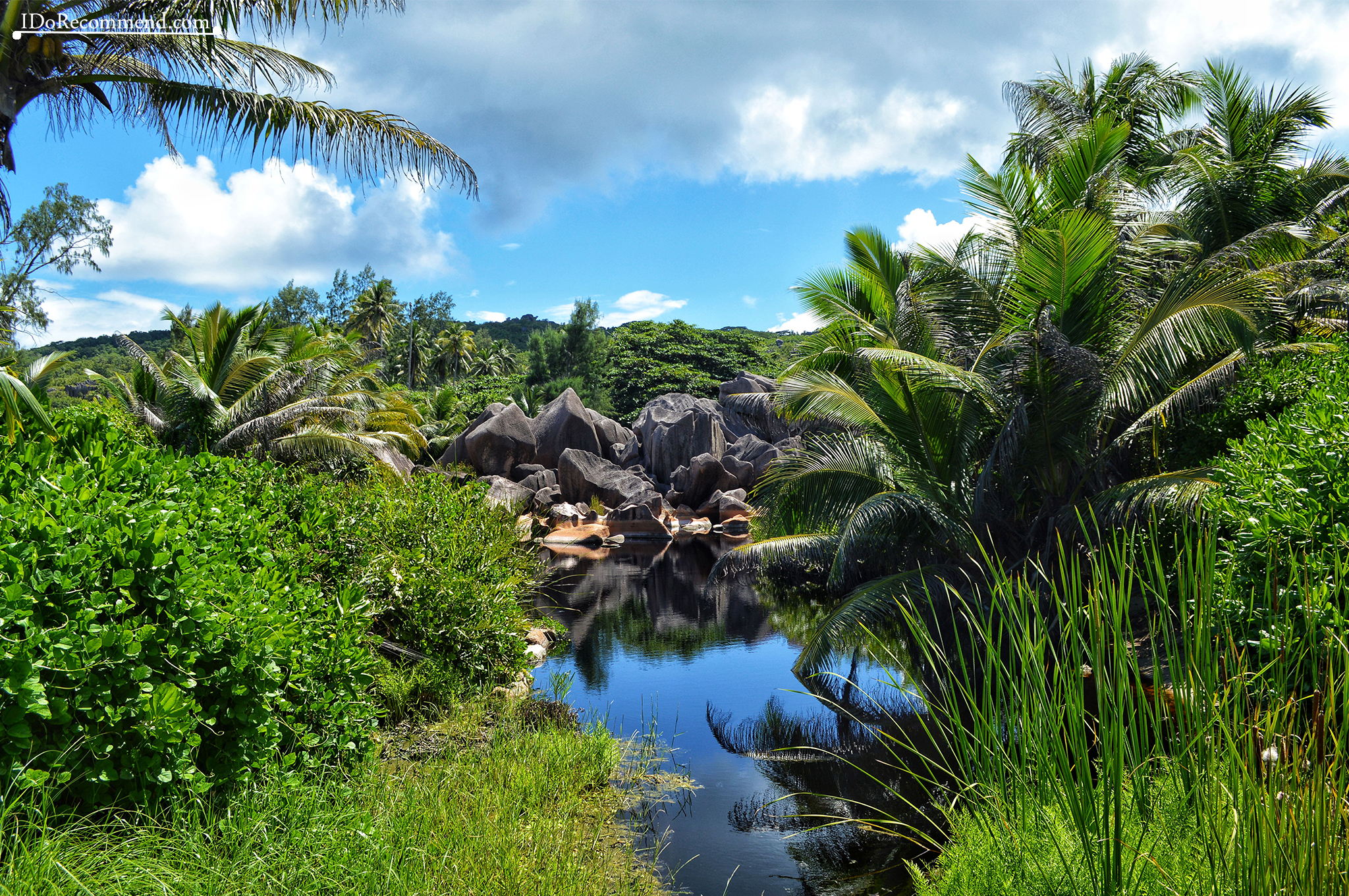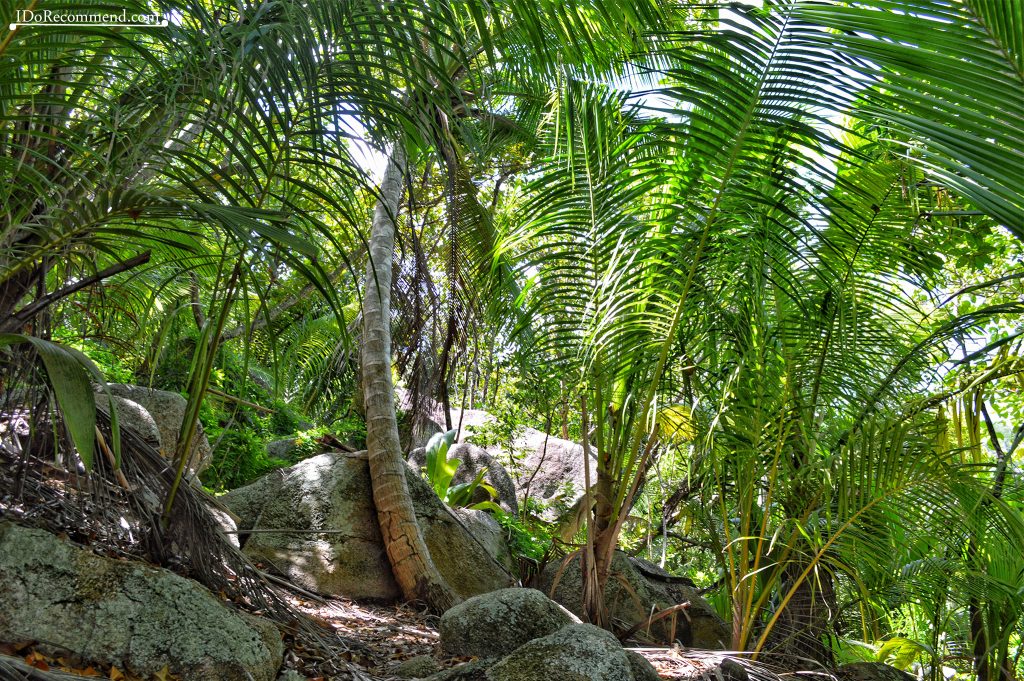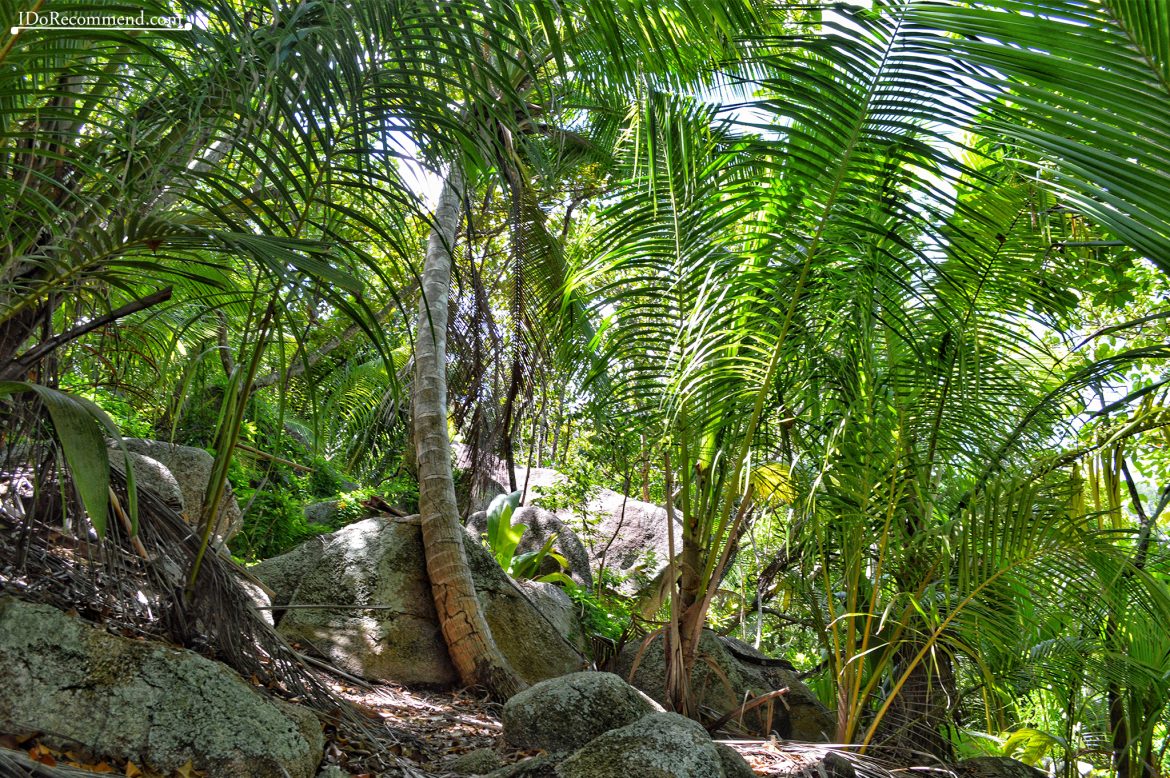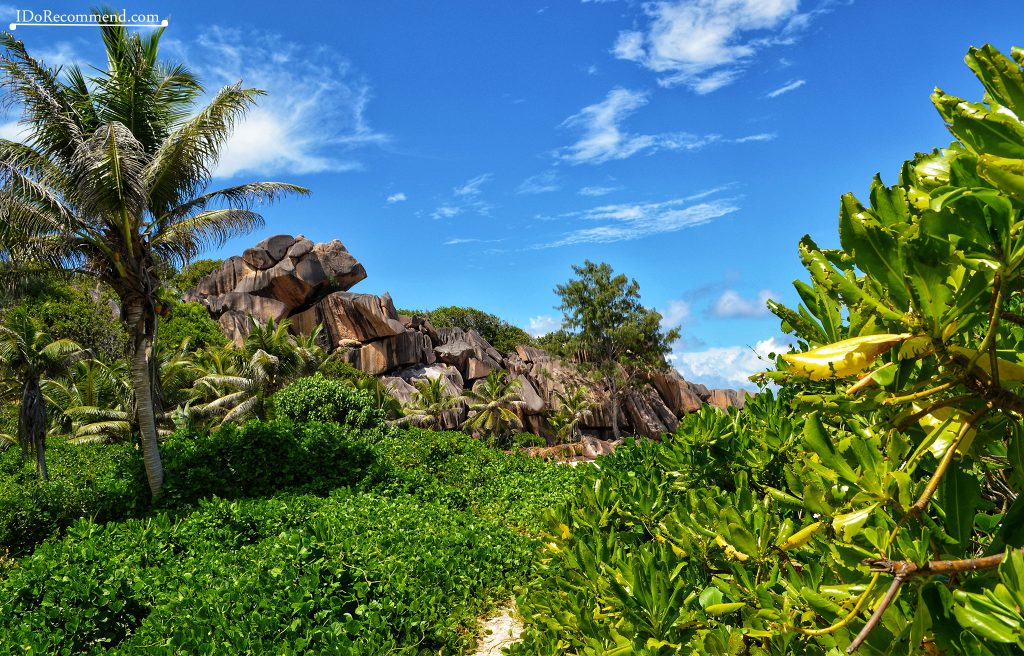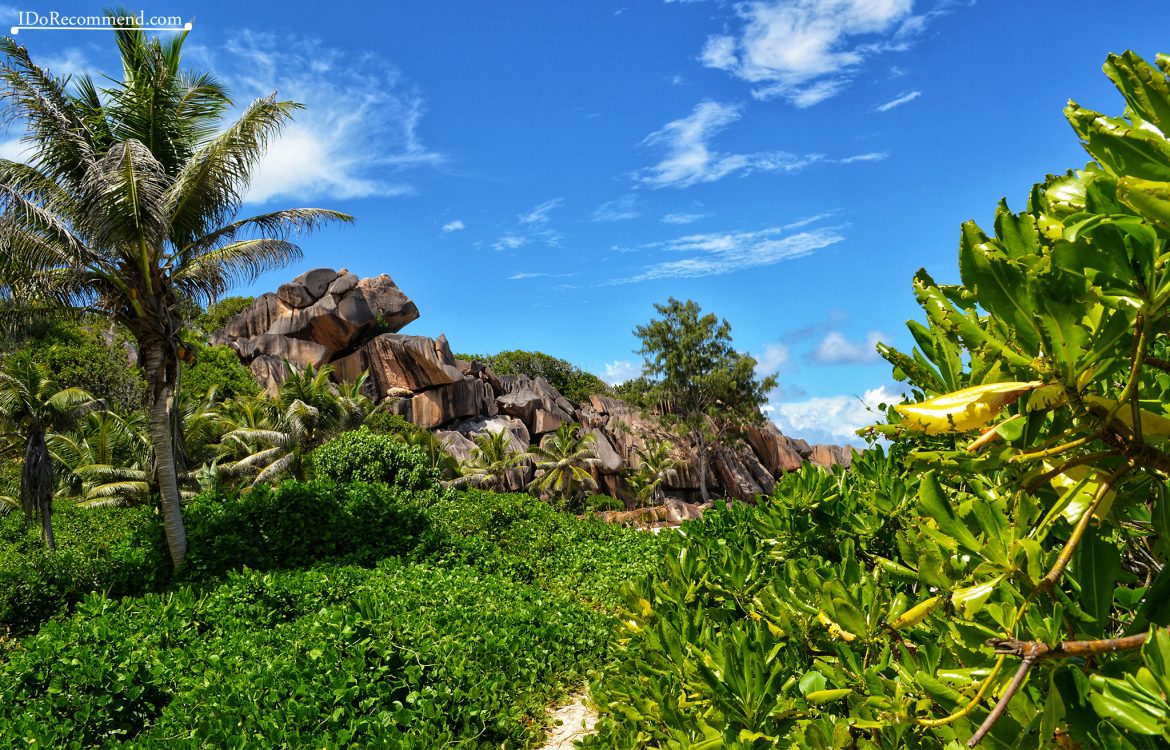 Petite Anse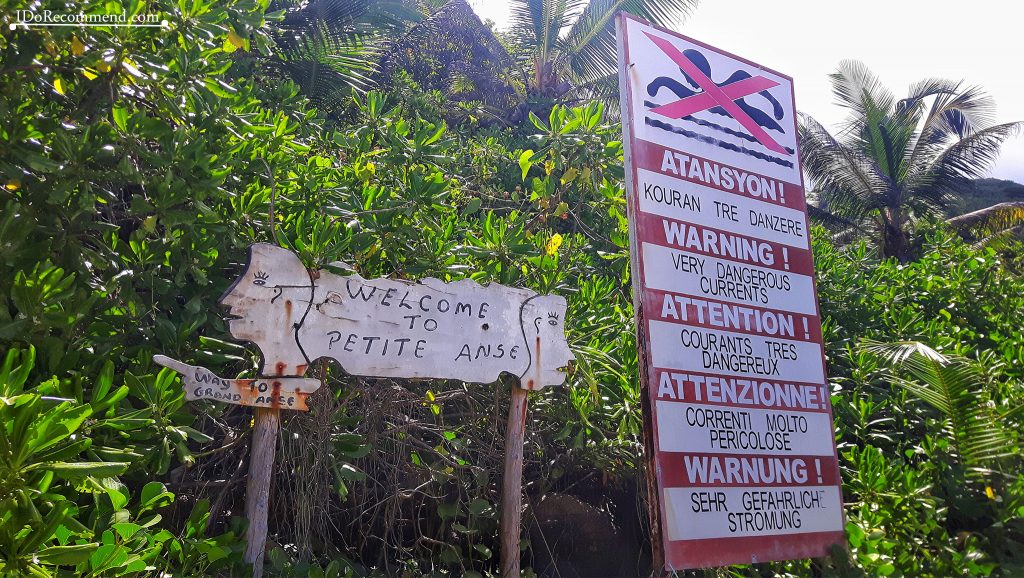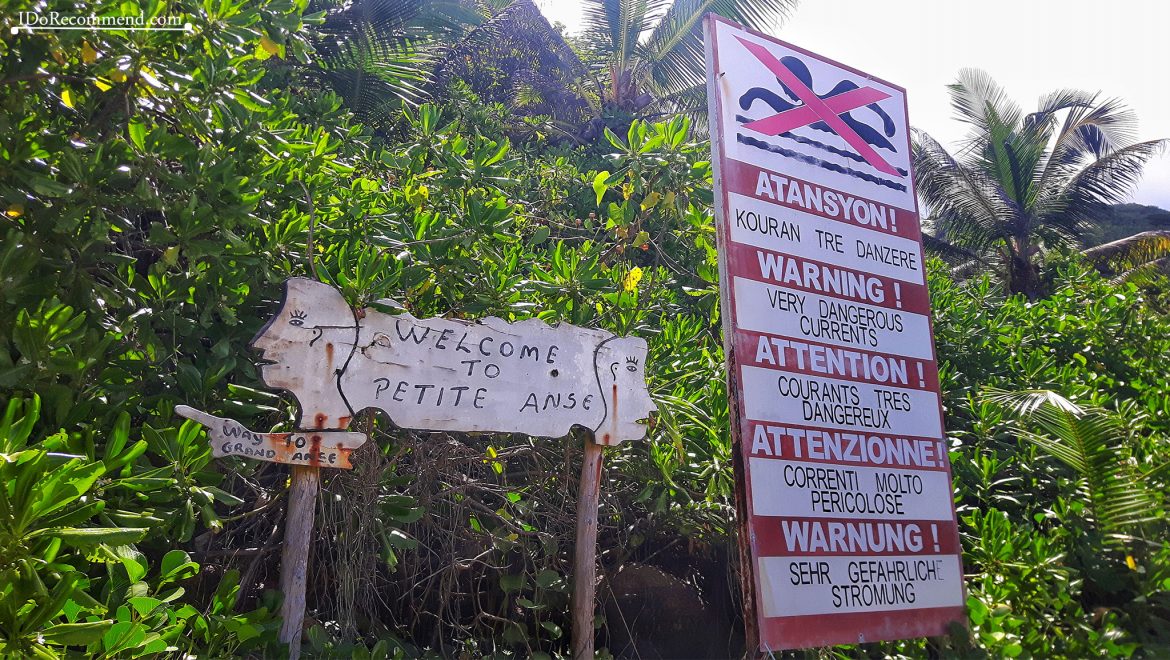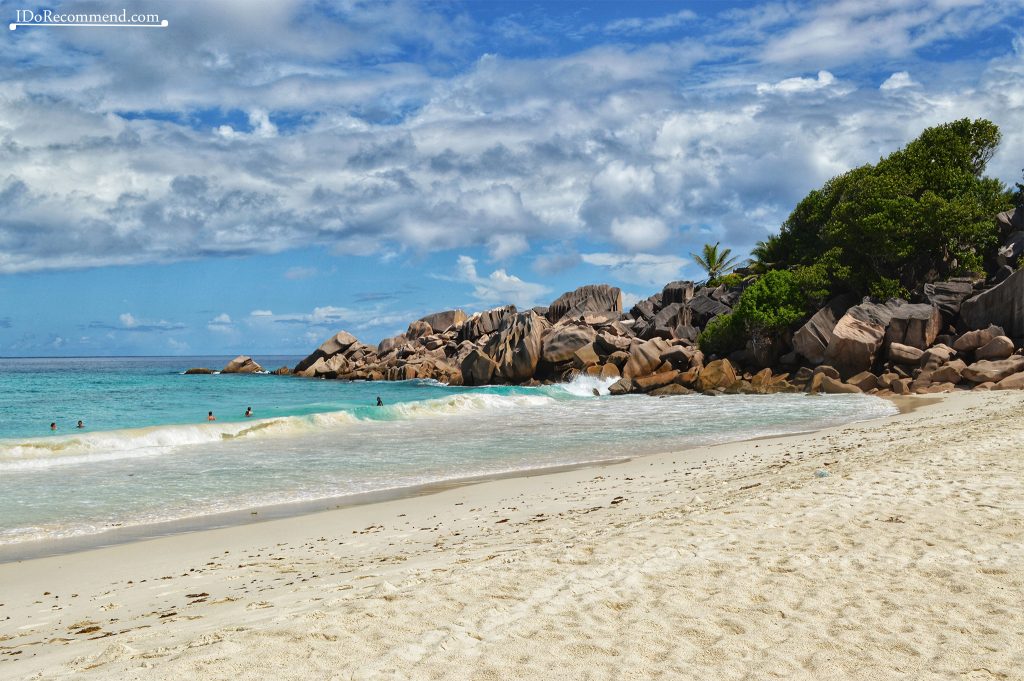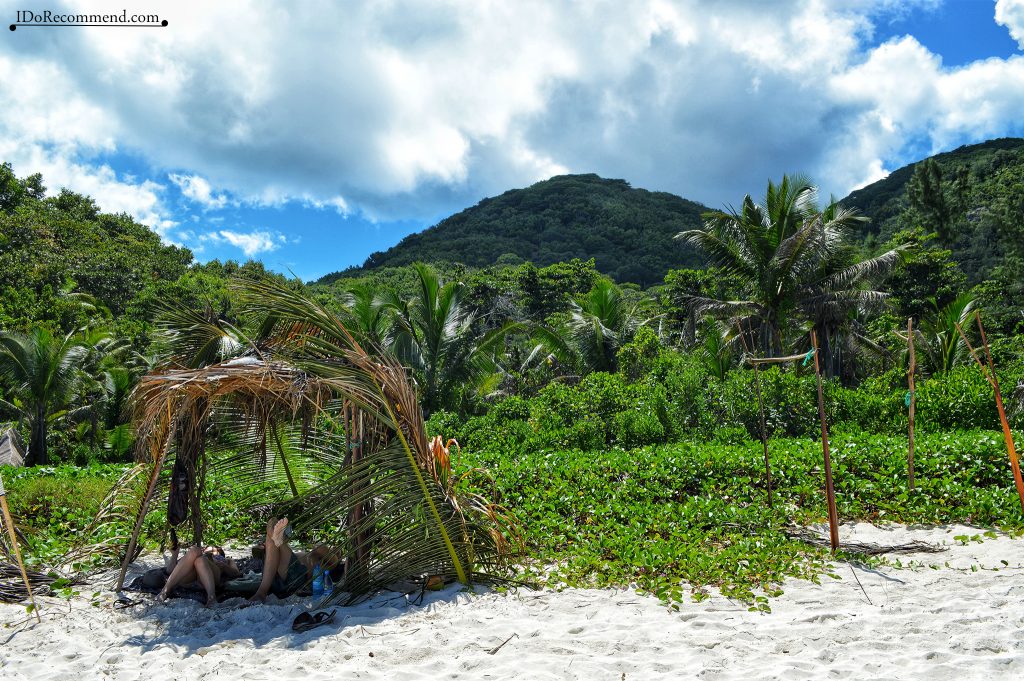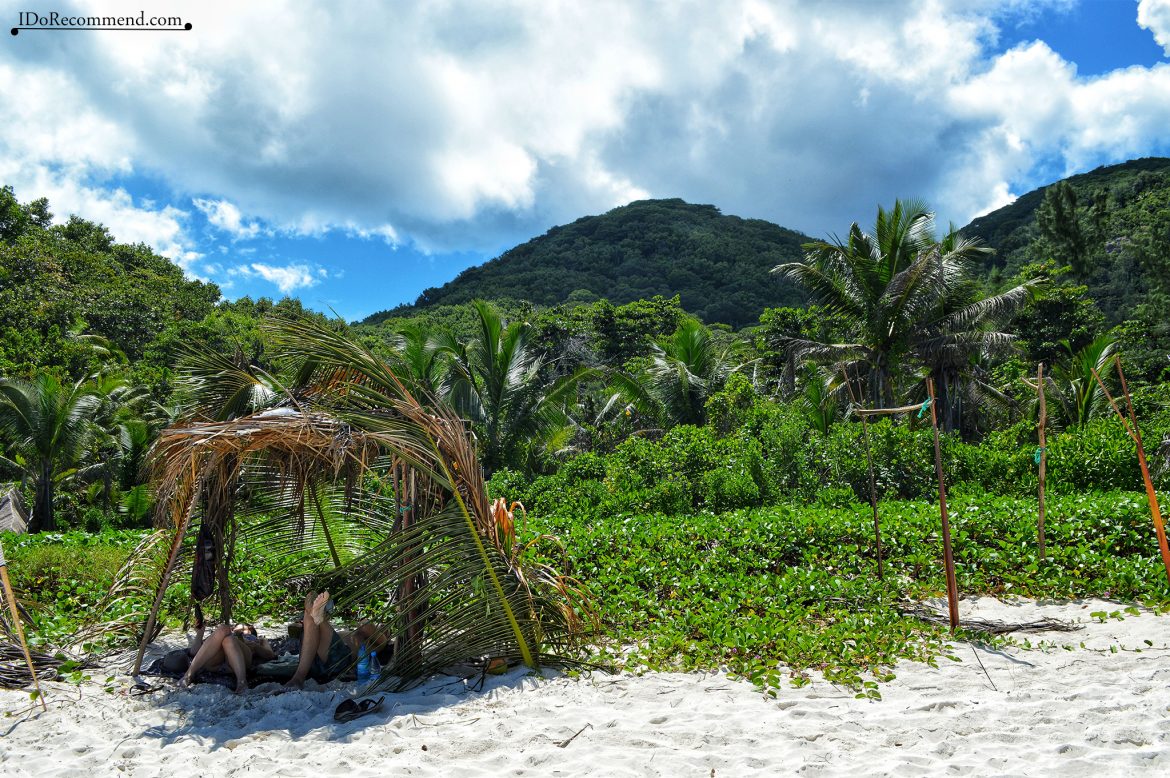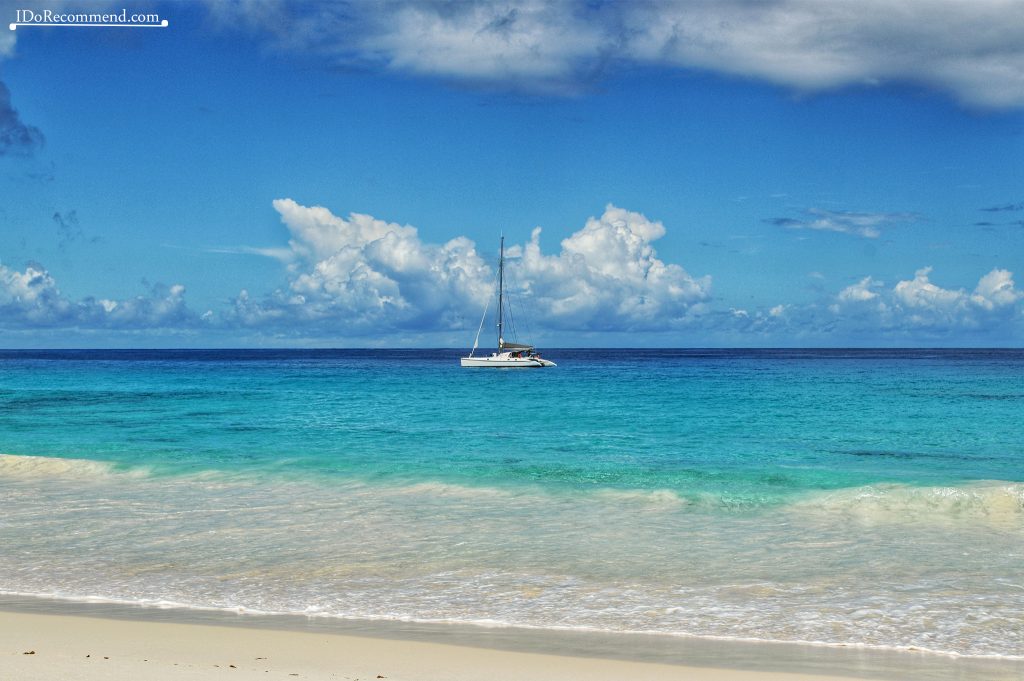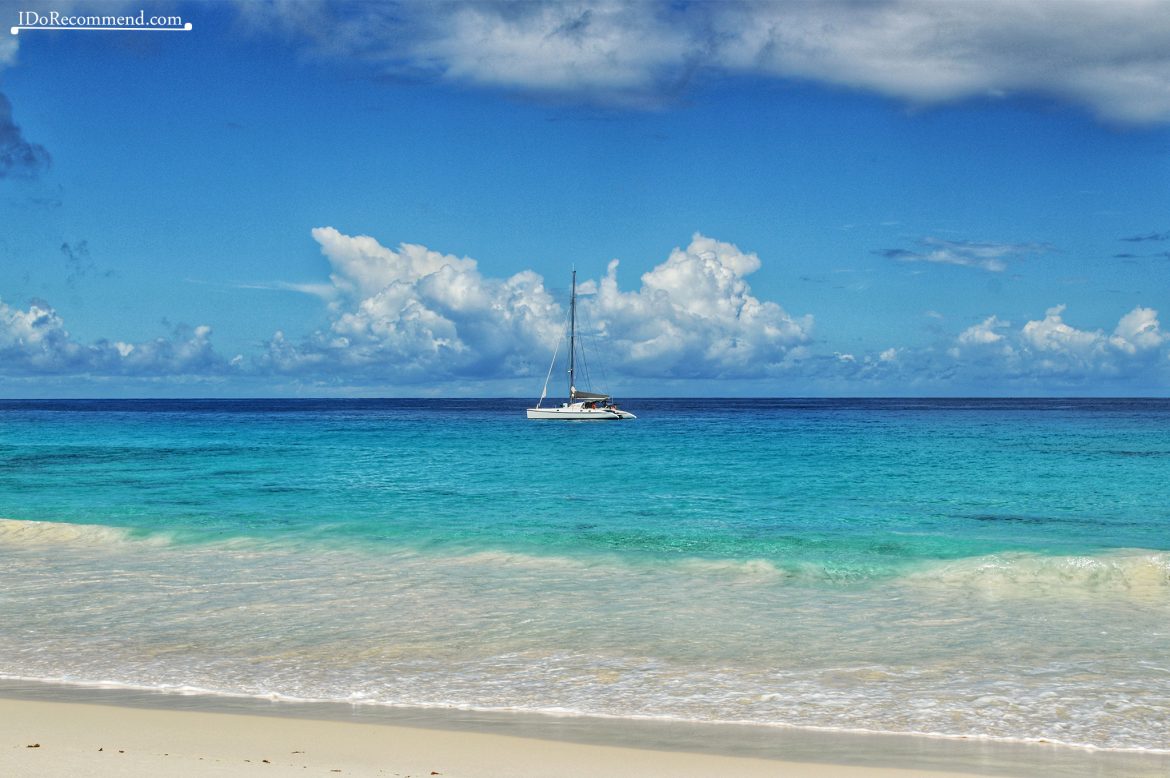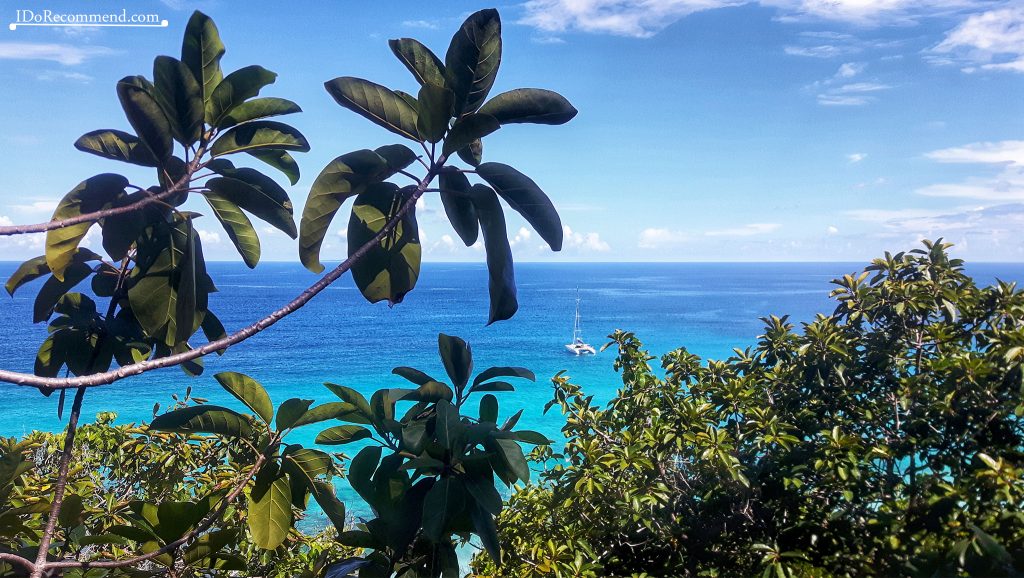 Anse Cocos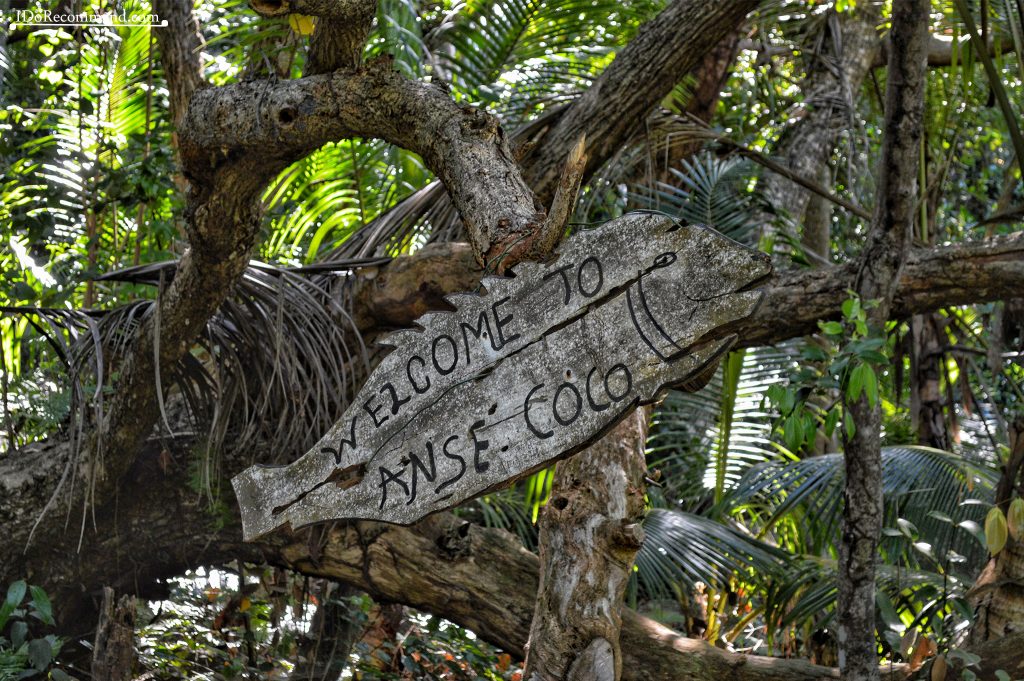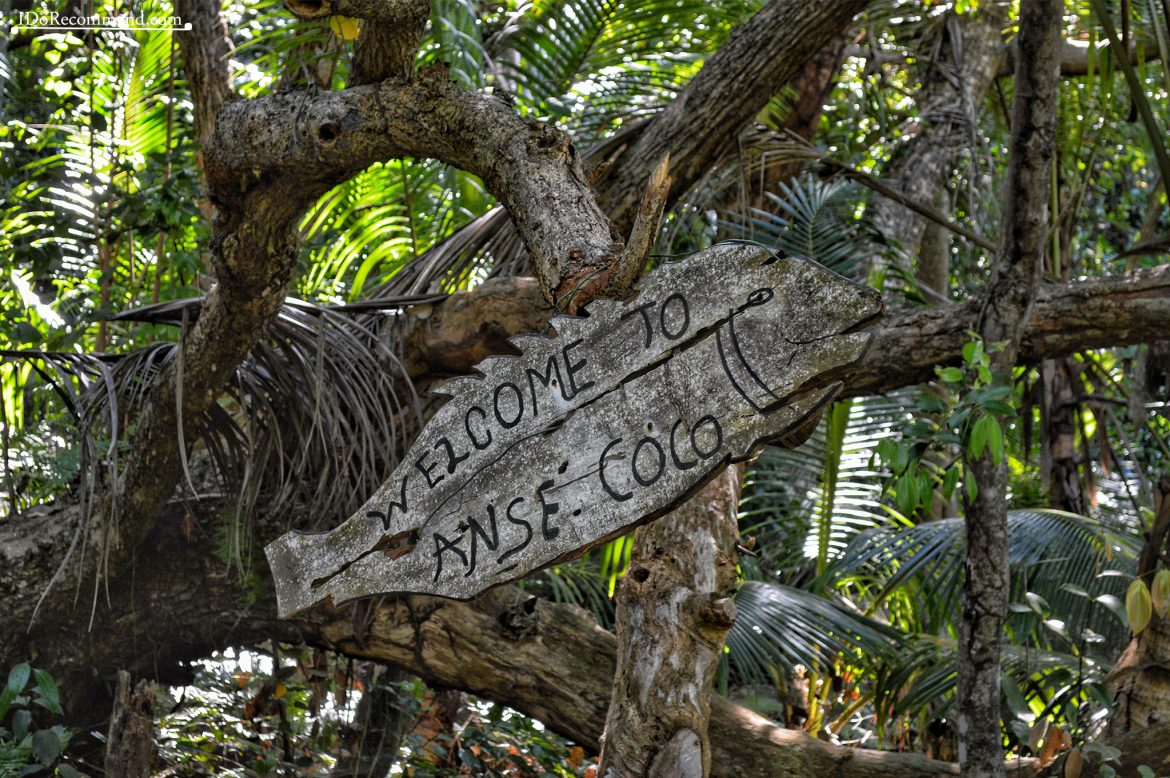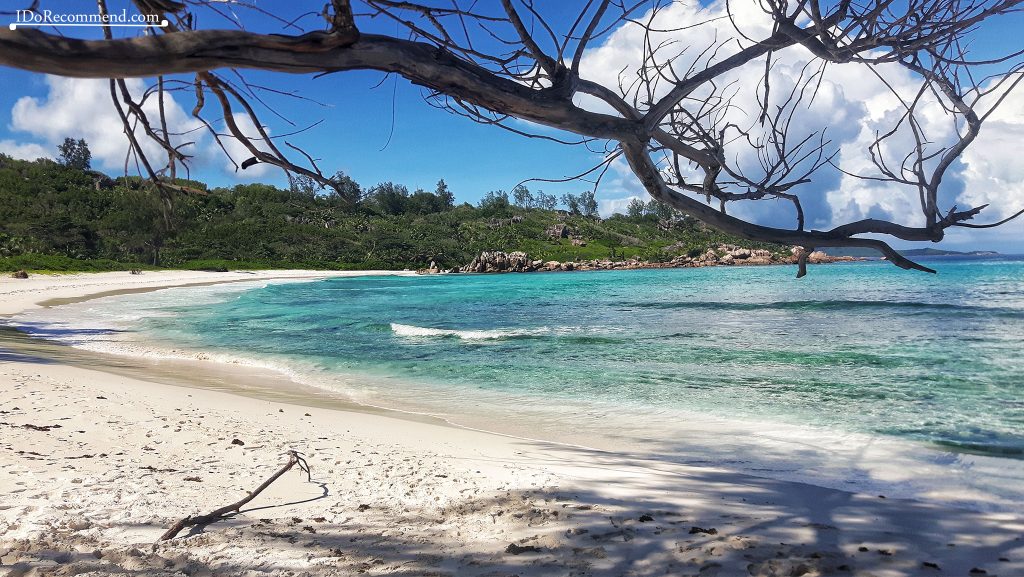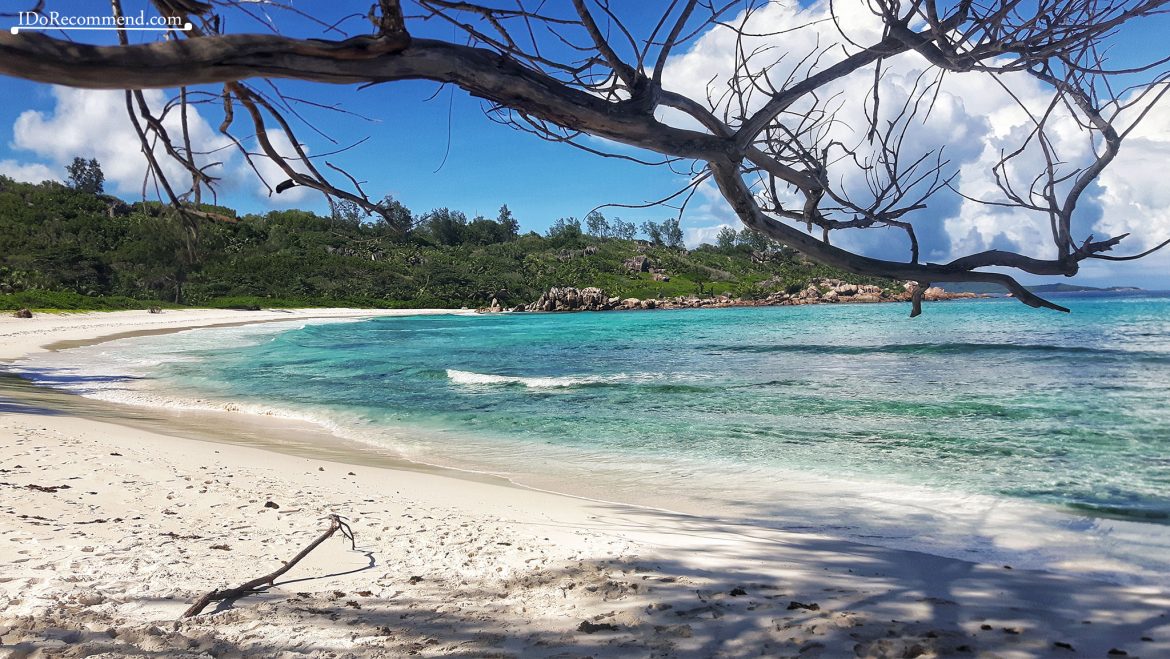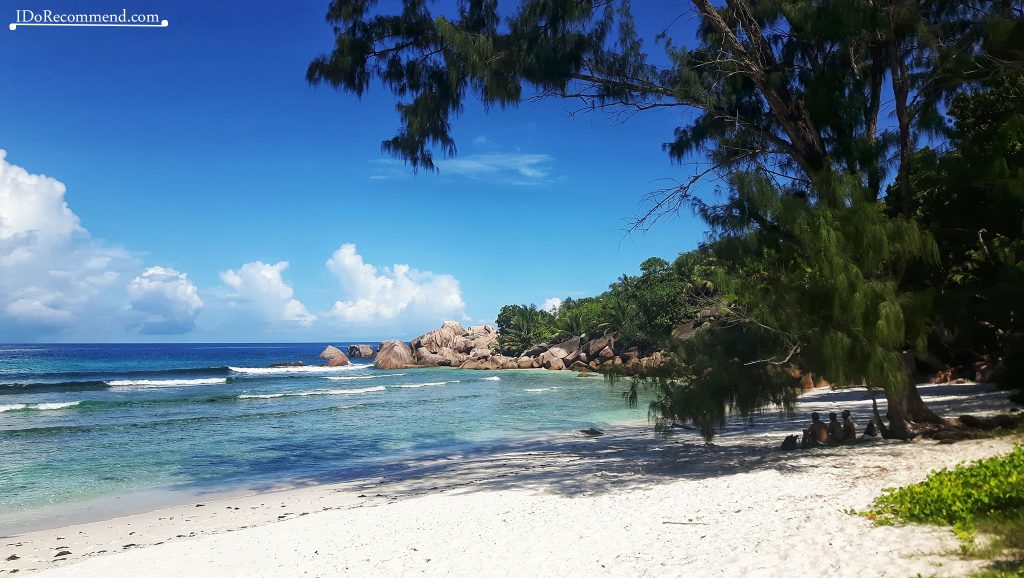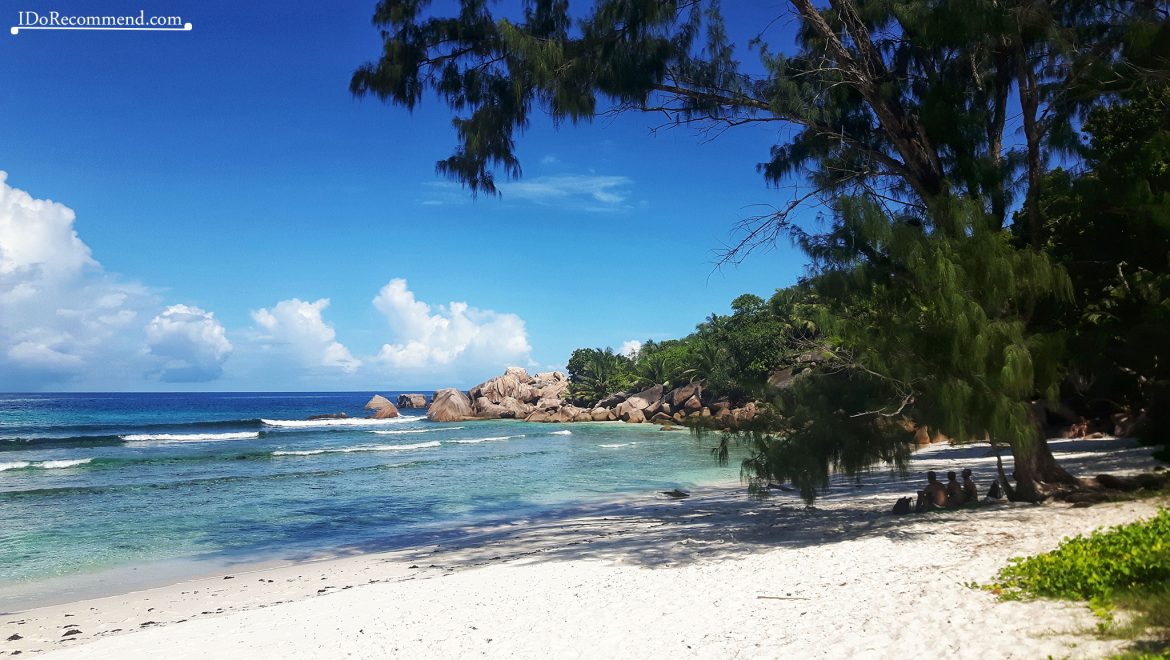 ---
Here is more detailed information about the other days spent on La Digue:
7-days itinerary in La Digue / DAY ONE / DAY TWO / DAY THREE / DAY FIVE / DAY SIX / DAY SEVEN
Keep on reading IDR's articles to discover the amazing Seychelles and many other incredible places on Earth.
Additional sources: [seychelles.cc][seychelles.org][seyvillas.com][snpa.gov.sc]