If the previous articles provided more information about the things to know before visiting the Seychelles and presented the entire 7-days itinerary in La Digue,  in the actual article we are presenting how we spent our first day in that exotic place.
This small island, La Digue, is much more quiet and uncrowded than Mahé, the main Seychelles' island. There are a few cars on La Digue. Still, back in 2015 when we first visited this island there were no cars. If you plan to go there one day, hurry up as long as the atmosphere is still peaceful there.
What we loved the most about the island was the fact that you can walk on foot to get to any point in a moderate amount of time and that riding a bike is very easy because the streets are almost empty. However, do not plan to ride the bike to Belle Vue point as we did. Going up the hill with those old bikes rented from the island is quite impossible.
---
Now let's start discussing about each activity from the first day spent on La Digue island.

Seychelles' International Airport is on the country's biggest island, Mahé. On the same island is also located its capital, Victoria. As soon as we got off the plane we felt a hot breeze blowing into our faces. We immediately took the jackets that we worn on the plane off and put a hat on to protect from the strong sun.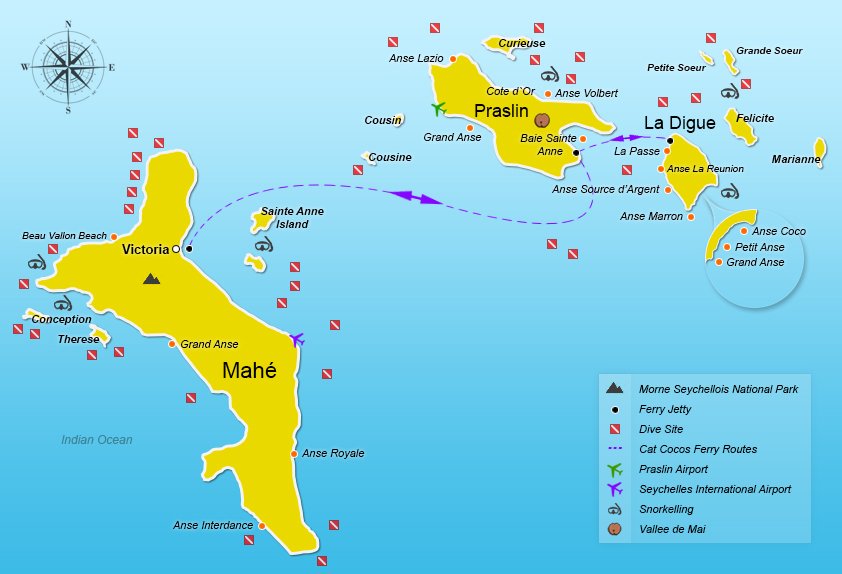 To arrive to La Digue island there are three options (mentioned down below). We chose the first one and the price was 122 euro/person in the main cabin for a round trip from Victoria jetty to La Digue Marina.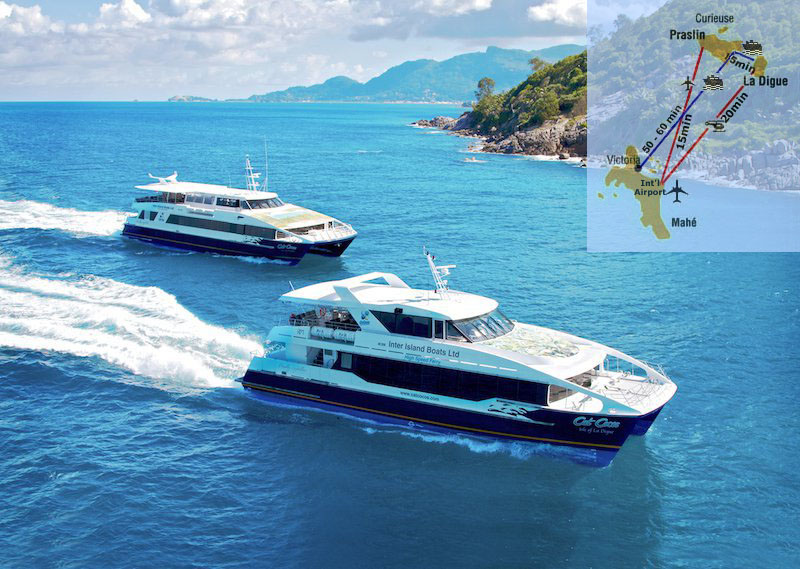 By ferry (50-60 min to Praslin then 15 min from Praslin to La Digue)
From the airport take either a shuttle bus or a taxi to get to Victoria jetty (on the same island, Mahé). Normally the bus is reserved only for people who arranged their trip through a travel agency, otherwise you must take a taxi (around 50 euro).
For travellers wishing to connect directly from an international or domestic flight to a ferry service, the local ferry operator, Cat Cocos, offers its passengers an airport transfer service between Mahé International Airport and the Cat Cocos jetty in Victoria (fees apply). Their shuttle bus leaves Mahé airport at 09:00 and 15:00 daily, as well as 08:00 on a Sunday, and must be booked in advance. For early flight arrivals you can choose to either to stay at the airport and wait for the shuttle bus, or take a taxi to Victoria and wait there for your ferry departure.
The Cat Cocos schedule can be seen down below: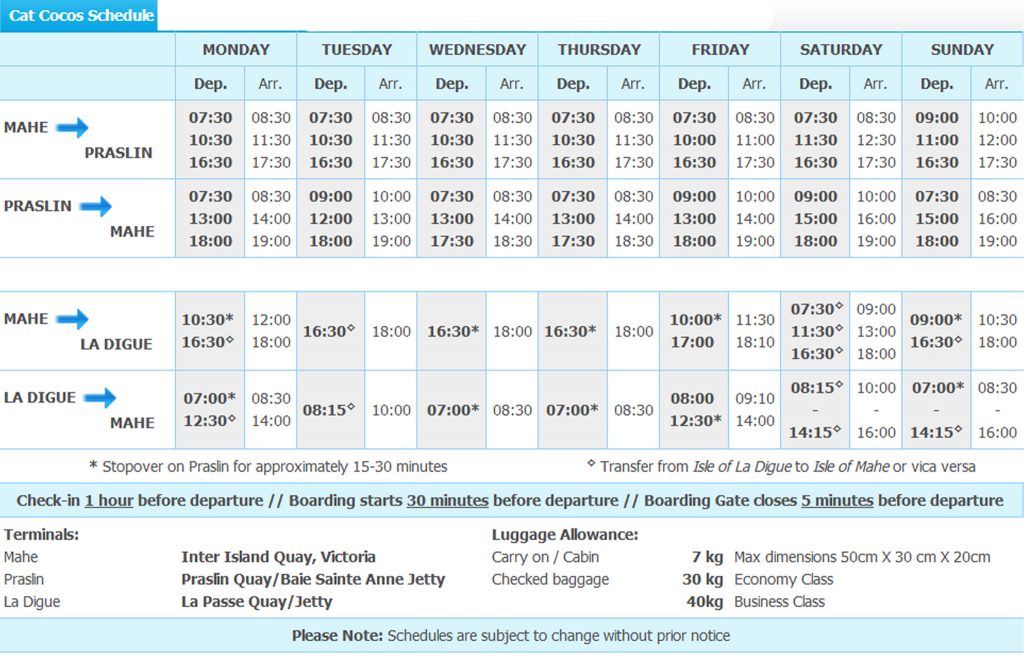 2. By airplane to Praslin (15 min with Air Seychelles), then by taxi/bus to Praslin Ferry Harbour and then by ferry to La Digue (15 min)
3. By helicopter directly to La Digue (20 min)
We stayed seven nights at the Rising Sun Guesthouse on the west coast of La Digue.
It was almost evening when we arrived on La Digue island after changing two airplanes, one bus and one ferry. It gets dark at ~6 p.m., so it was too late to explore the island and we were too exausted after the long trip. We decided to unpack the luggages and get some rest until the next morning.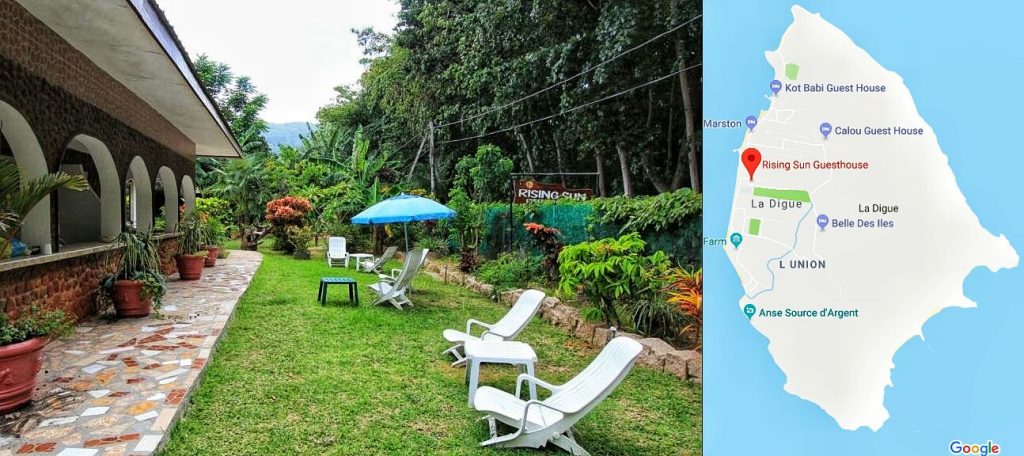 These are some impressions after our stays in 2015 and 2017 at the Rising Sun Guesthouse:
LOCATION
short walk from the jetty (10-15 min)
close to Anse Reunion beach
close by there are a couple of great takeaway places for eating
the supermarket is just around the corner
vicinity of the Veuve reserve – just across the street – excellent for a quiet morning walk in the woods
ROOM
the room was clean, spacious and comfy
equipped with air conditioner, a fridge and a water boiler
you have your own small private terrace
lizards on the walls in the room, but that is the case for the whole area, not just this guesthouse; however, they are harmless and are keeping the mosquitos away
FOOD
it's better to choose the half board accommodation (bed, breakfast and dinner)
breakfast was basic – eggs or pancakes, toast bread with jam & fruit, coffee or fresh juice, local fruits;  some variation would have been appreciated
dinner buffet – special Creole food that was always different: great fresh fish/chicken/pork with curry, salads
FACILITIES
Bicycles are available for hire, which is very convenient; however, they were overall not in the best condition
Wi-Fi was available in the room free of charge.
---
Here is more detailed information about the other days spent on La Digue:
7-days itinerary in La Digue / DAY TWO / DAY THREE / DAY FOUR / DAY FIVE / DAY SIX / DAY SEVEN
Keep on reading IDR's articles to discover the amazing Seychelles and many other incredible places on Earth.
Additional sources: [canva.com] [nationsonline.org] [nearest.cash/en] [seychelles.org] [seychellesbookings.com] [seychelles-info.com] [seychellesnewsagency.com] [seyvillas.com] [smartertravel.com] [somanymiles.com] [travelingeast.com] [worldnomads.com] [worldtravelguide.net]