Denisa, the owner of Innette Design, wearing a hair accessory created by herself from polymer clay
This post is also available in Romanian.
I have always appreciated the unique handmade accessories. Dozens of hours of work and a lot of energy are invested in this kind of objects. An artist never succeeds in realizing the perfect accessory from the first attempt. It takes a lot of work, perseverance and the desire to improve continuously to get to that result that easily catches the public's attention.
Behind Innette project is one of the most talented people I have ever met, Denisa. Her work is a blend of originality, perfection and refinement. The jewelry and accessories are made of polymer clay and they look perfect, so it's hard to believe that someone can do something so beautiful only with their hands. But Denisa pays a lot of attention to details and loves what she does, so the outcome is just spectacular.
Beauty's in the details.
In her creations Denisa is rendering NATURE. She creates necklaces, brooches, rings and many other accessories. She does not use molds or paints, but shapes each accessory exclusively by hand.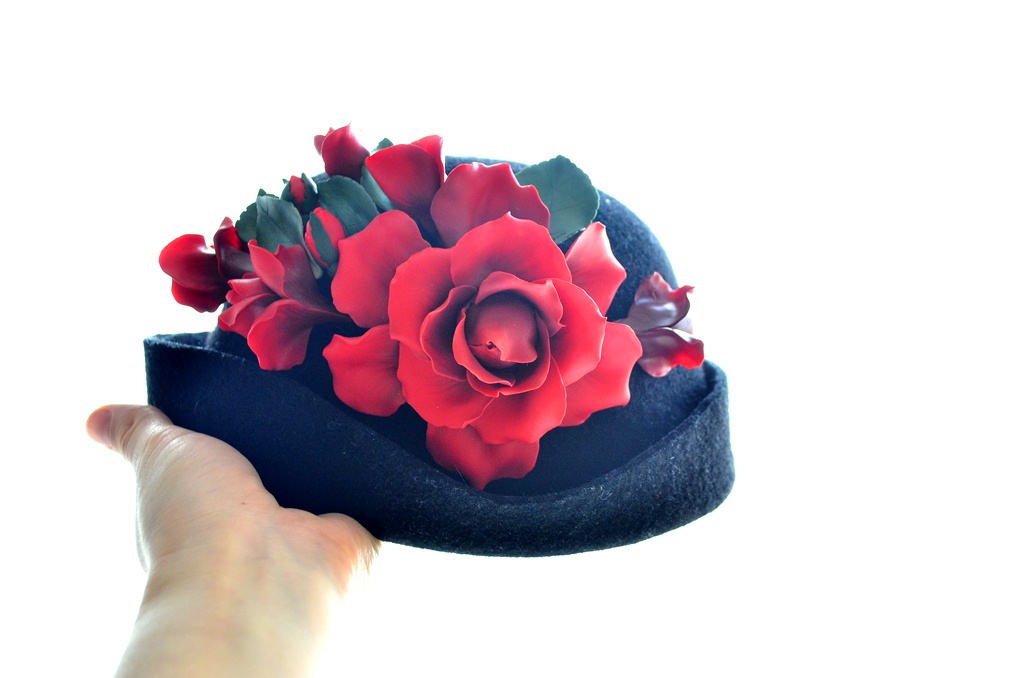 Innette Design – Felt hat accessorized with polymer clay roses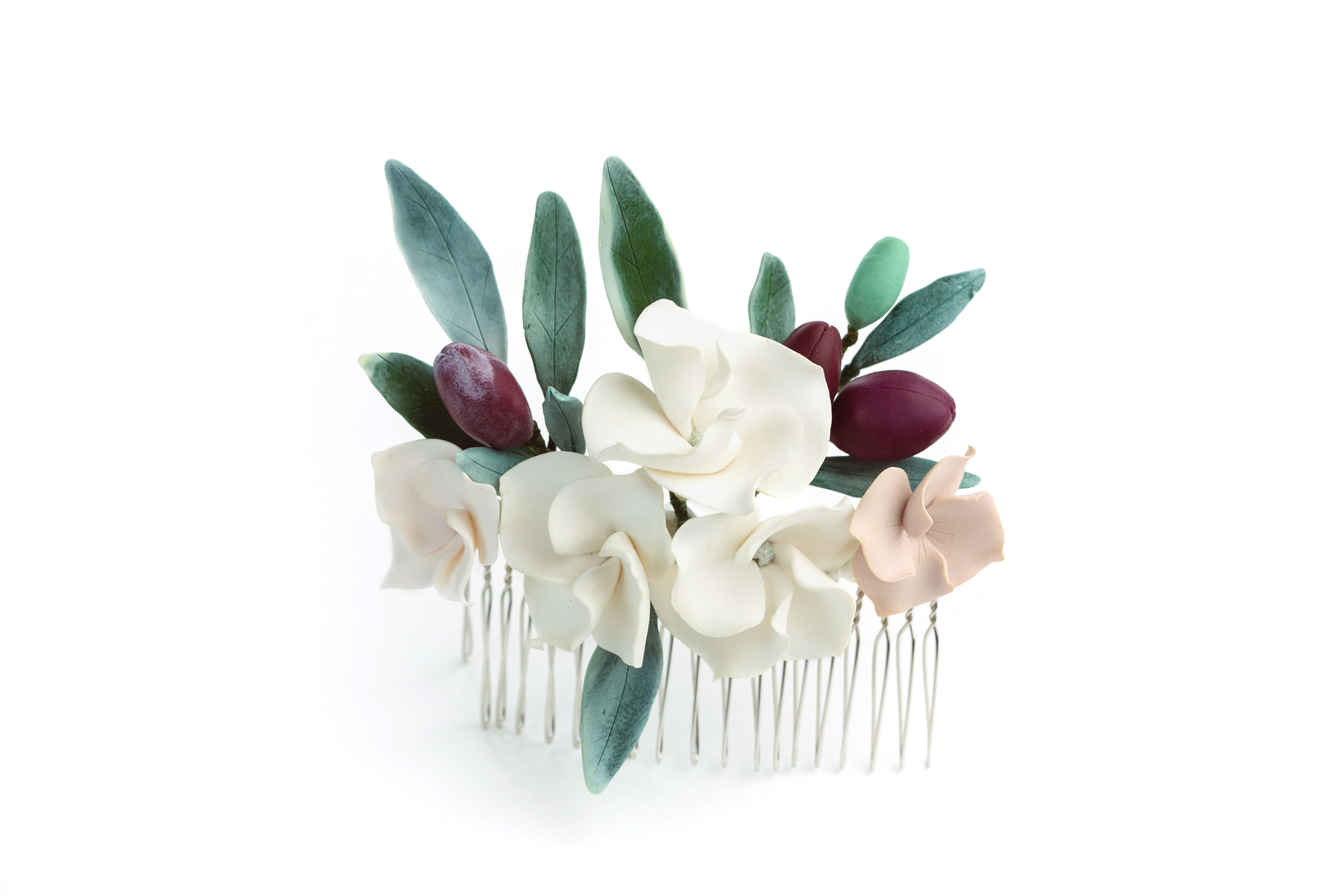 Innette Design – Hair comb with white hydrangeas and olive branches – Bridal Collection
Over the years, Innette had several collaborations with fashion designers and photographers. Her creations were key elements for those photo shootings. In addition, Denisa participates at Romanian design fairs where her creations can be purchased on the spot (Dichisar, V for Vintage etc.).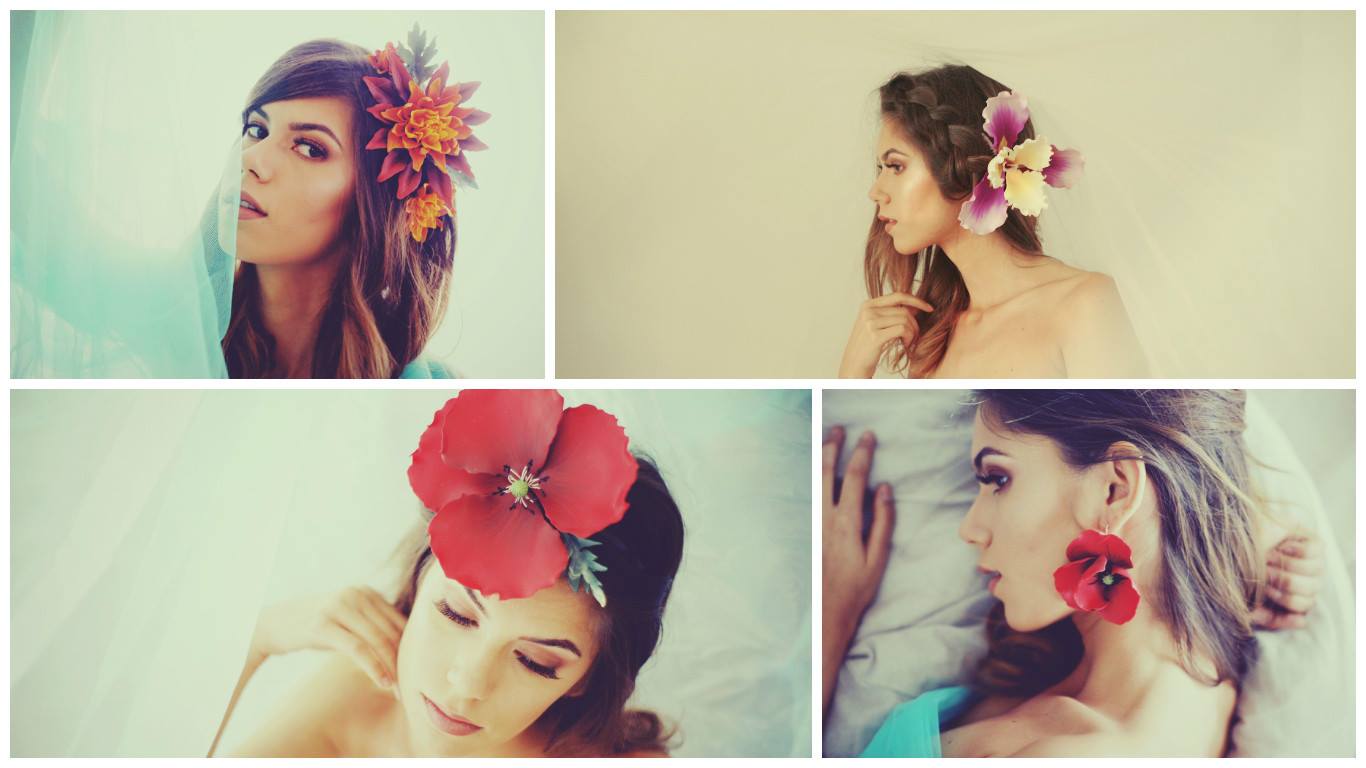 Innette Design – Photo model shooting for Denisa's MACRO Collection
---
I was really curious to discover the woman behind Innette, so I asked Denisa a few questions in order to reveal some details of her life as an artist.
Hi, Denisa. Thank you for accepting to have this interview 🙂
For two years you have been both a mother and an artist. How do you manage it?
Hello Bianca! I am very pleased to answer your questions!
If you're passionate about what you're doing, you finally find the time and inspiration to reconcile family life with the artistic activity. Although in the first year with my little baby it was more difficult to work, along the way I had learned how to organize my time so I can create and at the same time get involved in my child's care. My family's support has been also very important.
What's the story behind the name Innette?
Innette is Teni written in reverse order. That's how my best friend called me in childhood.
When did you start making the first polymer clay accessories and how did you choose this kind of creation?
I started experimenting with this material from college (about 10 years ago), willing to accessorize my outfits in an original manner. What started out as a play made me discover a creative side about whose existence I knew too little and which I gradually became devoted to most of the time.
Let's take the example of an accessory which renders a flower. How do you make it look so realistic?
It may surprise you, but the tools I use are rudimentary: a cutter, a toothpick, a needle, and a single modeling tool. Each petal, each pistil, leaf, etc., is molded exclusively by hand, based on the skills acquired during all these years of work with the polymer clay. Otherwise, it's all about imagination, creativity, obsession for details and the courage to try continuously something new.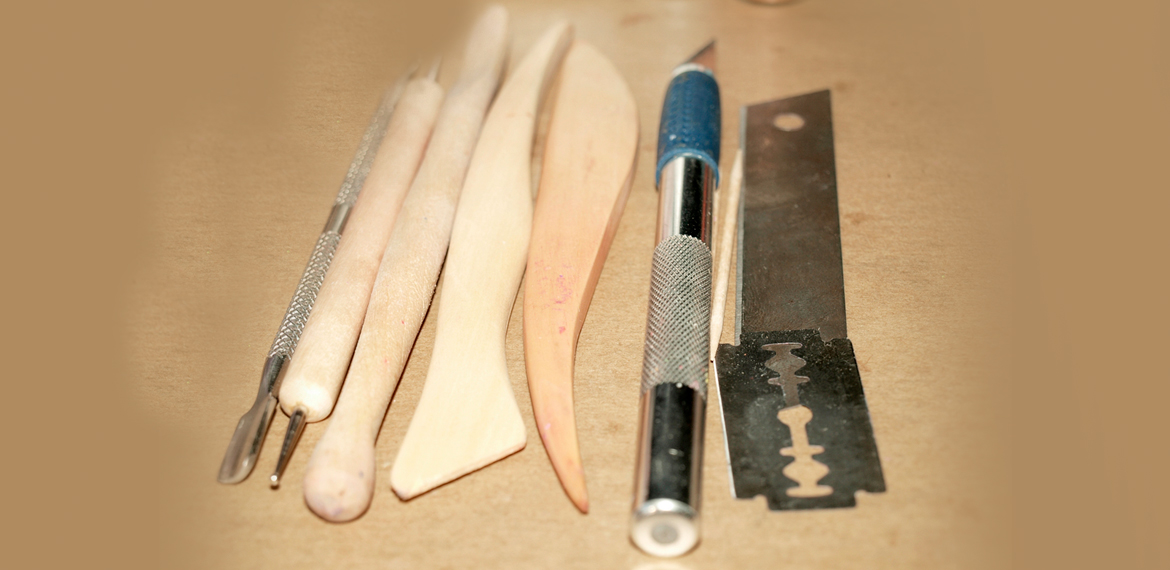 Innette Design – The tools used for the handmade accessories
I am sure that every new type of accessory involves many hours of learning and improving the working technique. What was the longest execution time for an accessory?
Every new floral design I try to render is a real challenge. The fact that I generally work on several projects in parallel makes it difficult for me to really appreciate the working time of each piece. Moreover, when you are absorbed in what you do, you can easily lose the notion of time. If I were to nominate an item that was the most complex and took the highest number of hours, I think it would be the lilac flower necklace (~ 100 flowers), for whose creation I spent over two full weeks.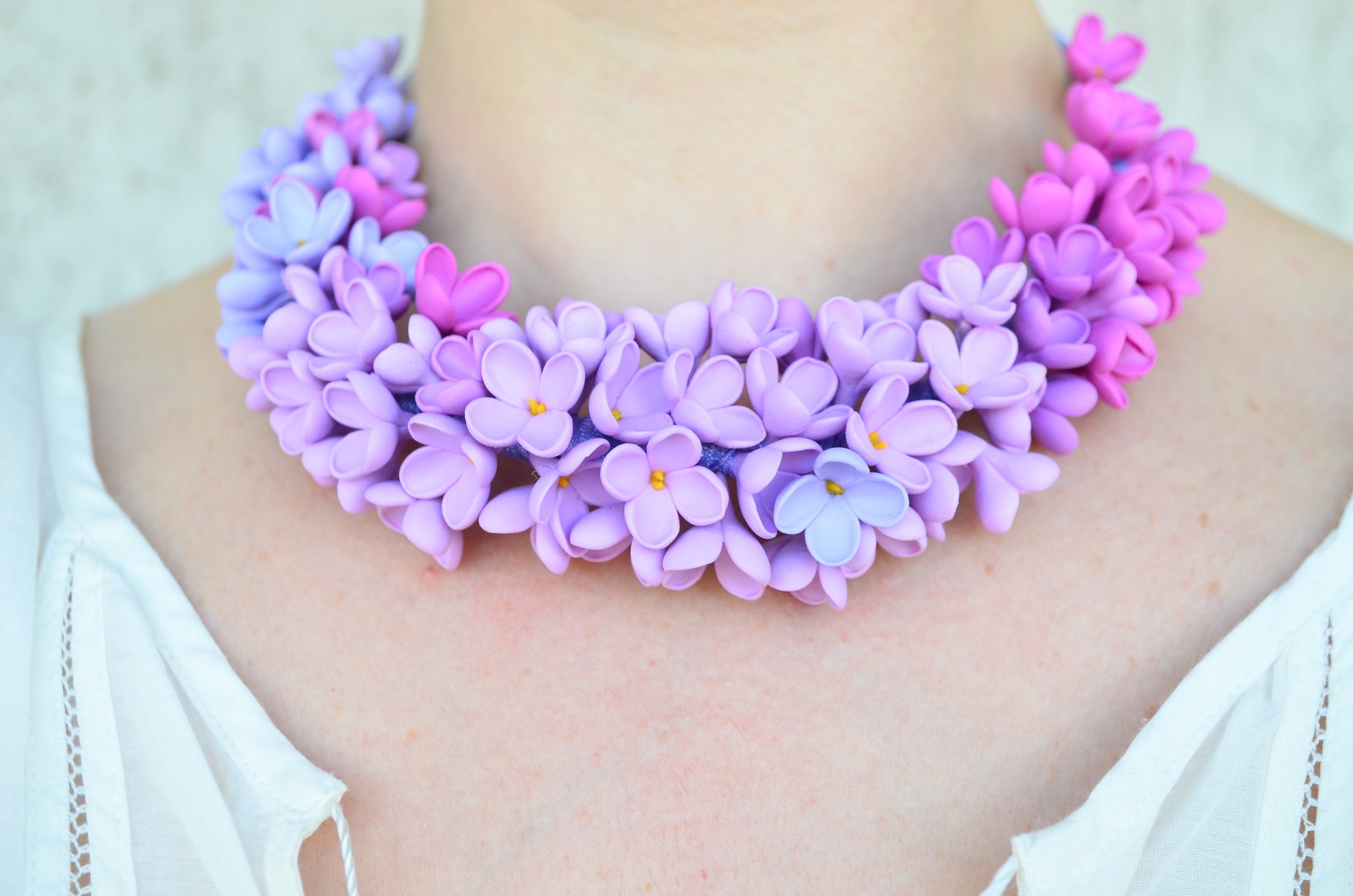 Innette Design – Unique creation made entirely manually representing a lilac inflorescence
It is said not to run 

behind success, but do what you really love and success will follow you.
How did you manage to stay patient and confident that the Innette project would grow organically? Have you ever had moments of panic in which you've been thinking about choosing a standard 9-5 job?
I have to admit that there have been a few moments when I put in the balance the comfort, stability and predictability, including financial ones, that come as a package with a standard job, and on the other hand, the "noise" and the volatility which accompany any entrepreneurial initiative, even more one from the artistic field. The fact is, every time I found myself in a dilemma, various events in my personal or professional life had reconfirmed me that I was on the right track.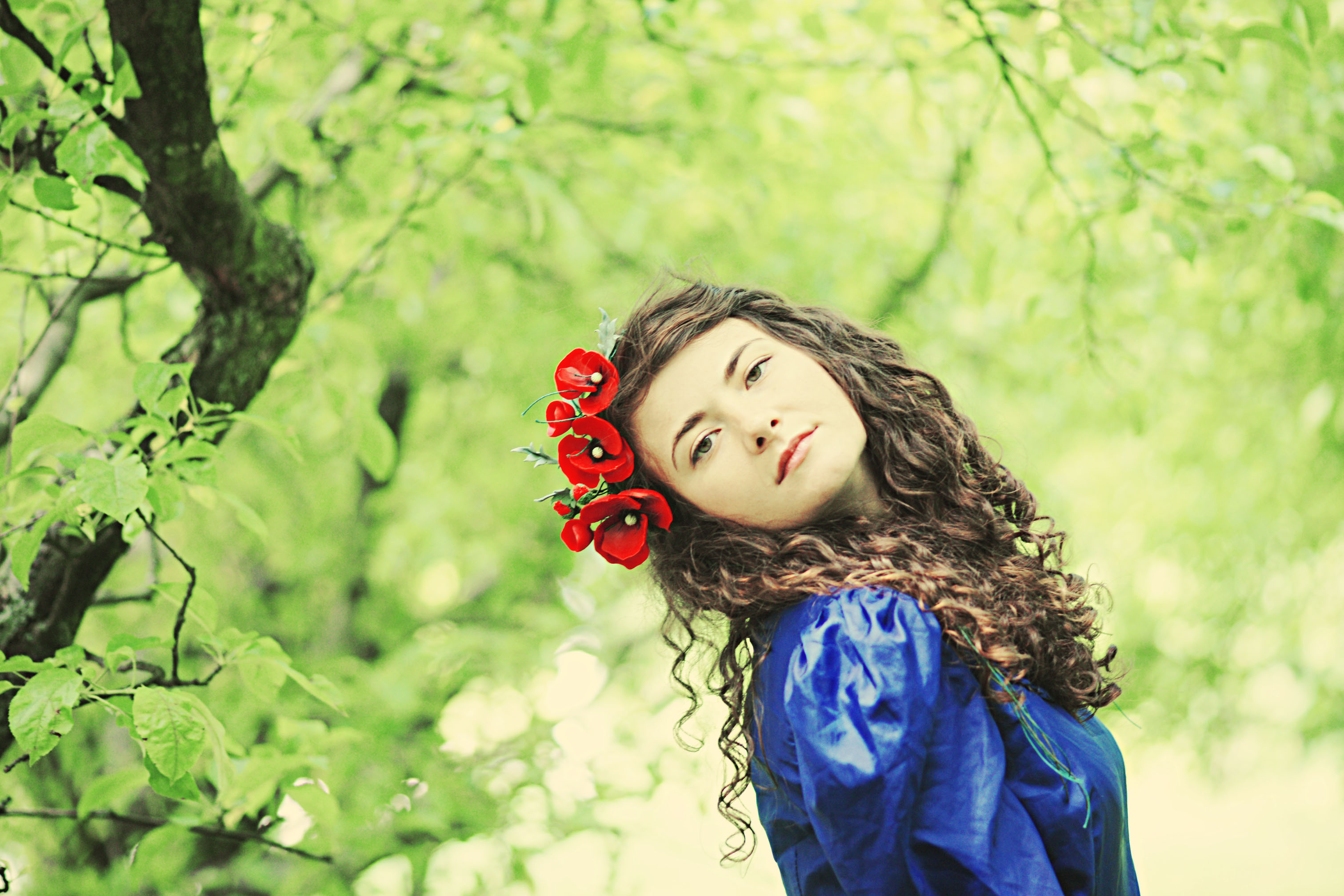 Denisa, the artist who founded Innette Design
What is the biggest risk you have ever taken in this project?
At one point, I chose to send some collections via courier to a fashion designer whom I did not know personally in order to be used for a photo shoot. It finally turned out to be a successful collaboration and I received back the accessories in optimal conditions.
What is your greatest quality that has helped you the most in growing your business?
Perseverance and attention to detail.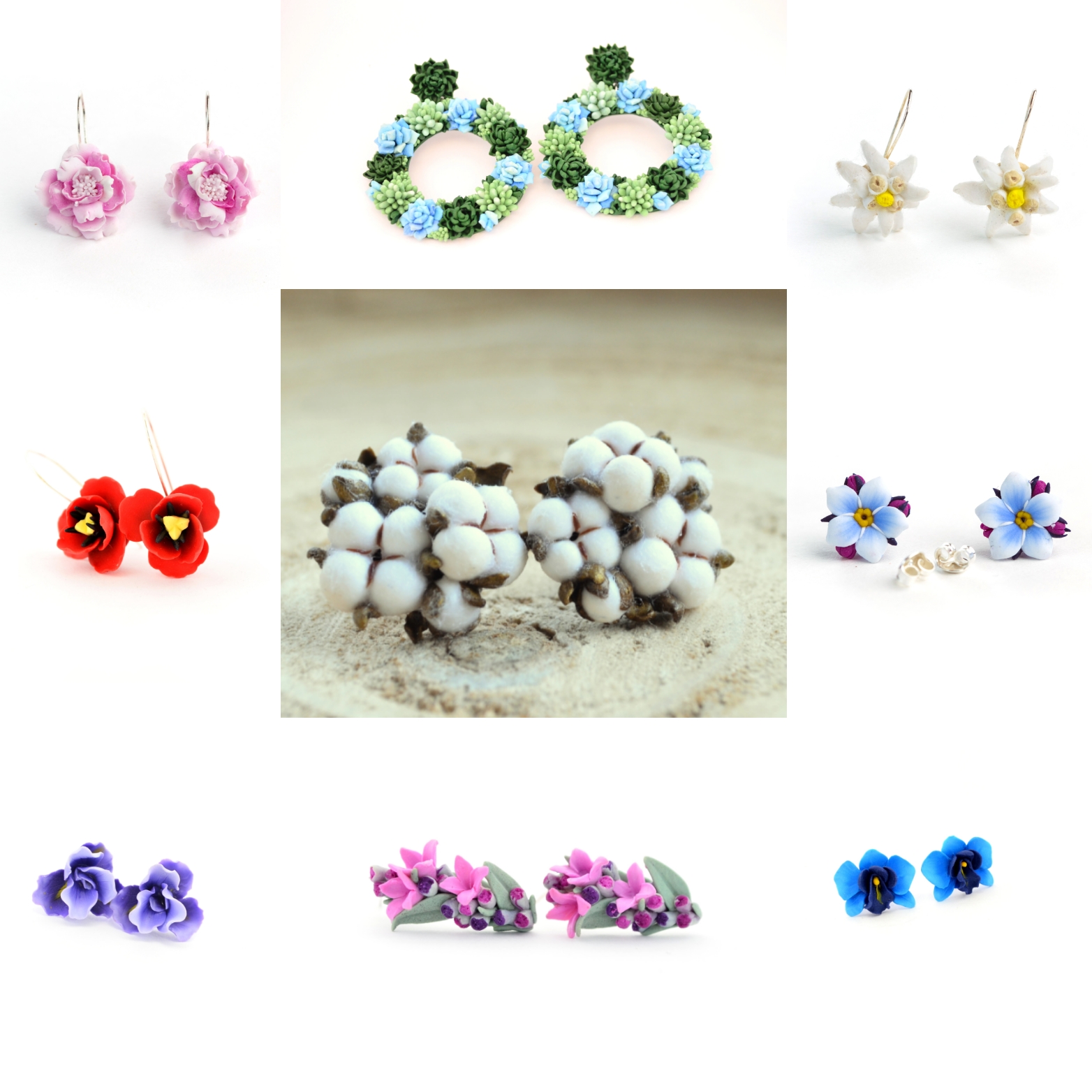 Innette Design – handmade earrings
I've seen on your website many photos with models wearing your creations. How did those collaborations start? Are you the kind of person who knocks the doors to promote your work or do you prefer to be approached by others who want to have a collaboration with you?
In general, the collaborations I've had were proposed by various fashion designers or photographers, fortunately for me, as I do not consider myself a very bold person.
As a matter of fact, the marketing and promotion part is an aspect I intend to devote more time in the next period.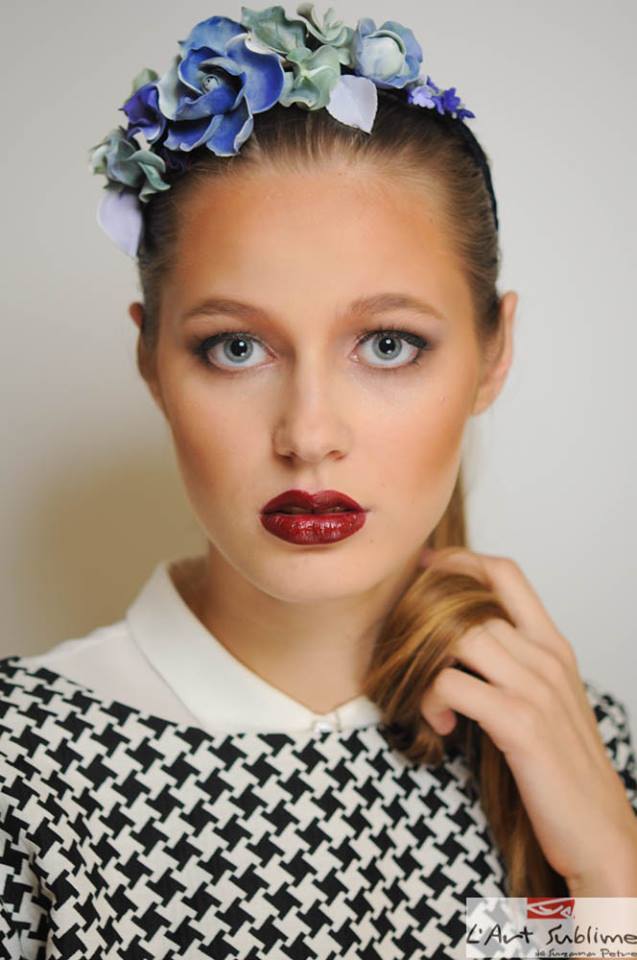 Innette Design – collaboration with L'Art Sublime, Workshop and Makeup School, Craiova/Romania
Over the years, Innette has certainly had many challenges. What would you have liked to know from the beginning?
I think it would have been very useful for me and it would have helped me to save time if I had been familiarized with the Romanian business environment's bureaucracy.
Thank you, Denisa! It has been a real pleasure to find out your story. I appreciate you for what you are creating and I am very glad when I meet people like you, consistent and hard workers!
---
Mărțișor (Romanian old tradition celebrated on March 1st) and Women's Day are almost here. Innette's handmade jewelry and accessories are a great gift for your beloved women. They will surely love to receive an unique accessory that denotes refinement and elegance. You can find below the models available in the Mărțișor 2019 collection.
Innette Design – Mărțișor 2019 Collection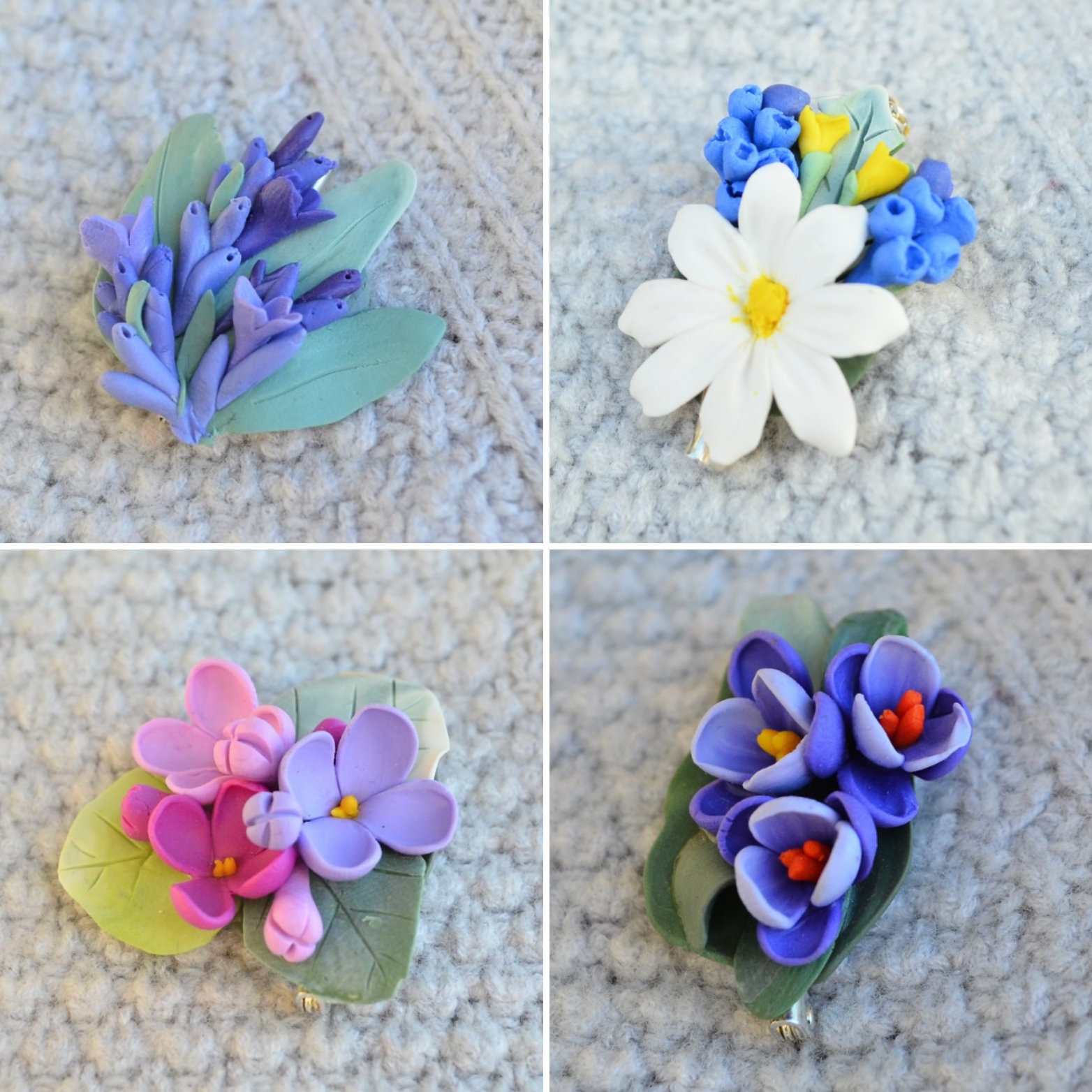 Innette Design – Mărțișor 2019 Collection
---
Innette Design – contact details
Official website: www.innette.com
You can order jewelry and accessories through the official website. If you don't find all the information you need on the website or if you want a customized accessory, you can contact Denisa here.
At the same time, you can subscribe to her social media channels to discover other spectacular and unique accessories:
Keep on reading IDR's articles to discover other amazing stories of people who are not afraid to take on new challenges and work on making their dreams come true.