Oana on business trip in Mexic
This post is also available in Romanian.
I have known Oana for more than 20 years. We both love to travel and this helped us keep in touch during all these years because each time we meet we give each other small souvenirs from the places we visited.
Ten years ago, I created my Facebook account because Oana was in Malta for studies, so I wanted to follow her adventure as an Erasmus student. After that experience, she was in the US two times with the Work&Travel program. I remember that before one of those two departures, me and her family took her to the airport. Before stepping through security, I gave her a poem which I wrote. Those were encouraging words for the new adventure that was about to begin for her in the following 4 months. I felt so excited and happy for Oana because USA had been a big dream for me since I was a child (here is the article).
From now on, the interview will only be about Oana and her courage to always accept with open heart new challenges in her life. After finishing her studies, Oana has been employed by an IT company from Craiova, Romania. She is still working for that company. I am pretty sure she would have never thought that job would change her life. Oana started going on business trips on customers' sites, each time for some couple of weeks. Nothing unusual until now. But if I mention about the destination of those trips, then the story becomes more captivating : Mexic, Hong Kong, South Africa etc.
Let's find out from Oana how those trips contributed to her personal development. She will tell us as well what the reality is behind those business trips and how tough is to be alone among strangers.
---
Hi, Oana! I am very happy to have this interview with you. Have you ever thought you would talk publicly about your trips?
Hi ? Honestly, not at all. I have been nervous about it since you proposed me the interview until I answered the questions.
Let's go in the past and talk about your first job from the kite loft in Ocean City/US. You were a student at that time. How did you decide to go there twice and what has changed within you after those experiences?
The decision of going to Ocean City and living the American experience was very well planned in advance, but the fact of choosing Kite Loft was spontaneous and based on intuition. Ten years after that experience, I figured out that the first thing which caught my attention was the beach proximity and the idea of working in a funny, colorful, positive and active work place, besides the « unknown » which attracted me (at that time I knew nothing about the kites). Moreover, I was about to find out that the kites market is much more complex and varied. A kite is not just a toy for children. In conclusion, Ocean City was about to offer me the change of admiring the ocean every day and being surrounded by good vibes. The loft's motto was « Where Fun Begins ». ?
Those two experiences which I lived in Ocean City radically changed my perspective about independence, self-confidence, freedom and the concept of having a job. I started to know who I am much better, I pushed my limits, I learnt how to interacted with so many different people and I discovered what I thought it's possible only in movies: to have a fun job where you go each day with a big smile on your face and even though it's tiring, you really love what you are doing.
What do you miss the most from that period?
I miss the freedom, the ocean and the energy of that place. I felt like life was so easy and careless.
Do you think that your American experience would have been the same if you had worked in a sky-scraper, rather than in the kite loft?
As I previously mentioned, one of the reasons for choosing that job was the proximity to the beach 'cause I've always loved the sea. So, I couldn't imagine the same experiences lived in a sky-scraper (even though I was about to live later on that kind of experience).
Speaking of the company that you are currently working for, as far as I know you had several job positions. Currently you are a Business Analyst. How would you describe this role?
The Business Analyst is the first interface with the customer. In every business, there is a person who need to correctly understand the change requirement of the business and to make sure that the strategies proposed for implementing those requested changes will not impact the proper business functioning.
In my case I have to understand what a television company is asking for. For example, they may want to have a quarterly report containing the results of the advertising spots, classified on days/time slots/TV channels etc.
From your point of view, what's the difference between a business trip and a holiday?
It's a different perspective of the trip, starting with the moment you plan it (including packing!). I am still very anxious before any business trip so I get nervous with weeks ahead and trying to think of the outfits I need, which shirts, what shoes, the bags these go with and so on. Plus, I am a very thorough traveler, so I pack (to a certain degree) as if I need to survive only with that suitcase :))) Not to mention that I would have to prepare meeting agendas and training sessions for the "onsite" work (and that's no fun at all…).
On holiday, you don't have to wake up early and have an 8-hour work day, but on the other hand, you work/ interact/ discuss/ spend time with locals. You get to have lunch or dinner in local places that perhaps you wouldn't find easily on your own or visit hidden places not exposed yet on the internet as the regular touristy stuff. You get to be as relaxed as you want towards the end of the week and you enjoy weekends a lot more as compared to a holiday where you're on a constant weekend…
It also depends on the nature of people, the location and culture, as I've seen very warm and open locals, eager to take us on special visits and willing to hang out, but have met also people not necessarily distant or cold, but keeping it on the professional, work interaction, that would rather separate their time at work and dedicate the after-hours to their families, hobbies etc.
Tell us a bit about what you felt when you received the proposal to go alone in Mexico City ? Did you immediately accept it ?
Not sure I panicked or maybe I'm brave now. I probably panicked 🙂 I'm not easily scared though and I consider myself brave, so I accepted easily.
The outside perception is that Mexico may be a dangerous destination. What is actually the reality on the scene? Have you ever felt in danger?
Sadly, it can be dangerous, but I never had any problem or feel unsafe, as long as you follow certain rules, which I always did. Meaning, there's areas where you wouldn't go, you'd have to be extra careful downtown and generally in the famous, touristy places, never take a taxi from the street, especially a red one and so on.
When you travel on customer site, you have the advantage that the locals can be very helpful and can give you all sorts of tips & tricks. I remember me and a colleague were told in our first trip there (with honesty and the best intention of our local Project Manager) that if someone tries to rob us and asks us for our money, phone or bag, we should give them without thinking twice because burglars don't hesitate to use a gun in such cases. I know we got the chills then, but we took it as a good piece of advice and did not get scared of leaving the hotel. I was never involved in some scary or dangerous episode. Still, despite the bad stories you'd hear, Mexico is a wonderful country and so is Ciudad de Mexico. It has amazing places to visit, extraordinary food (and tequila!) and this alive, colorful vibe on every street, park, terrace or bar.
After the several trips to Mexico, what do you appreciate the most at the Mexican people?
Connecting this with the previous question I was lucky with the people who I worked with not only because they were warm and outgoing, but also because they gave me the confidence to enjoy the city and the Mexican experience. We bonded nicely. I keep in touch with them even now and I've made some really good friends there.
What I really like about Mexicans is that they're very open and friendly and they would make you feel welcome and take care you'd enjoy the moment, if it's a trip to an ancient pyramid, a good dinner or a Sunday festival on a main square.
Let's « jump » on another continent. What was your impression about Hong Kong?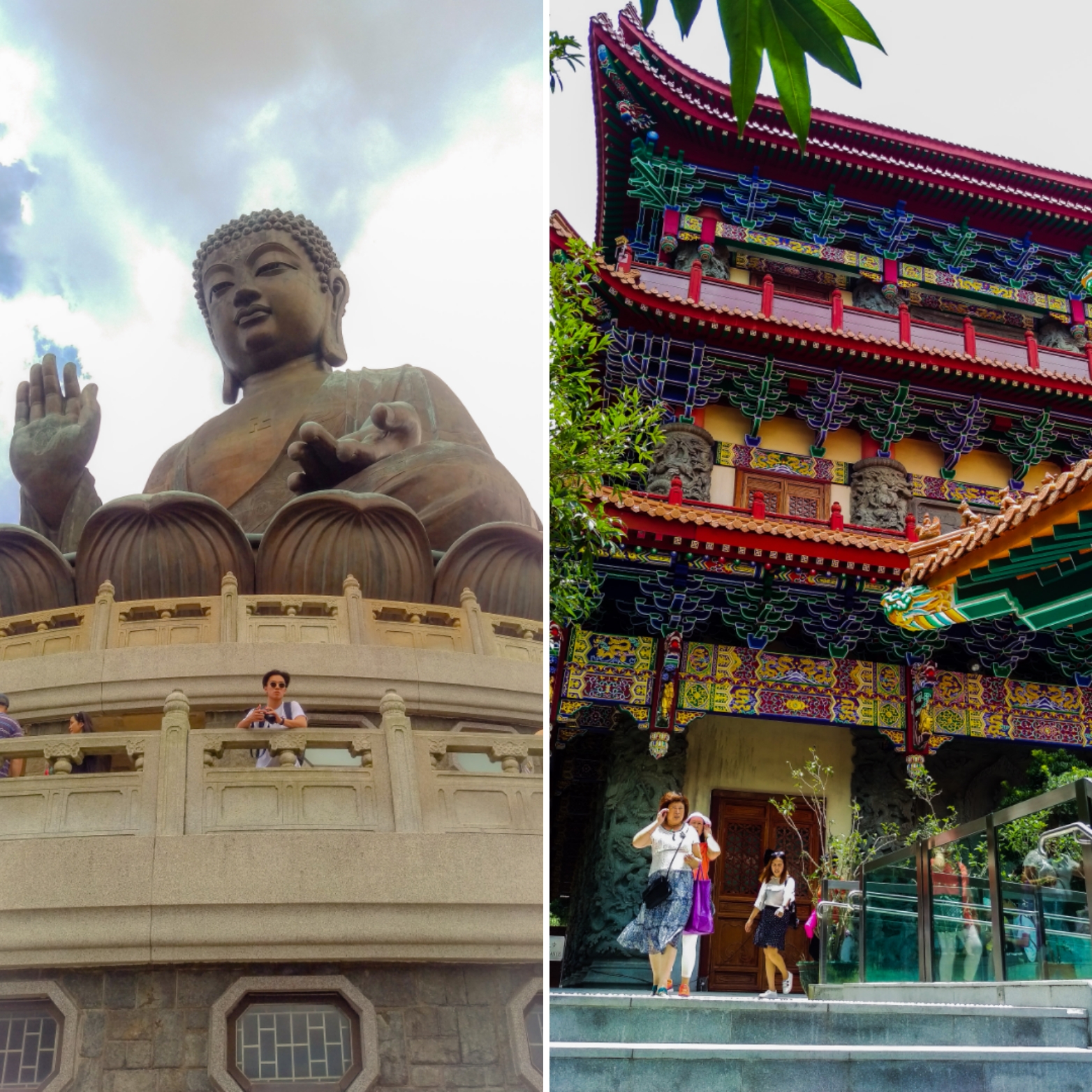 Hong Kong
Hong Kong is probably my new favorite city. New York and London were previously my favorites…but this one quickly gained my heart (or I have to re-visit NY/ London :)).
Hong Kong is a very busy/ alive/ vibrant city – imagine its surface is around 1000 km², but it's population probably over 7.5 million by now, which makes it one of the cities with the highest population density (6.5 k/ km²). Not to mention it has one of the biggest ports of the world, which brings not only industrial and tourism growth, but being surrounded by the Pearl River Delta and the South China Sea means lots of relaxation or water entertainment opportunities.
Hong Kong has a spectacular mix of urban and rural, new and old, modern and traditional. There are amazing skyscrapers and time-forgotten islands, fashionable shopping malls, fancy restaurants or incredible amusement parks and in the same time breath-taking beaches, stunning waterfalls and natural parks. And you can find such a mix all around the city, or its close-by proximity so you'll never be bored around Hong Kong.
It used to be a city for all-pockets (and in a way, it remains so), but HK recently became the city with the highest concentration of super-rich people in the world, surpassing New York, Tokyo and Paris, while being also the most expensive city in the world for housing (which makes it once more, a fascinating mix).
What do you appreciate the most at the Asian people?
Their alert rhythm and thrilling beat every day and at the same time, the serenity and peace of mind they transmit. I also admire the care for the body, soul or mind they are brought up with and that they embrace life, regardless of age.
What other places did you visit during your business trips and which one, from all of them, is the closest to your heart?
I've also traveled to South Africa (in both Johannesburg and Cape Town), to Turkey (Istanbul quite a few times), Israel or various spots in Europe (Amsterdam, London, Madrid).
Still, Mexico City and Hong Kong are currently closest to my heart.
What did you learn about you after all these trips?
I've learned that (even if travelling isn't new or you're prepared for a country) you never expect to experience the trip at the level you get to do it, although ironically, I always feel in the end, I did not experience enough.
And I'm always learning I can have new limits, in terms of food and eating, local habits, cultural practices or personal-wise, in overcoming new barriers of patience, fatigue or stress-resistance or, on a brighter note, peacefulness. 🙂
Do you feel that you enjoyed each trip to the fullest or did you sometimes feel yourself like an « outsider » within your own life?
I've anticipated this with the one above, but indeed, now that you put it that way J I've enjoyed my trips, one by one, all together, even when re-visiting, but I always believe there is room for more and that includes, appreciating a place, culture, its people even more.
If we are counting all your trips, we can easily say that you have more than 1 million kilometers « on-board ». How do you feel about it? Do you still have the same energy and enthusiasm to discover the world?
I'm older now (unfortunately J), but I still have energy and enthusiasm. However, I think there's different kinds than a few years ago and I look at travelling with a different perspective, for example, I now focus to enjoy more the little things, a coffee in a cozy corner, a good hike to a waterfall or a lake where I can take some photos or I get excited by a lunch with locals in a traditional place or a local dish.
My dear Oana, this interview shows you once more the wealth of knowledge that life offered you and which makes you a UNIQUE human being. Just as each of us is unique!
I wish you more interesting and captivating journeys in the future and to be able to always understand the purpose behind each trip and to enjoy it to the fullest.
---
Keep on reading IDR's articles to discover other amazing stories of people who are not afraid to take on new challenges and work on making their dreams come true.