Mediterranean cruise with MSC Meraviglia ship
This post is also available in Romanian.
After I have made the blog public, I reconnected to a lot of friends whom I hadn't spoken in a while. Ruxi was among the first who sent me an encouragement message for my new project "I Do Recommend". Thanks Ruxi for that! 🙂
We got to chat about a common passion of ours, travelling, and I found out that not long ago she had been on a cruise. I am craving on going on a cruise for quite some time now.
I considered a cruise several times in the past, however I changed my mind every time because I had some bad experiences with seasick before. Maybe the movies in my head, where the ship rocking on the ocean makes me want to throw up, are that quite so bad. That's why I asked Ruxi to tell us more about their holiday on a cruise.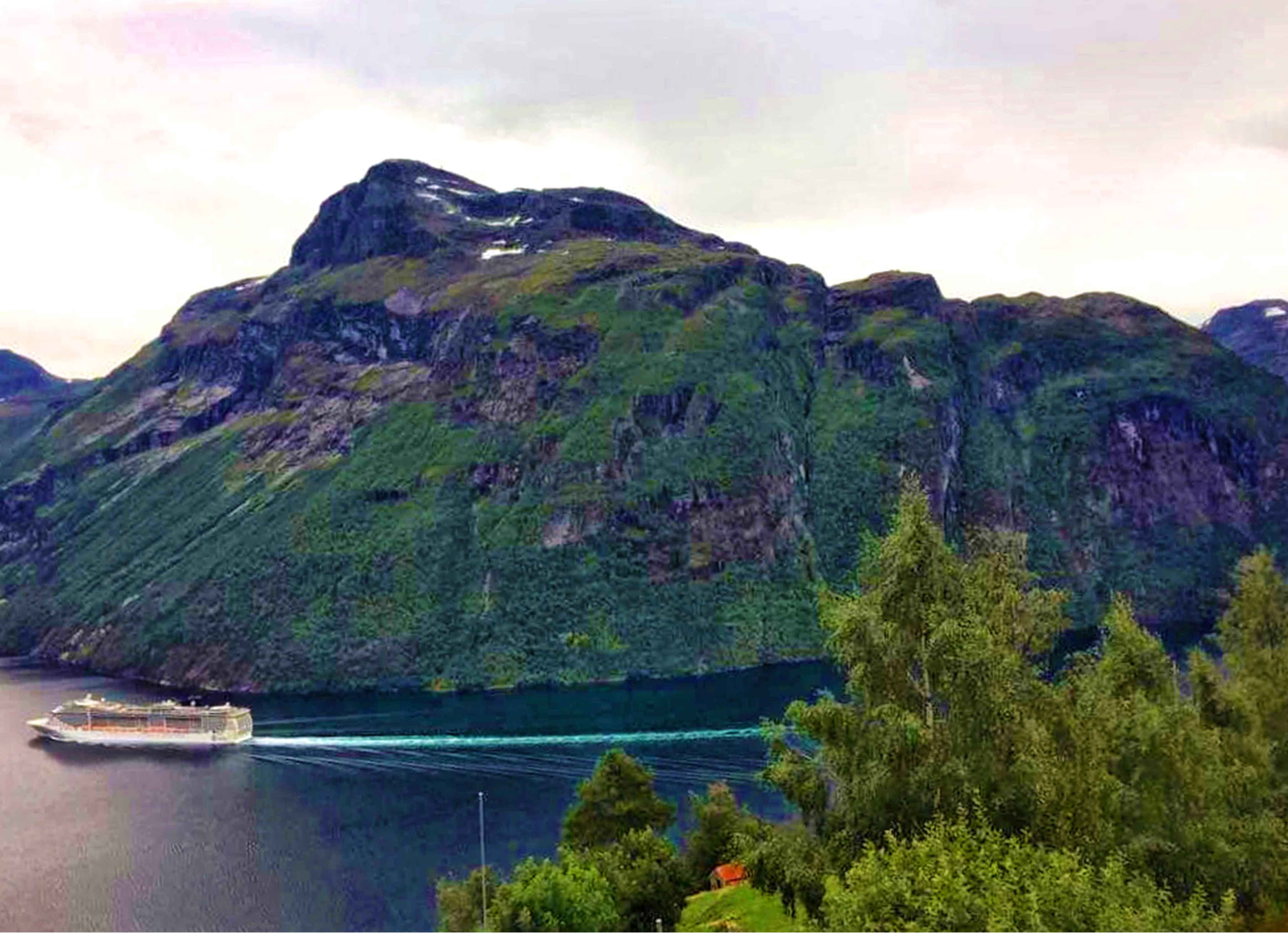 Cruise in the Norwegian fjords with MSC Fantasia ship
---
Hi Ruxi! I am happy to meet people that enjoy living all kinds of remarkable experiences. How did you choose to go on a cruise and who helped you plan the trip?
Dear Bianca, I am very happy we can talk, even online, and I enjoy you sharing your travelling experiences. I think we have the same taste when it comes to choosing travelling destinations.
I've dreamt of going on a cruise even since I was a little girl. This dream has kept growing and so we decided to go on a cruise on our honeymoon in the Norwegian fjords.
I wanted to travel with MSC Cruises as I heard very nice things about them. Initially, I tried to book the trip on their website, but this is not possible as they only sell trips through partner agencies. However, their website led me to these agencies and I chose croaziere.net. On a Saturday morning, I went to their site in Bucharest and talked to a very kind representative lady that had recently gone through the fjords trip. She spoke with great passion and admiration about this trip so we decided to take it. Her advice proved valuable for us during the trip, both regarding cost reduction and what objectives were worth visiting. When we came back from the cruise, we decided we have to go on another one so we booked a cruise on the Mediterranean for the next year with the same agency.
What was your route? Did you also buy any optional trips?
Our route with MSC Fantasia ship was the following:
On the sea
Stavanger, Norvegia
On the sea
We only book a transfer from Hellesylt to Geiranger. Otherwise, we worked things out by ourselves.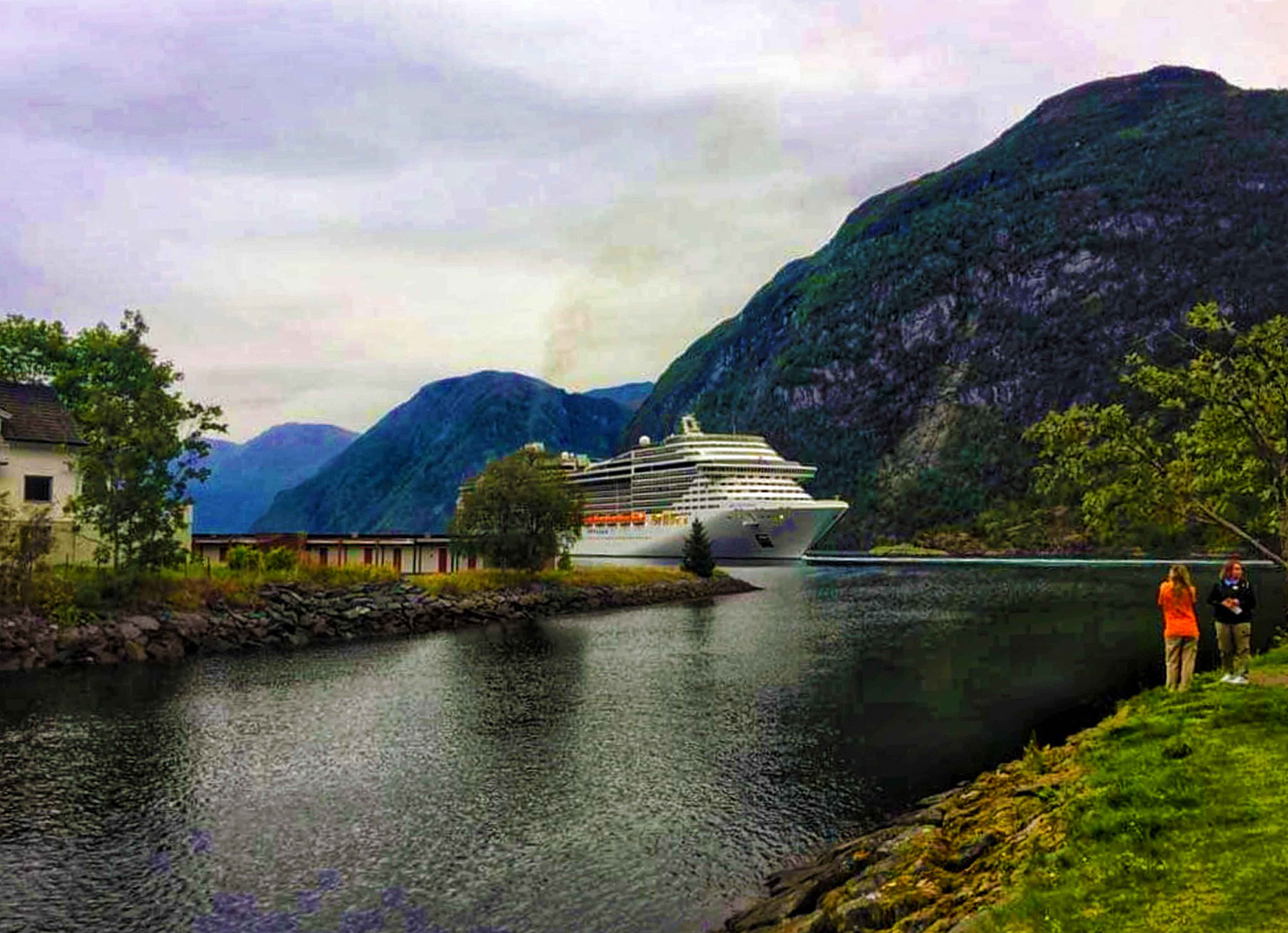 Cruise in the Norwegian fjords with MSC Fantasia ship
The route on the Mediterranean with MSC Meraviglia was the following:
Genova, Italia
Civitavecchia, Italia
Palermo, Italia
Valletta, Malta
Pe mare
Barcelona, Spania
Marsilia, Franta
Genova, Italia
I don't particularly recommend this route, we enjoyed more the trip to the fjords in Norway.

Mediterranean cruise with MSC Meraviglia ship
I know that there are cabins on ships that don't have windows, which can be claustrophobic. What type of cabin did you book?
We chose inside cabins on both cruises, so without windows. On our trip to the fjords we got a free upgrade to a balcony cabin. This type of cabin is totally worth it especially between the fjords. All the cabins are large and I never had any discomfort, even on the inside cabin on the Mediterranean.
Can you describe a typical day on the cruise ship and what facilities did you have?
There are some many activities to do that you just don't have enough time for all of them. We did not buy the WIFI service on board (WIFI is not for free on the ship), so we only used mobile internet while outside the ship and other free WIFI services in different coffee houses.
Every evening there were shows available. We watched a flamenco show just before we arrived in Barcelona and also a shadow show, called A World of Hands. After these types of shows, there were dancing parties, i.e. White Party.
Several other activities that we enjoyed are the following: dance classes, general knowledge quizzes, Master Chef and of course inside and outside pools and gyms.
MSC Meraviglia even has a runway on the deck. The days spent on the sea have been among my favorites due to all these activities that we had access to.
Did you have enough time to visit the locations where the cruise ship docked?
This is a very good question. If we are talking a small port town, then you have enough time to visit it. Such a town would be Stavanger, in Norway, a very cozy place.
If it's a bigger city, the time spent (a few hours) helps you get a glimpse of the place and if you like it, you can come back and visit it on a different occasion.
For example, 7 hours are not enough to visit Barcelona. Besides, the ships don't usually dock in the center of the city so you also need to account for time and money to get from the dock to the city center. That's why I recommend the cruise through the fjords, where you dock in cozy little towns and you don't need to be on a rush all the time.
Did you meet any Romanians that worked on the cruise ships?
Yes, we met a few and we were pleasantly surprised to find out they had high level jobs. Many of them were managers. Romanians are well regarded on cruise ships.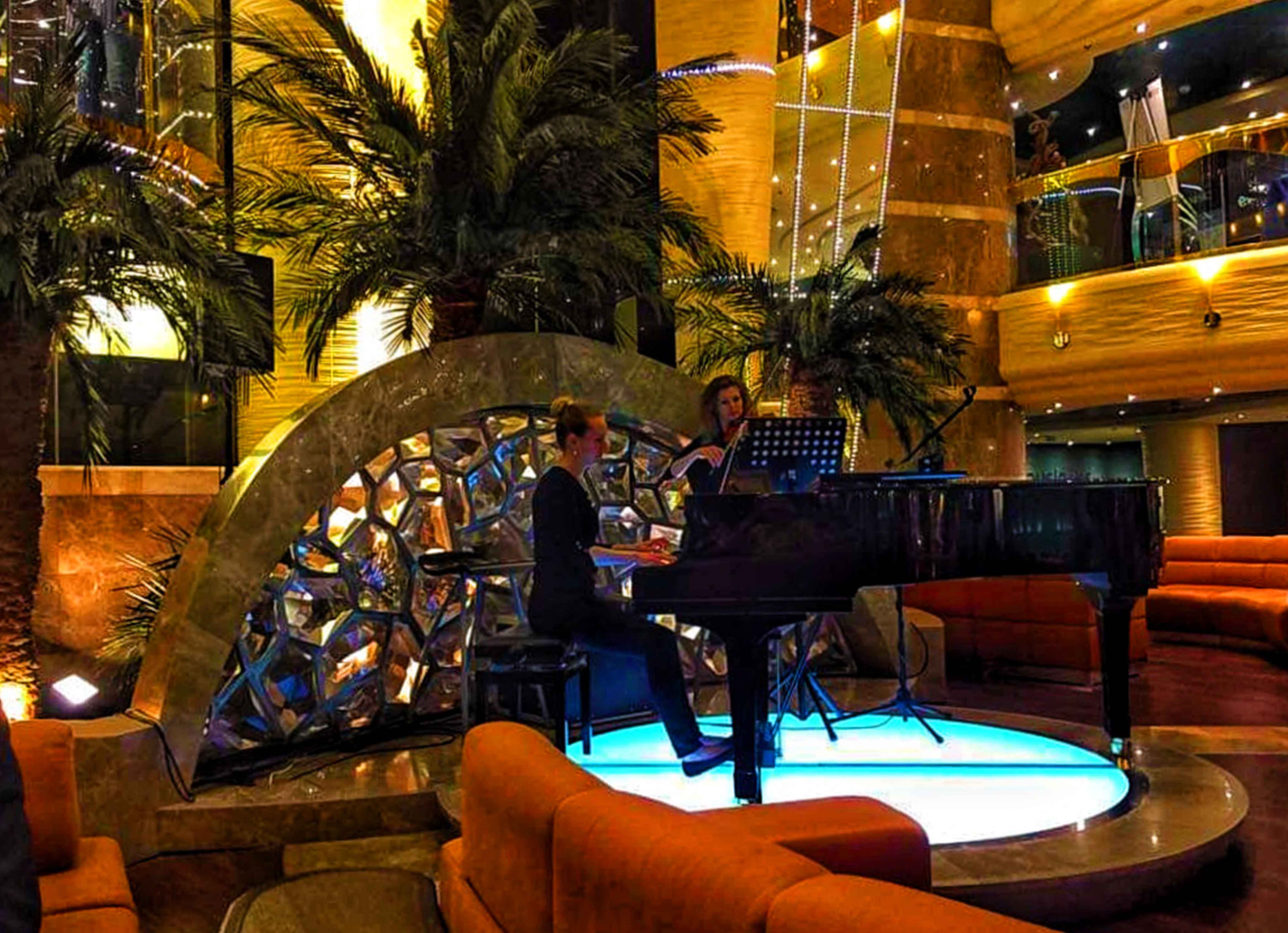 Cruise in the Norwegian fjords with MSC Fantasia ship
I must admit, when I think about cruises, Titanic comes to my mind. How did you feel when you were in the middle of the sea and there was no shore around?
I loved it. Feeling the breeze on the deck is an exciting feeling. Once you tried this type of experience, you will most likely want to do it again. Actually right now, just thinking about it, I feel the sea calling me.
Did you encounter any storm while on the sea? If so, were you afraid?
We did go through some storms for a few nights on the Mediterranean. The sea was so rough that I didn't feel so good and I was a little afraid as the ship rocked quite a bit. For the cheaper price we got a rough sea in the package. That's a risk outside the peak season.
I am wondering if I would feel comfortable to stay for so many days on a ship knowing that I get sea sick. Were the waves so strong to rock the ship?
I recommend that if you're going on a cruise, the first one should be in peak season, even if the price is more attractive in the low season. If the weather is fine, you won't even feel the ship moving at all. Moreover, all the ship personnel, including the cleaning ladies can help you to deal with sea sickness – they will offer you patches to place behind on your skin behind the ear or different other cures.
They are familiar with these types of scenarios and care for everyone on board to feel good, so you can go safe and optimistic.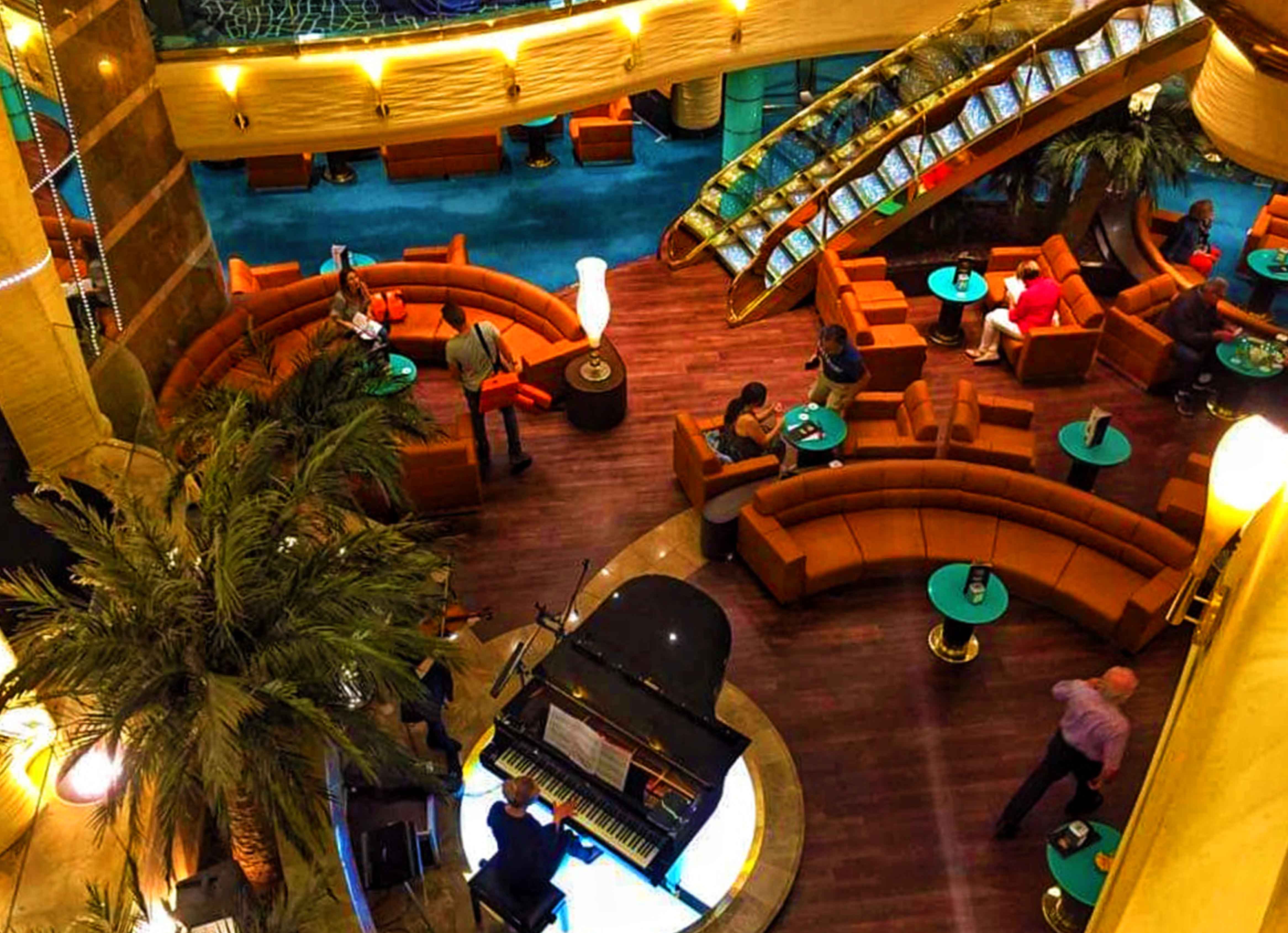 Cruise in the Norwegian fjords with MSC Fantasia ship
What was the most memorable part of the trip?
I cannot talk only for myself when it comes to memories from the cruise. There are so many: every evening shows, the amazing food, the competitions we took part in, the luxury and magnificence of the ships. One such amazing characteristic of the MSC Meraviglia ship was that the entire internal cabin's roof was covered with a huge LED display of about 480 square meters, like a digital sky capable of showing movies, events, sun rises, sunsets and starlight skies.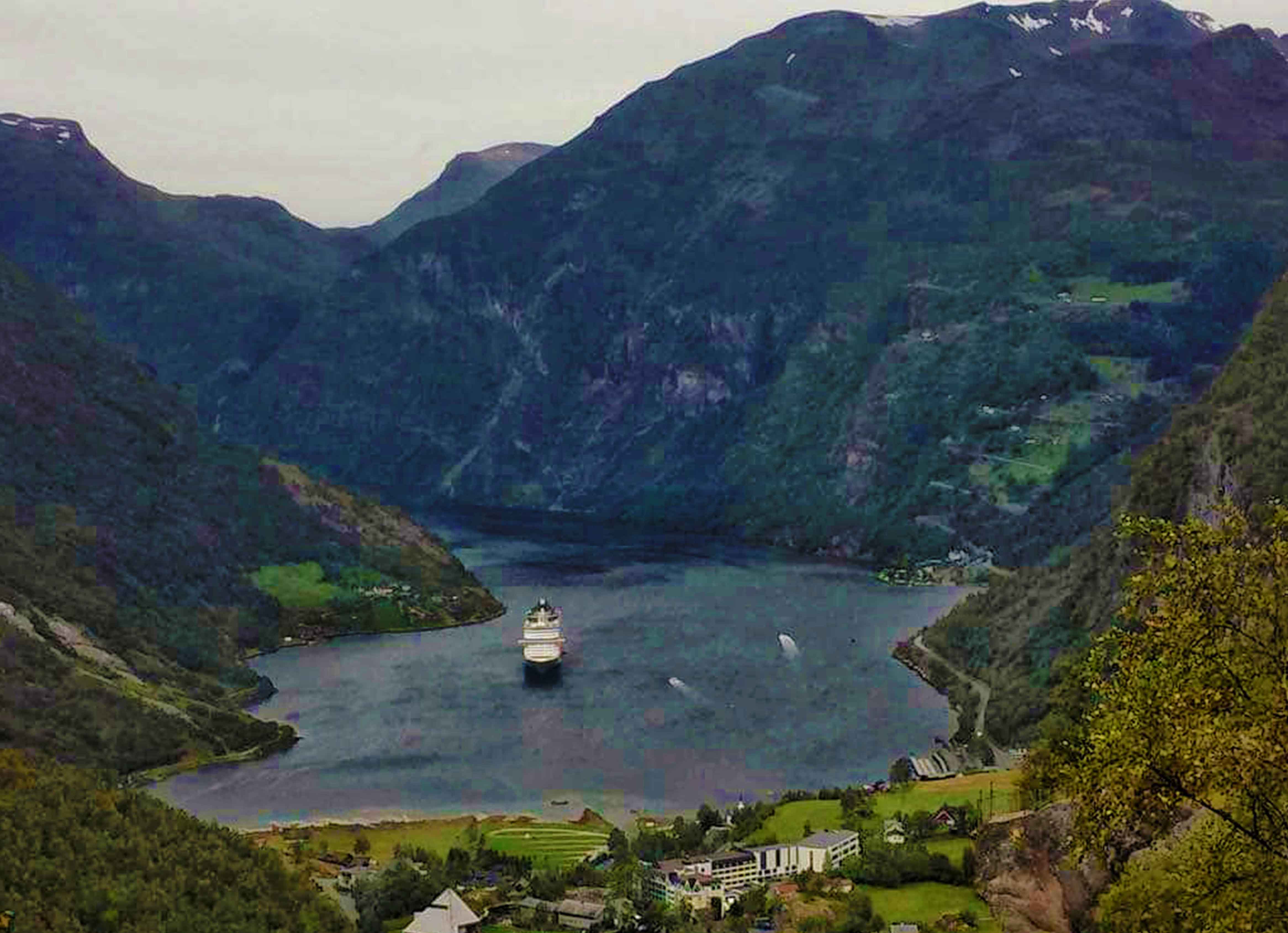 Cruise in the Norwegian fjords with MSC Fantasia ship
What was the most thrilling moment on the cruise?
The animation team on the ship takes care of introducing some pseudo thrilling moments from time to time to the excitement of the public. I don't want to reveal more of the surprises on the ship. We hadn't really had any thrilling moments on our trips.
Describe in one sentence the experience on a cruise ship.
The most wonderful type of holiday for us, fitting perfectly to our active lifestyle.
It was a pleasure to find out the story of your holidays. I must admit you made me wish to go on a cruise. When the moment comes, I will look you up to share impressions.
Thank you and I wish you to have a lot of exciting experiences in your trips!
---
For more details about the cruises, check out the official website of MSC Cruises or the travel agency croaziere.net.
---
Keep on reading IDR's articles to discover other amazing stories of people who are not afraid to take on new challenges and work on making their dreams come true.