Photograph by Oana Badiu – Wild Northern Gannet, location Mykines / Faroe Islands
This post is also available in Romanian.
I have known Oana since 2006. I knew that she had been working as a software developer in Finland. Recently, I have discovered some really amazing landscape and wildlife photos on her Facebook profile, Oana Badiu Photography . They were similar to the ones that you see in a specialist magazine. That was the moment when I irremediably fell in love with her work and I began to follow her posts with admiration and joy.
Photography captures the beauty of life.
In addition, the number of photos on Oana's Facebook page was growing fast, so I realized that her passion is not just temporary. All the photos are high resolution and reveal great professionalism. At the same time, the places where Oana travels to take photos are look even more spectacular: Faroe Islands, Madeira, etc.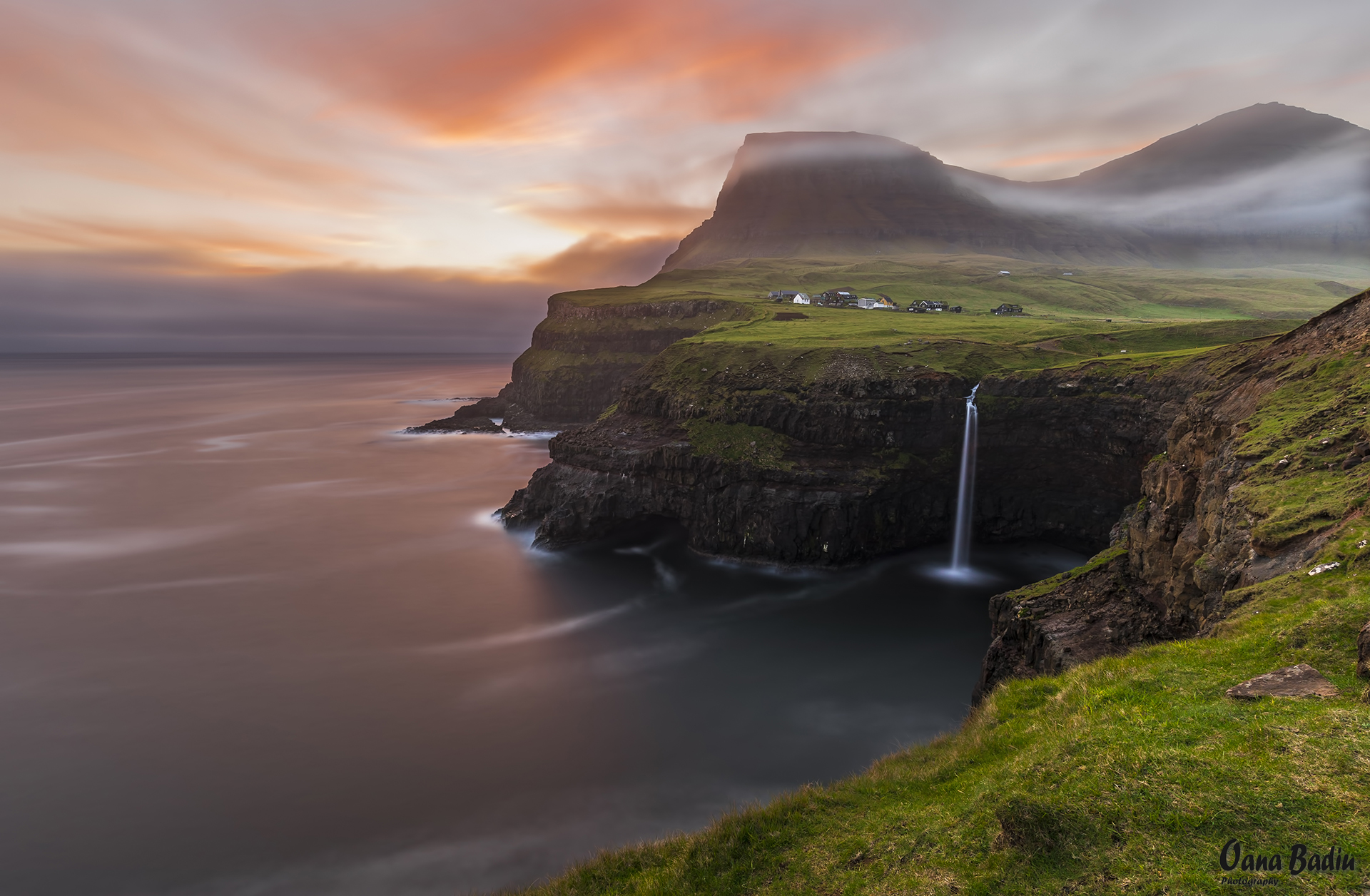 Photograph by Oana Badiu – Long exposure of Gásadalur village and Mulafossur Waterfall (Faroe Islands)
Oana also has a website, where she writes articles about her photo sessions' experiences. National Geographic Blog's team noticed the quality of her photos and included some of them in top best photos (Top 25 Best Photos of the Week: Migratory Birds 2) .
I considered that Oana's work deserves more recognition and attention, so I decided to interview her. I wanted to find out more about how her life had changed since becoming a photographer.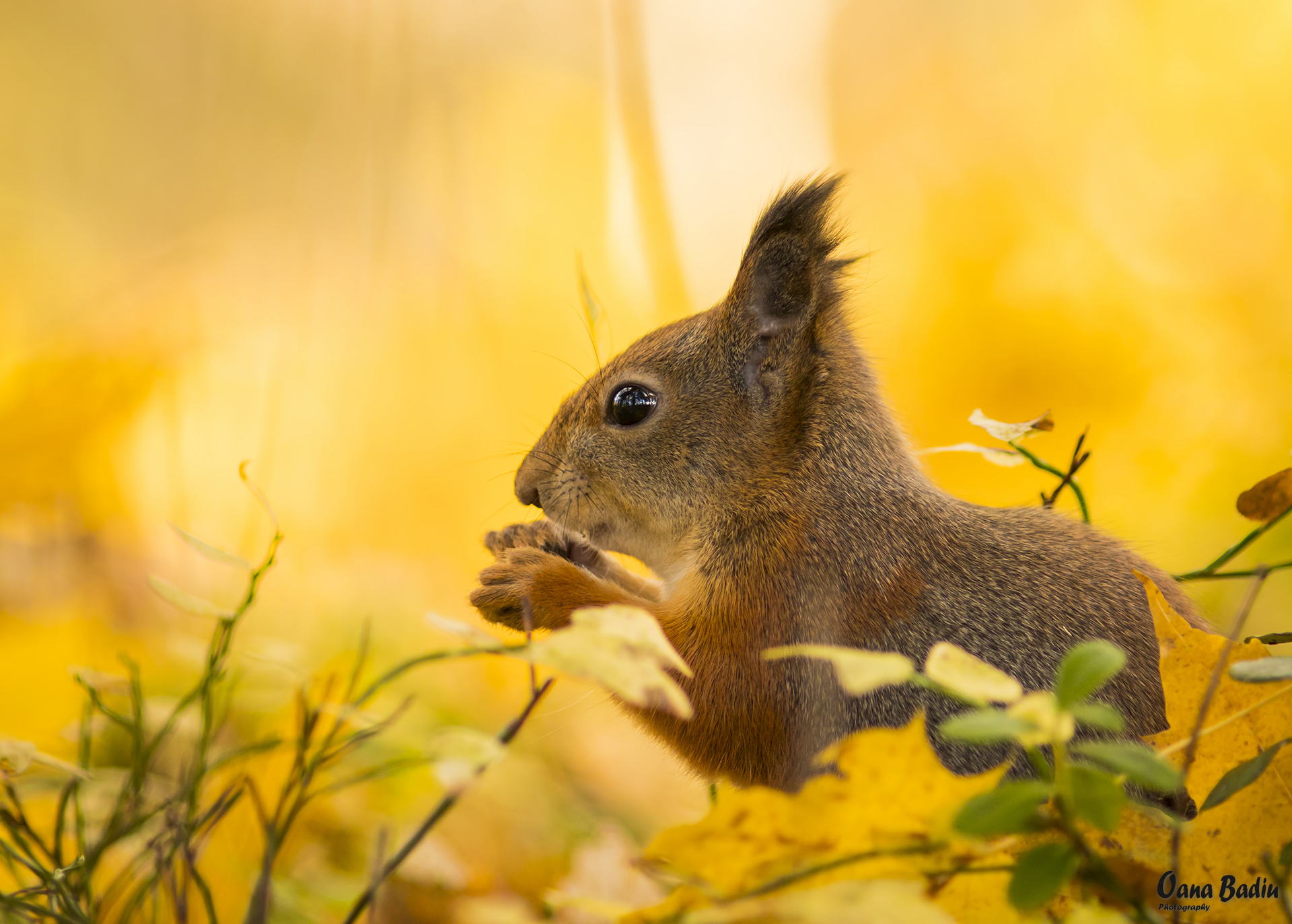 Photograph by Oana Badiu – Red squirrel in autumn colors (Helsinki, Finland)
---
Hi Oana. Thank you for letting us step into the universe of your photographs.
As far as I know you are a software engineer by day. When did photography start to become your hobby?
Hello! I am very happy to be able to talk to you after so many years and I would like to thank you for this opportunity! Ever since I was a little kid, I admired nature and animals. I grew up mostly with my grandparents in the country side and my main activity was to raise pigeons and chickens. I used to sit outside the whole day and watch my pigeons and other wild birds, taking notes about their behaviour. When someone was asking me what I would like to be when I grew up, I would answer that I want to be an ornithologist.
Meanwhile, I got a bit separated from the nature in the urban place my parents were living, however I always watched the National Geographic documentaries about nature and animals. In 2011 I moved to Finland, a place where only 5.5 million people live and nature is part of every day life. I even got lost in the forest close to the centre of the city! Finnish people appreciate the nature a lot and probably landscape and wildlife photography is one of the most popular hobbies.
Two years ago, I wanted to try it out and I bought my first DSLR camera, a Canon 80D and I hoped that this could be a hobby I would actually keep. To my surprise, I didn't just keep it, but I became obsessed by it and every day I like it even more!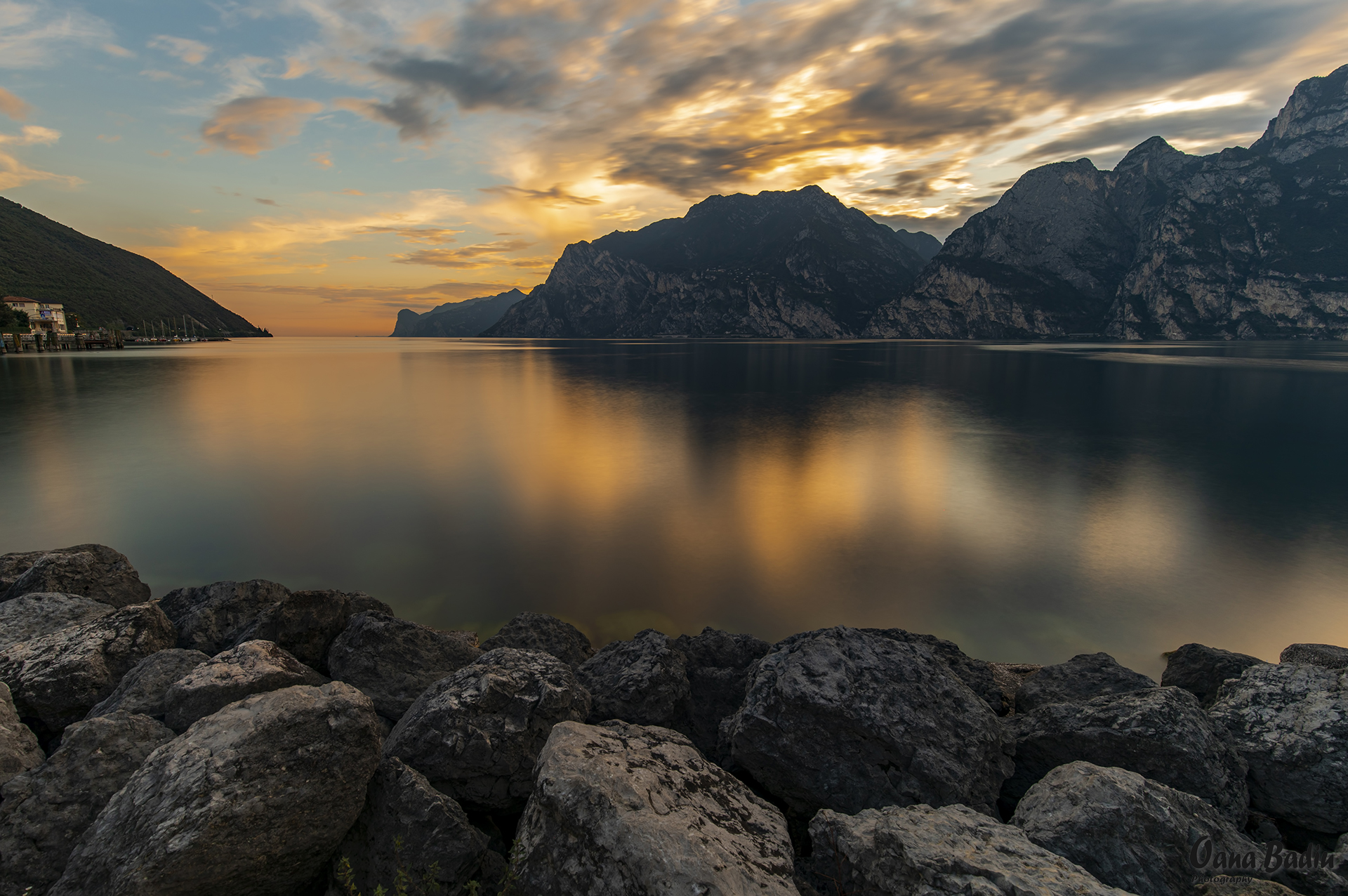 Photograph by Oana Badiu – Long exposure of Lake Garda (Trentino, Italy)
When do you have time for photography?
I use almost my whole free time to take photos, edit photos or plan where to go and take photos!
How did you improve your photography over time?
I haven't really taken any professional photography courses, I just self-studied by reading magazines and blogs and watching YouTube videos made by the professional photographers. Luckily for me, they are willing to share their techniques also with beginners. Even with those, the real key is just to practice and take thousands of pictures until you get one right! The only way to learn is to get out there and experiment as much as possible!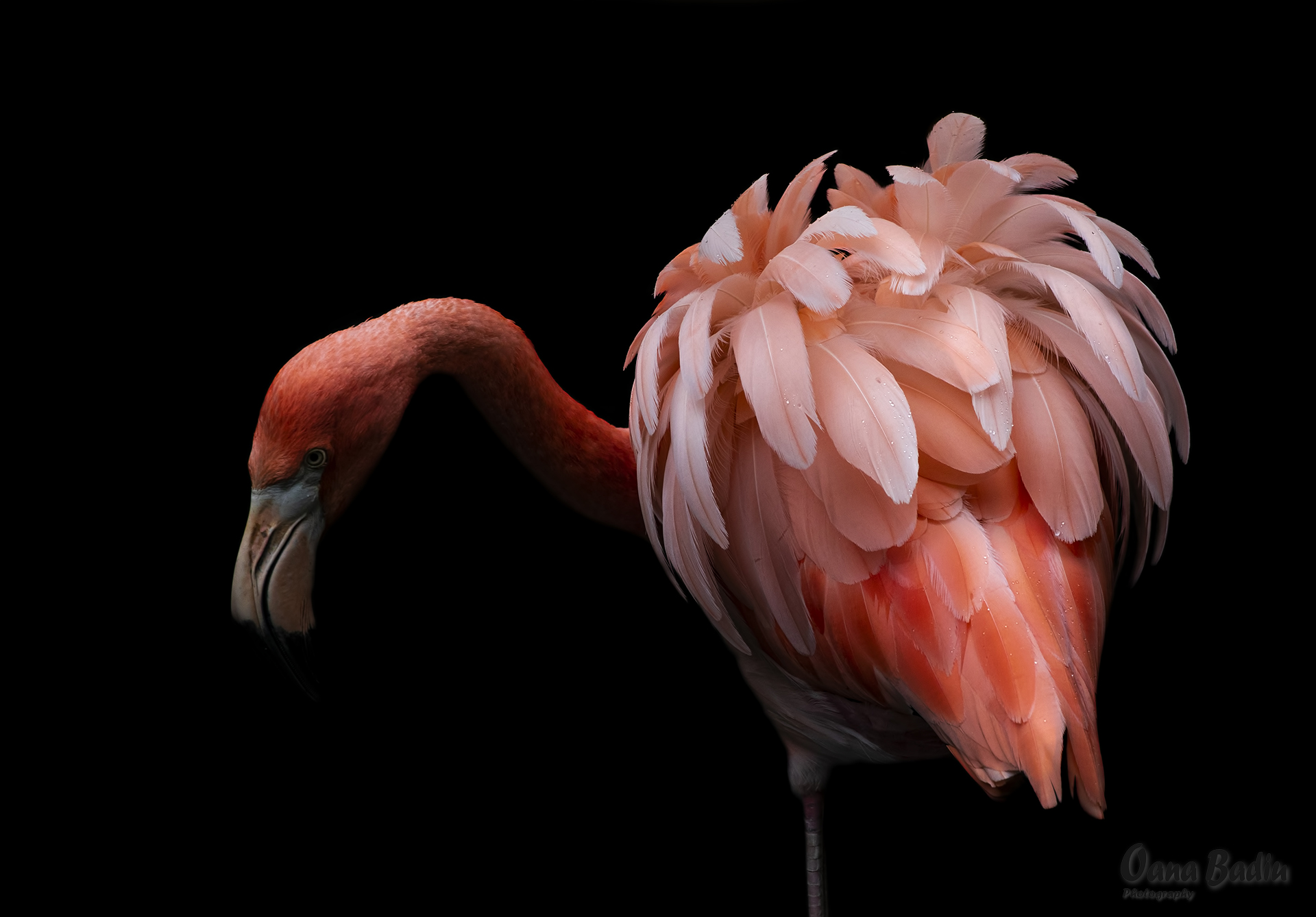 Photograph by Oana Badiu – Captive Chilean Flamingo (Parco Natura Viva, Italy)
Quality photos require the use of professional cameras. Is this an expensive hobby?
Unfortunately, it is a very expensive hobby and that's why most of the landscape and wildlife photographers don't give up their daily job. A professional camera can cost up to 6000 euros, but the most expensive are the telephoto lenses. Animals are shy and you cannot get too close to them, that's why you need to buy the big lenses. I still dream of the Canon 600 mm f/4 lens, unfortunately I don't have the budget for it yet.
What camera do you use at the moment?
At the moment I have two cameras: a full-frame sensor Canon 5D Mark IV and a crop sensor Canon 7D Mark II.
Canon 5D Mark IV is one of the best landscape cameras that Canon has ever made, however at only 7 fps, it's a bit slow for action photography. Canon 7D Mark II is Canon's best crop sensor camera and a good action camera, however it cannot handle high ISO and the quality of the images are not as good as those from a full-frame camera.
I am hoping that I will soon upgrade to Canon 1DX Mark II, which would be one of the best cameras for action photography in low light.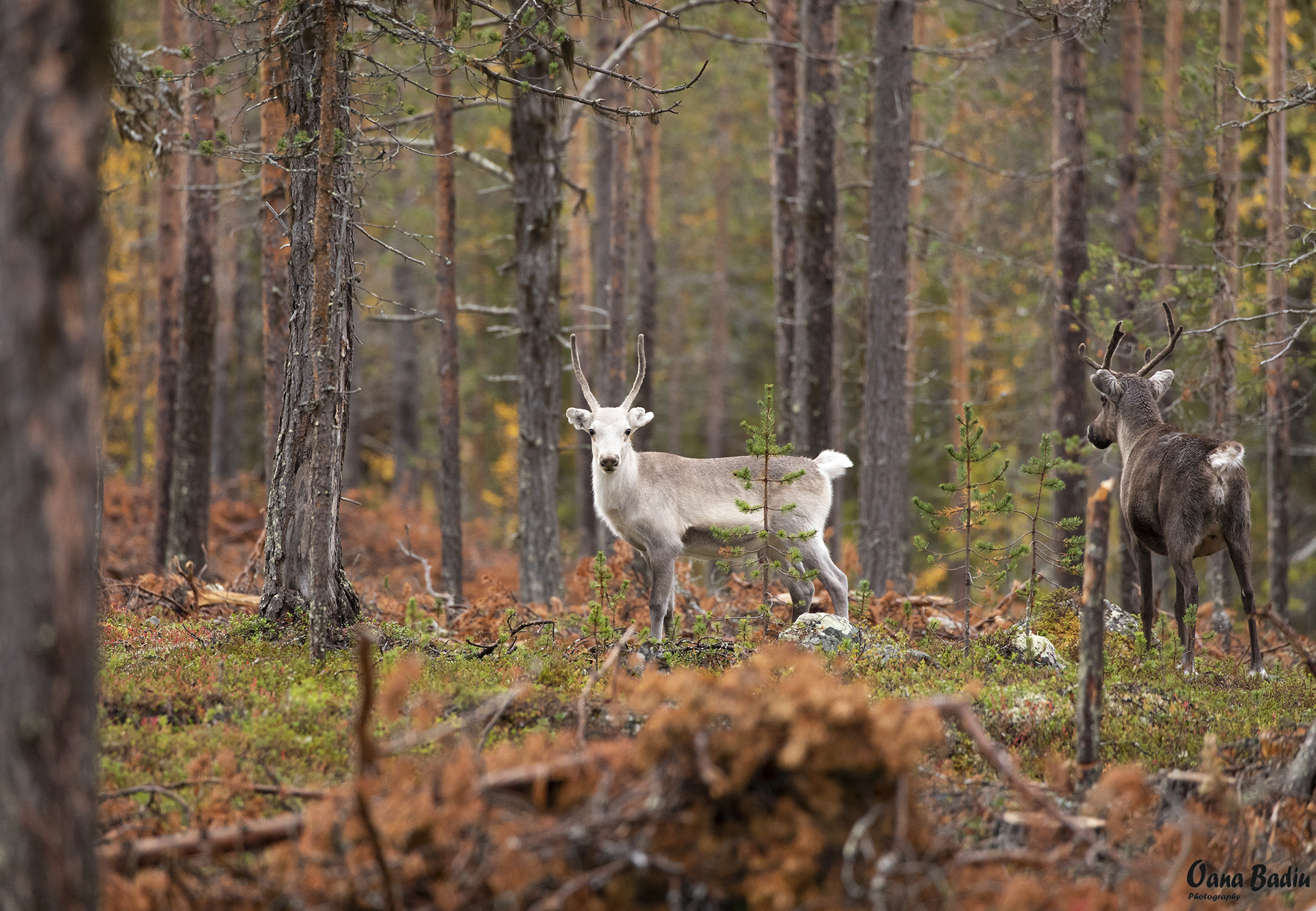 Photograph by Oana Badiu – Young reindeer in the forest (Pallas-Yllästunturi National Park, Finland) 
Are you using a photo editing software?
Currently I shoot in RAW and I use Photoshop for editing the RAW file by fiddling with shadows, highlights, contrast and saturation. I don't really like editing pictures too much because I enjoy much more being on the field. I also don't like to modify the content of the pictures and I don't want to create an unrealistic image.
What subject do you love the most to photograph?
My favourite subject has to be the birds! I don't even know when my passion for birds started, I remember that ever since I was little, I loved birds! Other animals that I like are squirrels, which luckily for me, are not so scared of people and can be found in great numbers around Helsinki area. I have also been photographing bears from the safety of hides and I am fascinated by their force and beauty, however I wouldn't want to encounter one on my own in the forest 🙂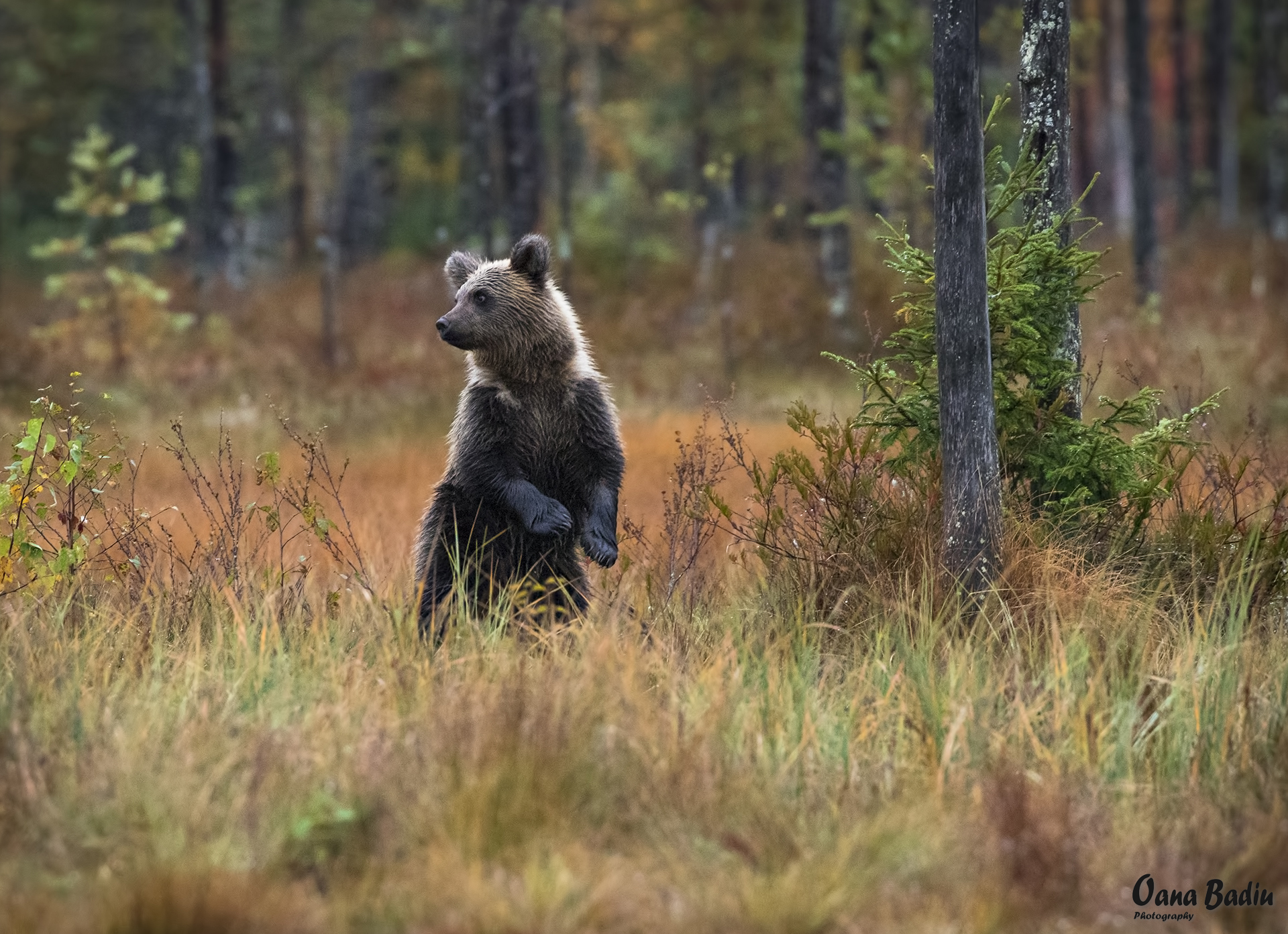 Photograph by Oana Badiu – Wild Brown Bear Cub (Kuhmo, Finland)
How do you choose where you take photos?
More than a year ago I made myself a list with all the places I would like to travel to during my lifetime. My main sources of inspiration are still the documentaries I watch on National Geographic and BBC Earth almost every day before I go to sleep. I am really happy that last year I was able to go to Madeira (Portugal), Faroe Islands, Scotland, Lake Garda (Italy) and Lapland (Finland). I already booked my trip to Azores for this year. Besides, I am also hoping to go to Norway this summer. My dream is to go to South Georgia, an island close to Antarctica, that is teeming with penguins and seals!
I noticed that some of your photographs were included in a specific category of top best photos realized by National Geographic blog. Congratulations, that is impressive! How did it happen? 🙂
Year 2018 was considered the "Year of the Bird" and National Geographic has set up a special blog dedicated only to birds. Every week they had a photo competition with different bird themes. My pictures managed to be included 3 times in Top 25 Bird Photos of the Week!
Have you noticed any changes of yourself as a person since you became a professional photographer?
This hobby requires a lot of patience and dedication, something that I was lacking before. I also realised that sometimes it's OK to be alone. What I love the most about this hobby is being at peace with who I am and enjoying the moments of silence that I get when I am out there waiting for some animal to appear. People nowadays are always in a hurry to get somewhere and do something and they forget to just relax. I love being there all alone, getting lost in my thoughts!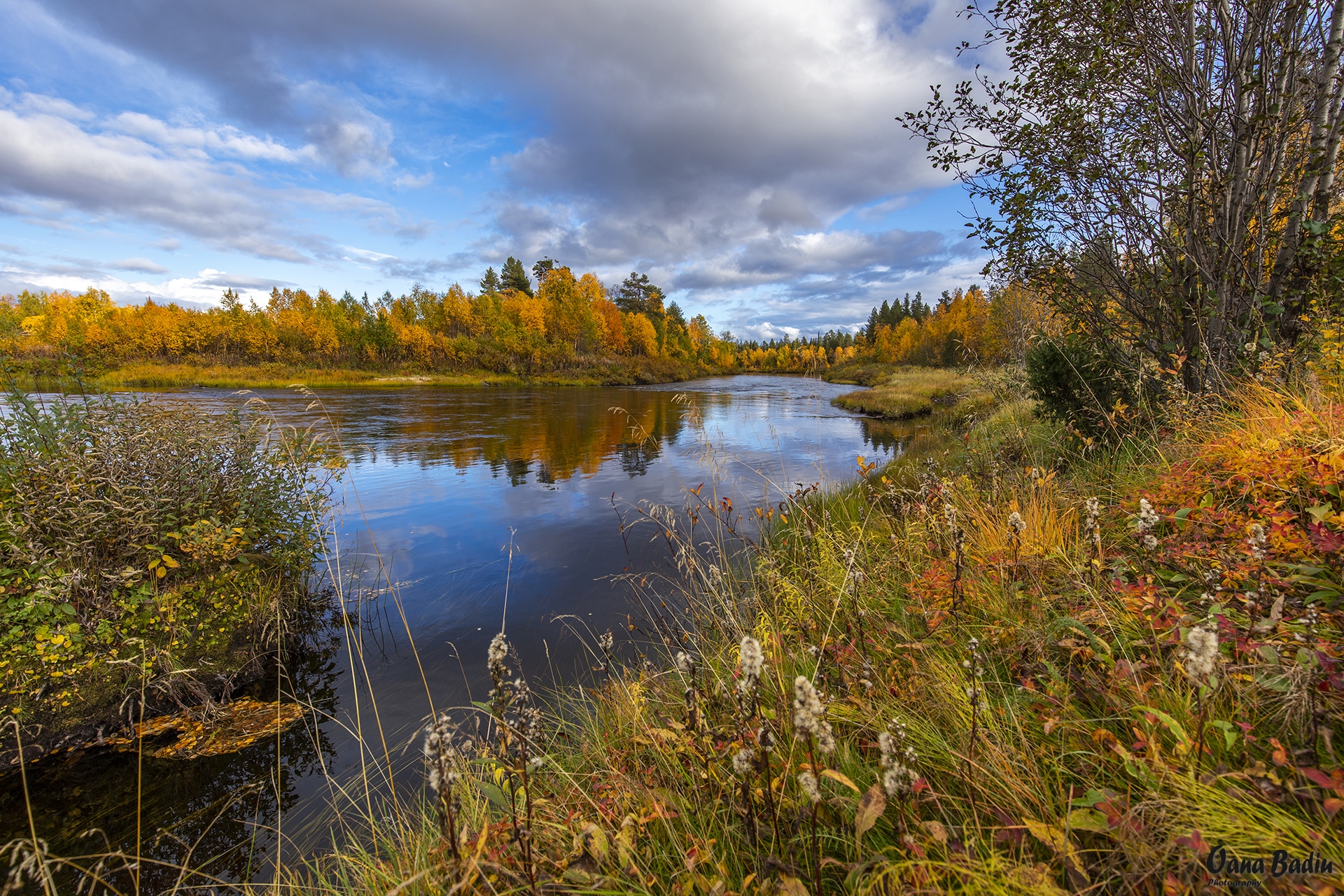 Photograph by Oana Badiu – A river in autumn time in Muonio (Lapland, Finland)
You told us that you love to watch the wildlife. Do you feel more responsible to protect the environment as a wildlife professional photographer?
I think I was never the kind of person to not feel responsible for the environment. In the same time I always hated litter! Maybe what changed is that now I hate it even more. I might actually go to someone and tell them to pick up their trash if they don't do so themselves!
We should all be aware of the amount of trash we are leaving behind. Moreover, we should all try to be better people and mind our own actions! In Finland there is no trash in the forest and people are very environmentally friendly. However this is not the case whenever I visit Romania. I am very disappointed to see plastic bottles and bags everywhere I go!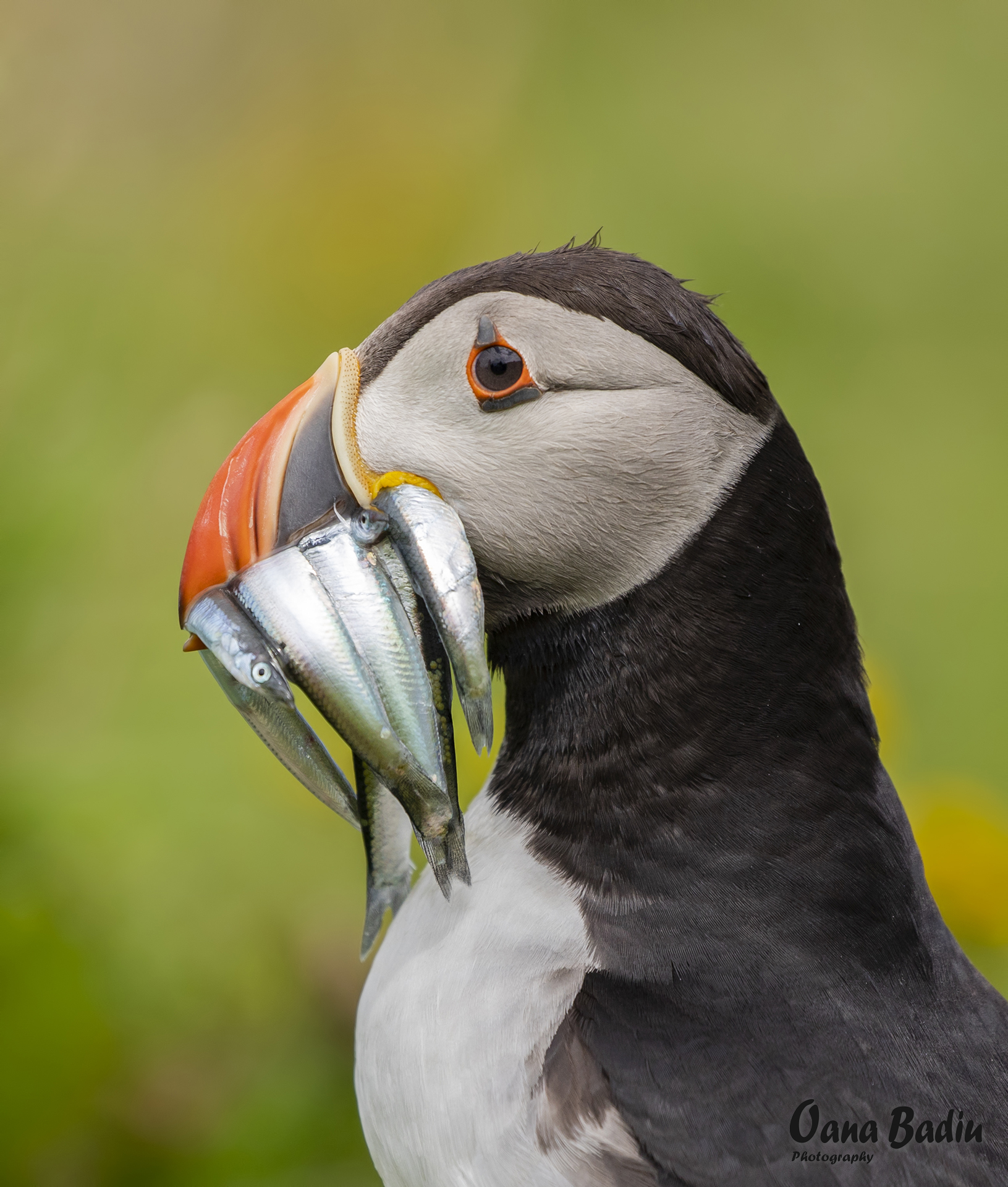 Photograph by Oana Badiu – Wild Atlantic Puffin (Lunga islands, Scotland)
What is the most beautiful experience you've ever had in your trips as photographer?
I would say that the best experience was last year when I visited Faroe Islands. That trip somehow changed my life! At first, I was really scared to go there by myself; but afterwards I discovered that I actually enjoy my own company 🙂
It was such an awesome moment when I stopped for few minutes. All I could hear were waves, birds and sheep! No humming noises coming from crowded highways. All of the people visiting and living on these islands share my passion for nature! The place felt like something from a fairy tale. It's one of the last places in Europe where you can truly find unspoiled nature! I really hope I will get the chance to return!
Do you plan to turn photography from a hobby into a career?
Unfortunately, I don't think it's possible to make a good source of income solely from this type of photography. The competition in this field is huge!!
I would also like to keep it as something I really like to do and not something that I have to do! At the moment it's a way to get out of the everyday work and hassle. If this would become work, probably I wouldn't enjoy as much as I do now.
However, I don't know what future has in store for me, so maybe someday it will be possible!
Thank you, Oana! It has been a real pleasure to discover your story!
You touch hearts with your photos. Good luck, enjoy every moment and have a lot of fun!
---
Oana Badiu Photography – contact details
Official website: www.wildplanetblog.com
You can contact Oana for photoshoots events around Helsinki area (Finland) or if you would like to buy a picture.
At the same time, you can follow Oana on:
Keep on reading IDR's articles to discover other amazing stories of people who are not afraid to take on new challenges and work on making their dreams come true.