Bogdan & Kasia on La Digue island, Seychelles
This post is also available in Romanian.
When they saw the articles about my trips to the Seychelles, Bogdan & Kasia asked my opinion regarding that destination because they were organizing their own holiday. I assured them they would like that place no matter what the itinerary would be. ?
Bogdan & Kasia spent three weeks on the most popular islands from the Seychelles: Mahé, Praslin and La Digue. They chose the accommodation after checking a Lonely Planet's article about best places to stay in the Seychelles near diving centers.
I was excited to find out more about their experience, maybe because Seychelles is one of my favorite places until now.
---
Hi ? I am very happy to talk to you about the amazing Seychelles. How do you feel after the holiday?
Hi Bianca, we are very happy to be sharing our experiences with you. As a matter of fact we feel quite relaxed. ?
How did you come up with the idea of visiting the Seychelles and who helped you with the trip planning?
Well, the decision to go to the Seychelles was quite spontaneous. We'd only decided upon the timeslot that suited well our work schedules and directly afterwards a fitting flight offer has inspired us to choose that destination. What we needed was a relaxed and off the beaten path kind of place, giving us a possibility to escape the cold German winter. We knew Seychelles could offer us all of the above.
Regarding the planning of the trip, we've used a mix of online and offline materials and first hand feedback from our friends who'd visited the islands before.
Can you describe a typical day from your holiday?
The days depended strongly on the activities.
If we weren't diving we would typically wake up late and spend the day strolling through the beautiful Seychellois beaches, reading, meditating and just chilling. In the evening we would enjoy a romantic dinner with a glass of wine and a sunset view.
If we were diving, on the other hand, we would wake up early and spend most of the day on the boat and underwater. Usually we would do two to three dives per day, so the days were quite intense leaving not much energy for other kind of activities.
Did you have any unprecedented experience on the island?
Oh yes, we had quite some new experiences on the islands. One of them would be the first encounter with the giant tortoises on the Praslin Island, where five of them were living just in the backyard of our villa. Given their size and looks I remember being scared at the beginning and discovering with time how gentle and friendly these animals are. ?
Which was the most special moment of the trip?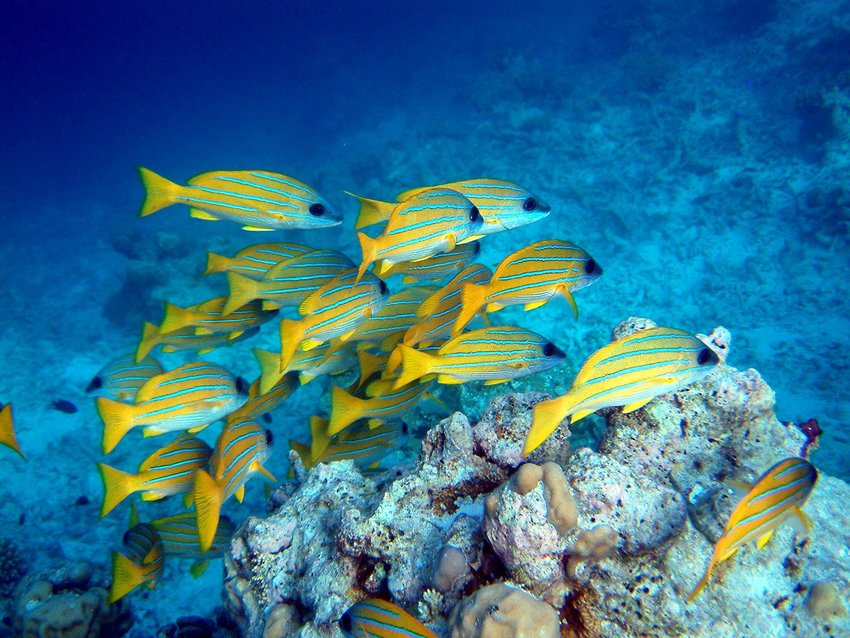 Lutjanus kasmira – Photo by Jim & Becca Wicks
I would say the most memorable experience was the dive in Shark Bank North of Mahé – a spot known for its strong currents and difficult conditions yet unforgettable marine life. Despite of the name the sharks are hardly the most interesting attraction as one has to decide what to focus on. With the diving experience we rather choose the rare phenomena – in this case we will never forget the enormous school of yellow striped snappers or the two-meters long giant stingrays graciously swimming around us.
How was the diving experience? Did you already have a scuba diving certification?
We already had our certifications prior to the trip and we used it to dive around Praslin with Octopus Diving Center and around Mahé with Big Blue Divers and we loved it. It's definitely a location worth visiting for divers with a huge variety of marine life. Yet, what's quite sad to watch is the dying coral reef all around the dive sites, which is mostly caused by the climate change resulting in warming oceans, rising sea levels and increasing acidity of the water. Therefore, we would like to use this opportunity to raise awareness on the issue as nd encourage everyone to incorporate eco-friendly habits such as decreasing the meat consumption, cutting out the disposable plastics and committing to recycling.
Can you name some places from the Seychelles which look like they are from another Planet?
I'm not sure if I would go as far as saying it's from another planet but we've seen quite some memorable places on the archipelago. One of them is the Natural Reserve Vallée de Mai, house of the national symbols such as the endangered Black Parrot or Coco de Mer, the biggest nut on Earth reaching up to 30kg and famous for its unique buttocks-like shape.
Which of the 3 islands (Mahé, Praslin and La Digue) did you like the most?
Definitely our favorite Island is La Digue due to its charm and laid-back atmosphere. The Island is only three by five kilometers long, therefore any point of interest can be easily reached by bike. Here, we had an amazing opportunity to spend a day completely alone on what is now our favorite beach, Petite Anse.
However, we would highly recommend the diving around Mahé and visiting few amazing locations on Praslin such as Anse Lazio, Anse Georgette and Vallée de Mai.
In your opinion, what makes Seychelles so special?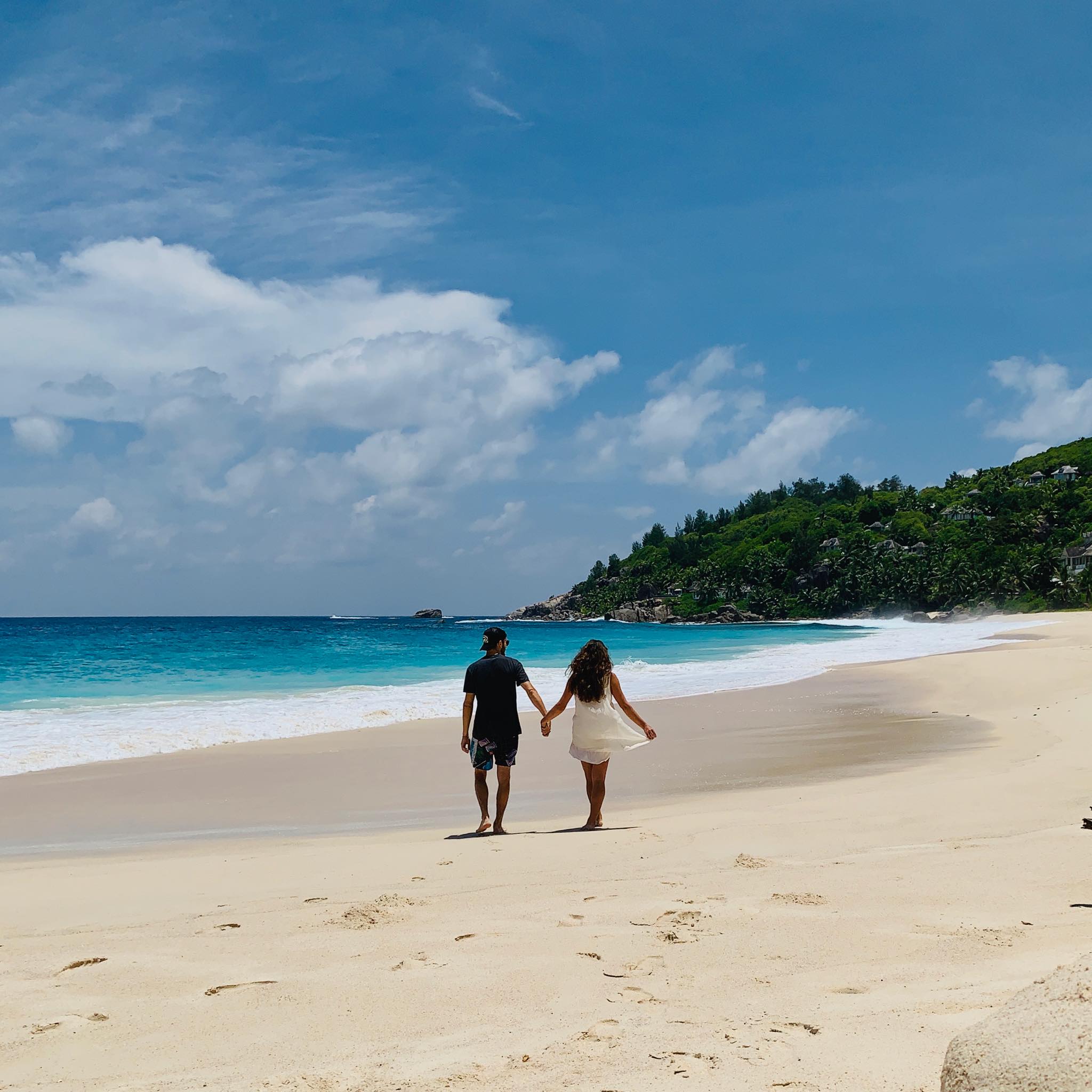 Bogdan & Kasia on Mahé island, Seychelles
It's needless to say the location is quite special because of its natural beauty. But there's more than that. What's stuck in our minds is the history of the islands resulting in a broad diversity in its culture. The place was uninhabited until late XVIII century when the French colonialists arrived with the first settlers of difference races, followed by the British who took over the colony shortly afterwards. The archipelago has gained independence in 1976 and has been struggling to build reliable political structures, still facing issues like corruption or doubtful freedom of speech. Knowing that the country is so newly established adds up a lot of curiosity in the cultural observation.
Do you have any advice for other people thinking to visit the Seychelles?
We would recommend to do all the bookings in advance, not only for the hotels but also planned activities, like diving or some beach visits as the places tend to book out. Also, be aware of the budget. We travel quite a lot and this has been so far the most expensive location when comparing price-quality ratio, even above Australia. For the islands choice, we would suggest to focus on what fits you most instead of jumping around the islands too much. If you feel like a romantic holiday on a budget, choose La Digue. Avoid the most touristic parts, especially on Mahé. We visited it because of the amazing diving but except of that the stay was far from pleasant with very unfriendly and money-driven attitude towards the tourists.
Seychelles is not the cheapest holiday destination. Does it worth the money?
Well, it very much depends what you look for. We both actually prefer locations with a broader options of activities and genuine, well-established culture. When you look at Seychelles, despite all its beauty, it's just a beach holiday with tourist being the main economy driver, therefore chances to truly interact with the locals are limited. Thinking about it, Maldives or Caribbean can offer a very similar experience for about half the budget. Everyone needs to decide for themselves if it's worth it or not, yet we would recommend to make a proper research regarding the price-quality ratio.
While having this interview with you, I reminisced and relived the days spent in the Seychelles. Thank you for this virtual journey! ?
---
You can follow Bogdan & Kasia on Instagram. They are travelling in many spectacular places, so you can find inspiration on their social media profiles.
Bogdan – Instagram account
Kasia – Instagram account
---
Keep on reading IDR's articles to discover other amazing stories of people who are not afraid to take on new challenges and work on making their dreams come true.