It was my partner who first came with the idea of choosing this holiday destination, The Seychelles. I had already heard before that this was the honeymoon destination of the Royal couple Prince William and Duchess Kate of Cambridge and I always thought about it as an extravagant and very expensive place. It's not the cheapest, but it is still affordable if you choose to stay at a guesthouse or a cheaper hotel instead of a luxury private island resort (where the price of a villa per night exceeds 5000 euro).
The Seychelles, whose capital is Victoria, is an archipelago located 1,600 km (1,000 mi) east of the African coast in the Indian Ocean at the crossroad between Asia and Africa. It's one of the world's most beautiful tropical islands destination. The archipelago consists of 115 islands. About half of the islands are of granitic origin, with narrow coastal strips and central ranges of hills rising up to 900 m at Morne Seychellois, the highest peak in the archipelago. The other half are coral atolls, many of them uninhabited and dedicated as nature reserves. French and English are official languages along with Seychellois Creole, which is primarily based upon French.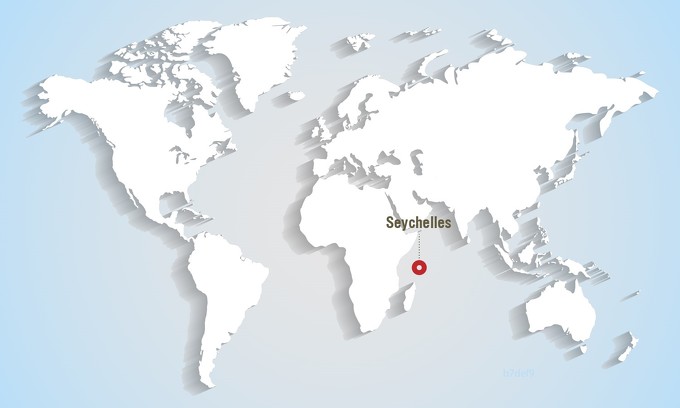 The Seychelles archipelago location
GOOD TO KNOW: The Seychellois Rupee is the currency of Seychelles (1 EUR=16 rupees), but you can pay with euro almost everywhere. We paid by credit card in many places (bank account in RON).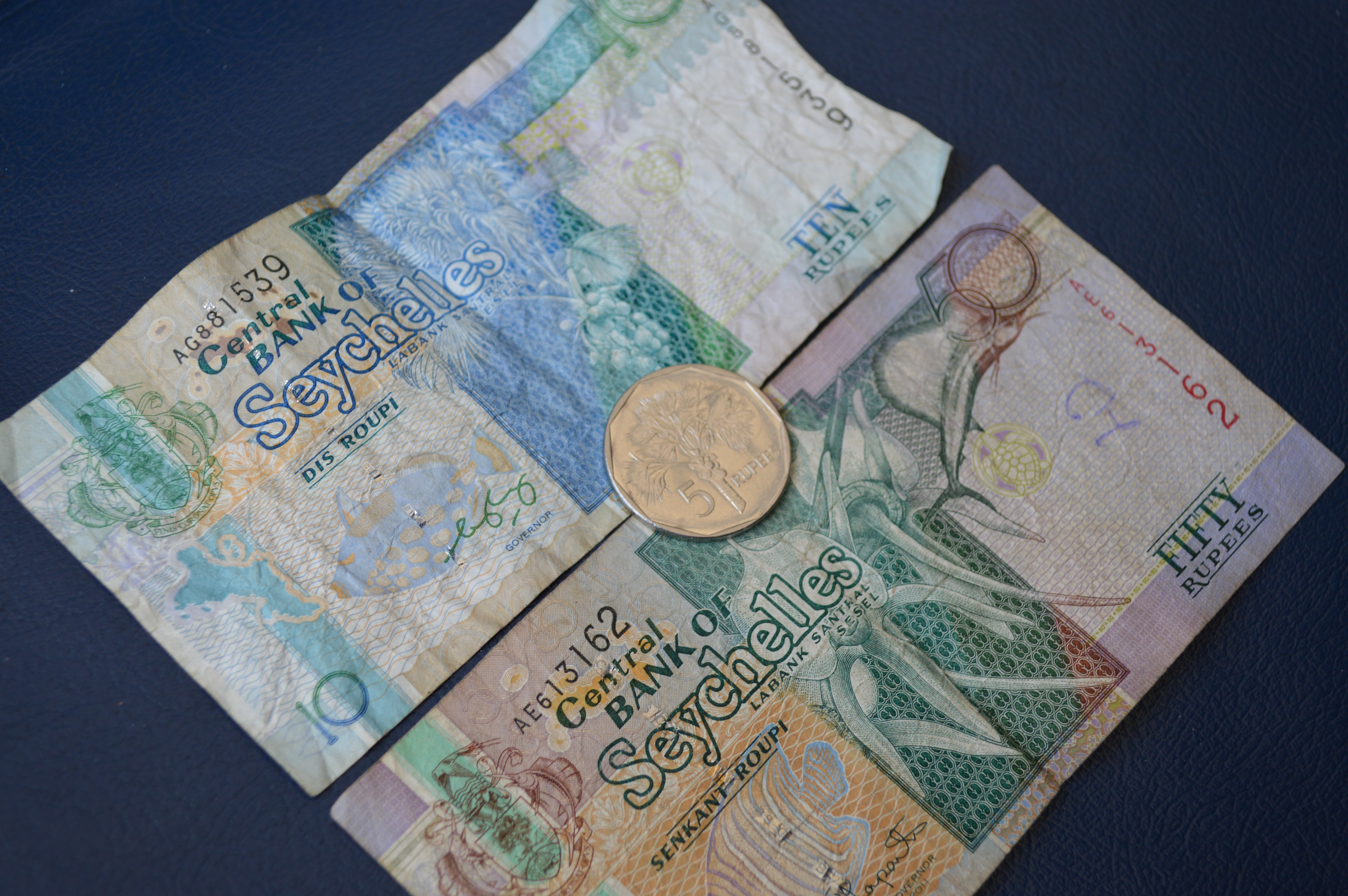 Seychellois Rupee (1 EUR=16 rupees)
The weather is one of the many things that makes the Seychelles such a special destination, all year round. With an average temperature of 27°C, and a range that rarely drops below 24°C or rises above 32°C it is rarely too hot and almost always perfect beach weather. Of course, like anywhere in the tropics it does rain, but showers tend to be brief, lasting just a couple of hours, and are often localized to one island or even just one area of an island. During the year the driest months are between May and September, with the wettest weather in November, December and January – but even during these months there will be plenty of sunshine before and after the showers.
DID YOU KNOW? It gets dark very quickly, dawn and dusk times in Seychelles are around 6am and 6pm.
In my early 20s, I have dreamed to fly at least once in my life with an airplane and to visit France. Today, as I turned 30, I can say that I achieved my dream and even more. Being so passionate about travelling and wishing to invest in memories, instead of material things, me and my partner have visited Seychelles two times until now, in 2015 and 2017 (the 3rd time we must go with our children J). What would have been if my initial goal were to visit Seychelles? Where would I be today?
ADVICE: Always dream big!
Both times we decided to organize the trip ourselves. We wanted to visit the three most inhabited and largest islands: Mahé (with the capital Victoria), Praslin and La Digue (4th largest island). You don't need a visa, only a valid passport and there are no mandatory vaccines for this country.
First we bought the airplane ticket. It may be possible to find cheaper tickets if the travel period is not that important for you or if you look out for deals. Both times we wanted to go in the second half of April, so we booked what we found. We have later found that direct flights to Seychelles also exist from Europe (Paris/Frankfurt) and the ticket can sometimes be less than 400 Euro.
REMARK: As I heard them speaking, most of the tourists were from France (a lot of families with more than 2 children), Germany, Russia and Italy.
In 2015 we bought the tickets via esky.ro.
WAY TO the Seychelles:

WAY BACK to Bucharest:

In 2017 the tickets were bought via momondo.ro.
WAY TO the Seychelles:

WAY BACK to Bucharest:

In 2015 we arrived at 8 pm in Abu Dhabi and the next flight was at 2 am in the morning so we decided to go visit the city a little bit by taking a taxi. After having our passports stamped for visa approval, we went to Marina Mall whose shops were unfortunately closed (we were totally surprised by its cleanliness) and had the first contact with the tropical weather.
In 2017, even though we waited 6h in Doha for the next flight, we decided to find a relaxing area to sleep in the airport. The Hamad International Airport was opened in 2014 and is in top 10 best airports in the world so it's very well designed to satisfy all needs when waiting for a transfer. Moreover, this time we only had one stop between the flights and it was much better!
I will focus in this post on the 2017 trip because the memories are fresher.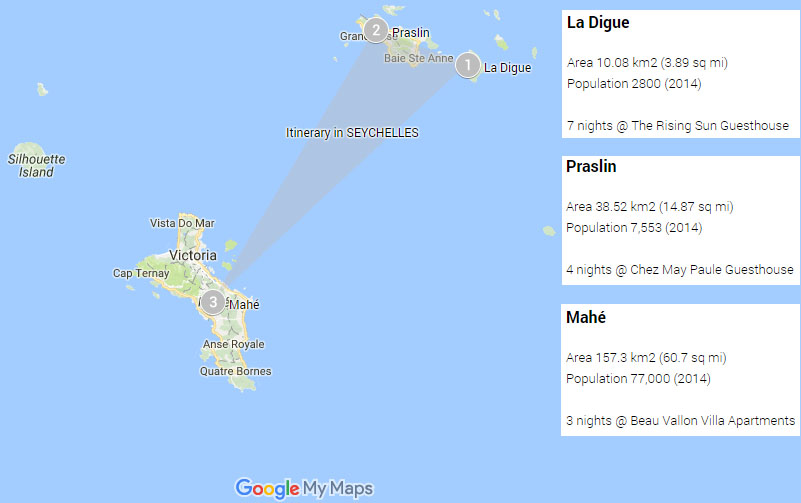 The trip itinerary (April 2017)
Itinerary in the Seychelles – April 2017:
The Seychelles' international airport is located on the island of Mahé near the capital city of Victoria. To get from island to island we used the Cat Cocos ferries (high-speed catamaran). We made the reservations online. The price for Mahe – La Digue (with or without ferry change on Praslin, depending on the hour) is 61 € for adults (one-way) in the main cabin.
Ferry booking information and timetables can be found here and here.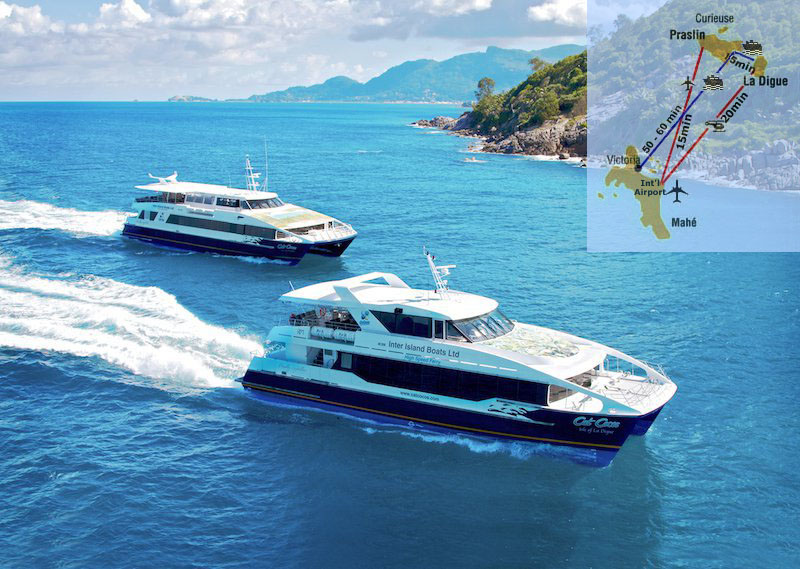 Cat Cocos ferries
ADVICE: Make the ferry reservation online, a few days before your trip, in order to be sure you will get a place at the right time, instead of waiting too much for the ferry.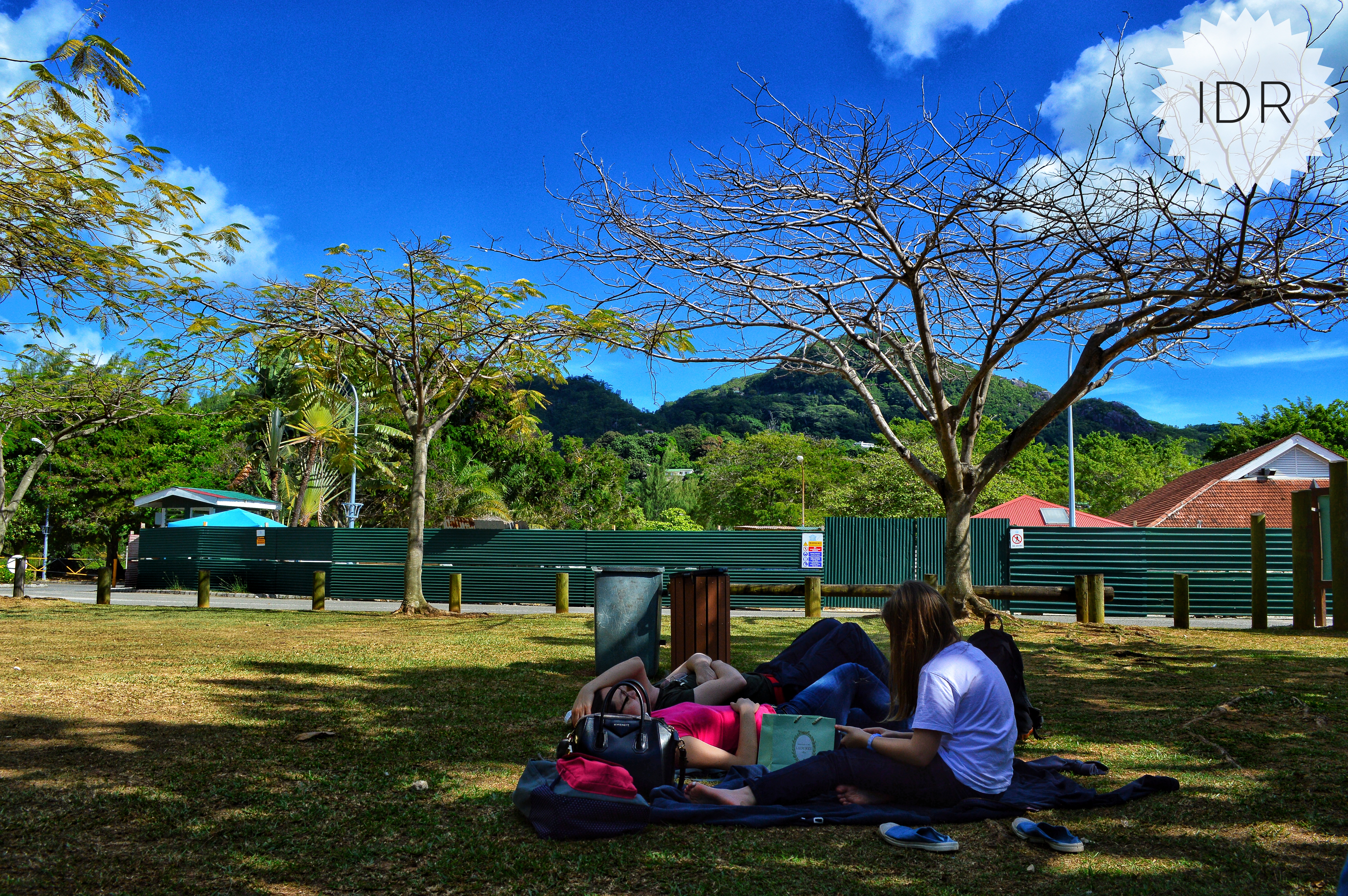 People waiting for the ferry @ Victoria jetty
From the airport to Victoria jetty you can take either a transfer bus or a taxi. Normally the bus is reserved only for people who arranged their trip through a travel agency, otherwise you have to take a taxi.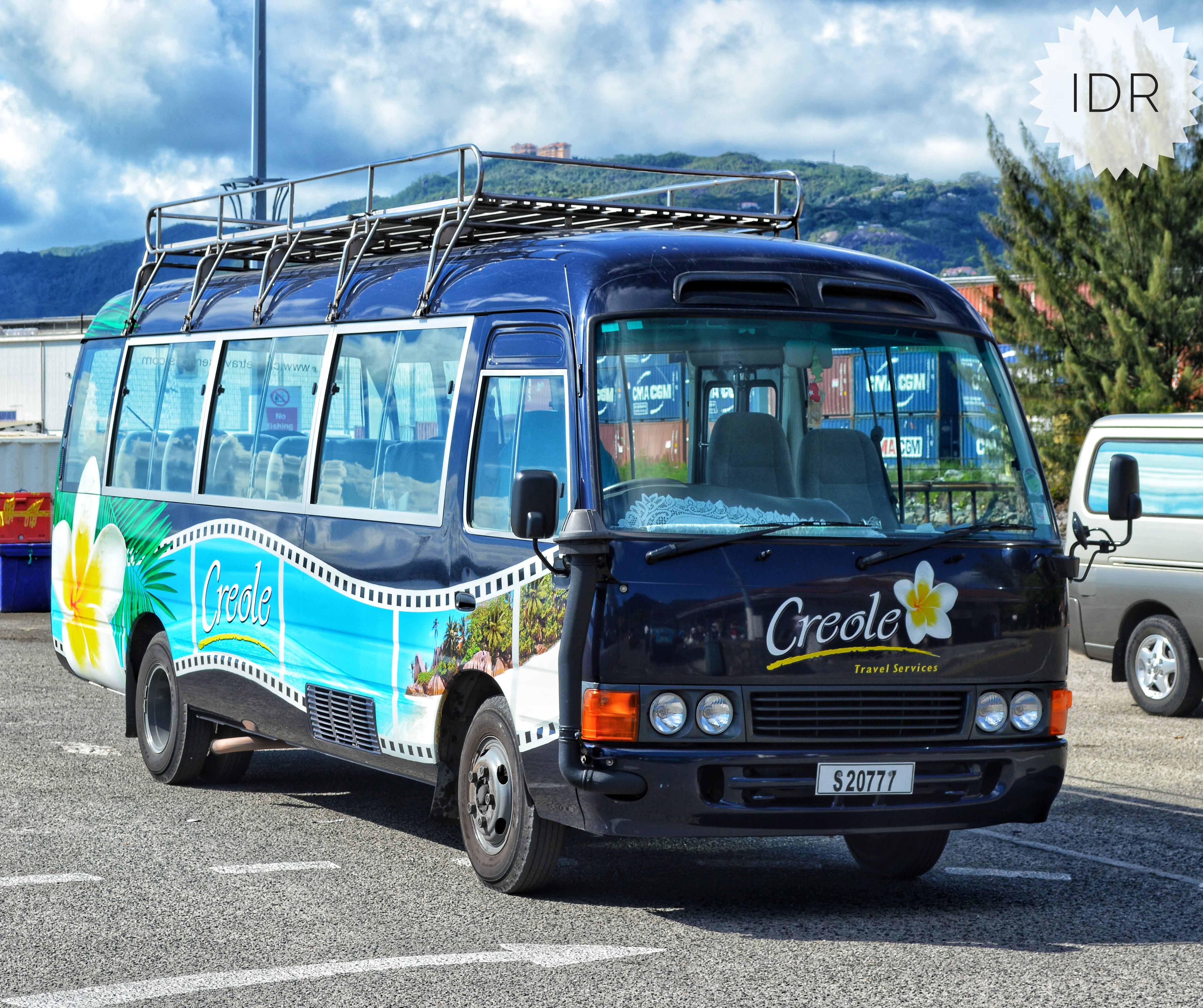 CREOLE – Local travel agency in Seychelles
La Digue Island is the fourth largest island in Seychelles and lies 40 kilometers (25 miles) from Mahé and 7 km (3.5 miles) from Praslin. Is has narrow roads and is not as crowded as the other bigger islands. It can be easily explored by bicycles which are parked all over the places: in front of the guesthouses, on the beaches. When we were on the island in 2015, during a snorkeling session near Félicité Island (4km away from La Digue), we have left our bicycles down on the sand of the beach from where the boat took us to Félicité area. In 2017 however we were advised by the guesthouse owner to use the bicycles' wheel key lock.
ADVICE: If you were planning to visit the Seychelles, go there as soon as possible. The things are changing from year to year and the islands become more crowded and more polluted by cars.
When arriving to La Digue by ferry, at the Marina jetty there are a lot of Creole people offering their service to get you to your hotel/resort by car/by bicycle. We chose to walk as the guesthouse was near the jetty.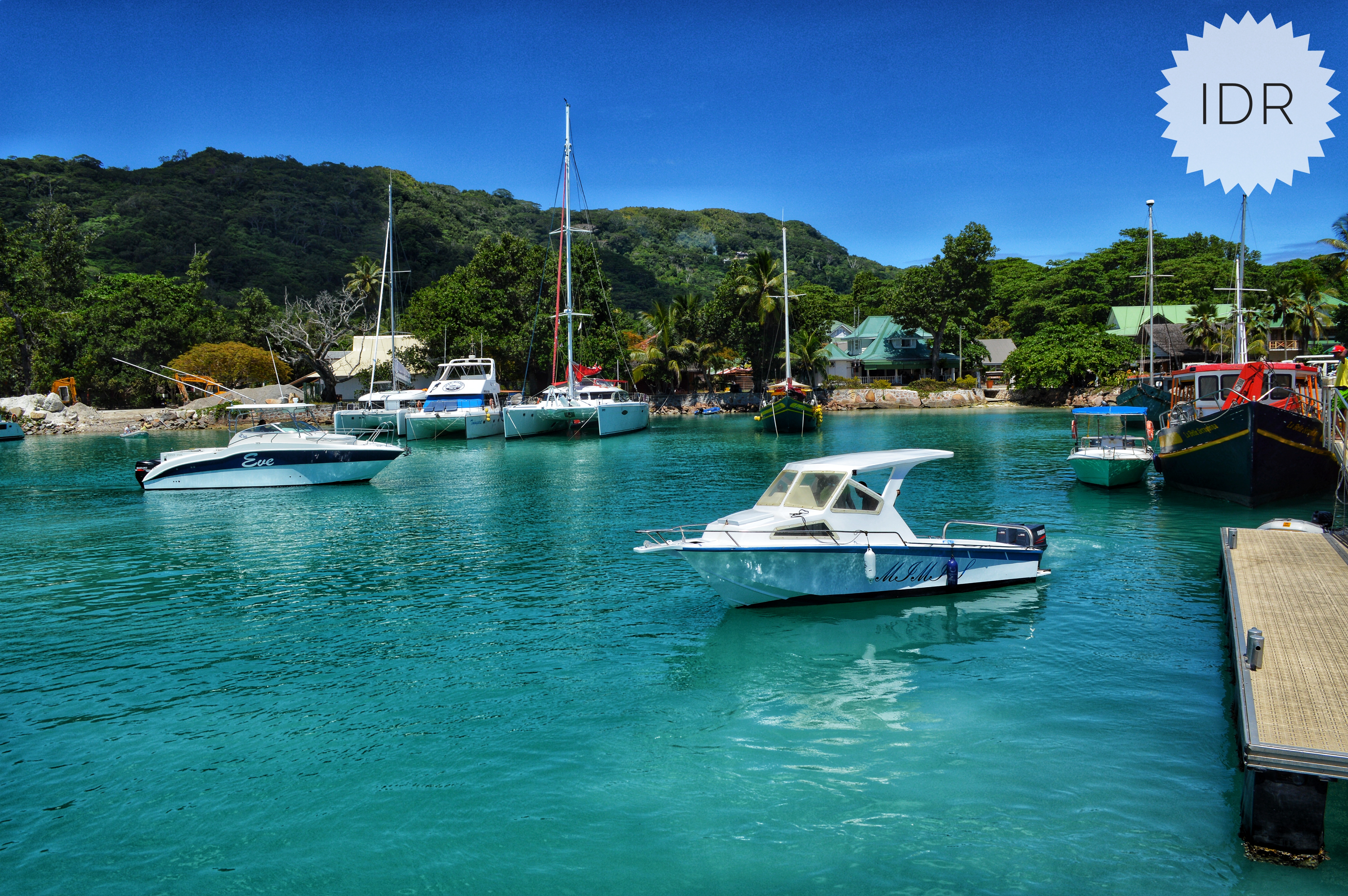 La Digue Marina
ADVICE: As there are not many streetlamps especially on La Digue, a flashlight would be very useful.
The first accommodation, The Rising Sun Guesthouse, was at 1 km distance from the jetty (a short walk of 10-15 min). Depending on the time of the day, it's not very comfortable to walk this distance if you have a lot of luggage because of the strong heat and humidity – you sweat instantly when the sun is on the sky, even more if you are making effort. But it's the first contact with the island and it's worth it.
DID YOU KNOW? Belle Vue (Eagle's Nest Mountain) is the highest point on the island and the highest elevation, Nid d'Aigle (333m), which is at 10 min climbing from Belle Vue, offers an almost-perfect 360 degree view of the third-most populated island of the Seychelles and its neighboring islands.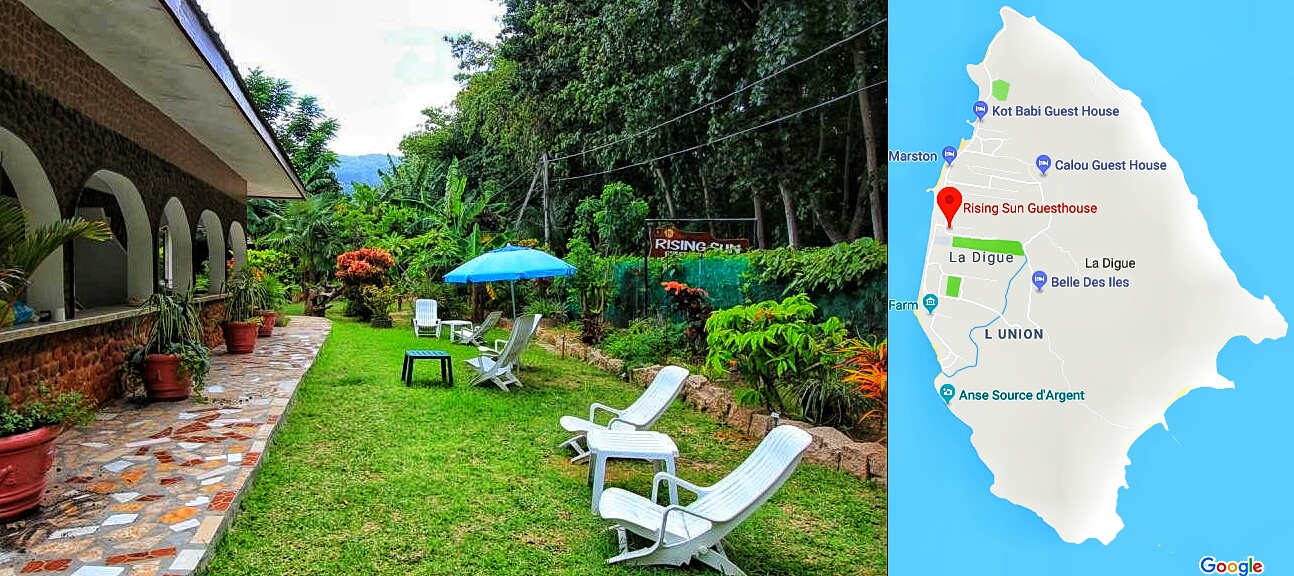 Our accommodation on La Digue
REMARK: On La Digue Island there were almost no cars in 2015; the transport was done only by bicycles; in 2017 however we found a lot of cars, mainly to transport tourists to their hotels. The island's charm is not the same anymore!
THE RISING SUN GUESTHOUSE – La Digue (we chose it both times)
Score on Booking.com: 8.4 (in Jan 2018)
PRICE
115Euro/double room/night
LOCATION
short walk from the jetty (10-15 min)
close to Anse Reunion beach
close by there are a couple of great takeaway places for eating
the supermarket is just around the corner
pizzeria Gregoire's which is excellent is just three minutes' walk
vicinity of the Veuve reserve – just across the street – excellent for a quiet morning walk in the woods
ROOM
the room was clean, spacious and comfy
air conditioner is very useful.
you have your own small private terrace
lizards on the walls in the room, but that is the case for the whole area, not just this guesthouse; however, they are harmless and are keeping the mosquitos away
the room was equipped with a fridge and a water boiler
FOOD
we chose the half board accommodation (bed breakfast and dinner).
breakfast was basic – eggs or pancakes, toast bread with jam & fruit, coffee or fresh juice, local fruits;  some variation would have been appreciated J
dinner buffet – special Creole food that was always different: great fresh fish/chicken/pork with curry, salads
FACILITIES
bicycles are available for rent, which is very convenient; however, they were overall not in the best condition
Wi-Fi was available in the room free of charge.
CONCLUSION: Rising Sun Guesthouse was a great affordable option and the dinner (local Creole food) was fantastic. Yummy!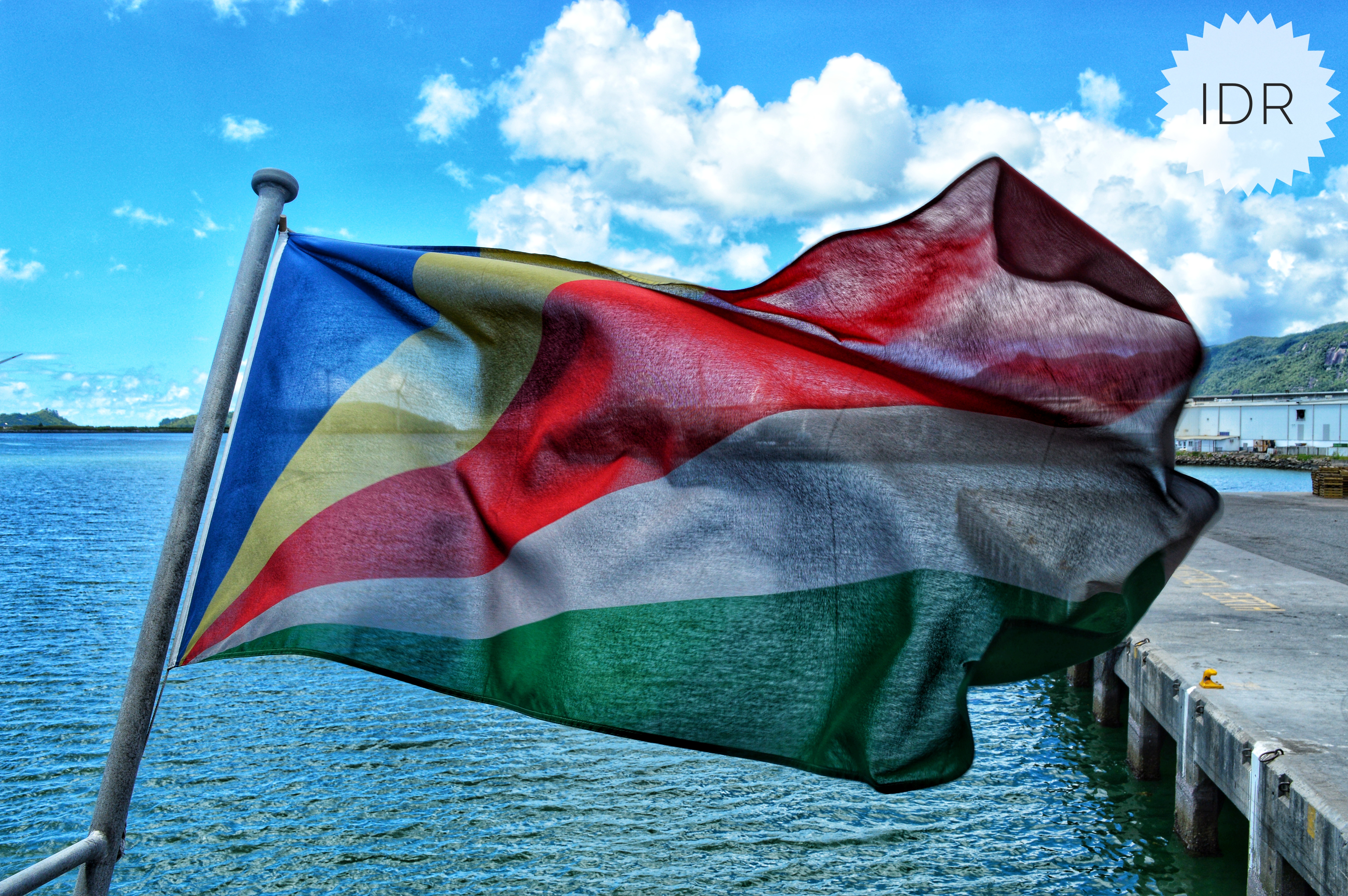 The flag of Seychelles
DID YOU KNOW? Pirates used to seek the islands of Seychelles as a hideout. It is believed that Olivier Le Vasseur, an infamous pirate, had a treasure worth 100,000 euros that remains hidden in the land up to the present.
NEXT articles: Exploring La Digue island – day 2, 3, 4, 5, 6, 7
Additional sources:
[seychelles-info.com] [nationsonline.org] [seychelles.org] [travelingeast.com] [google.com/flights] [seychellesnewsagency.com] [seyvillas.com]