Praslin is the second-largest island in the Seychelles. The island, which is divided into two districts: Grand'Anse and Baie Sainte-Anne, is located at a distance of 44 kilometers from Mahé. Praslin is a combination of rolling hills covered by vegetation (maximum elevation Fond Azore – 367 meters), perfect beaches and crystal-clear water. The island's main attraction is Vallée de Mai, an UNESCO World Heritage national park where the largest seed in the world (Coco de Mer) grows naturally.
If you plan to visit Praslin, make sure that you first check this article Things to know before visiting The Seychelles.
Based on our experience after visiting that place, IDORecommend you these top 10 things to do in Praslin (random order).
---
BEACHES – check out SeyVillas' website for a detailed description of each beach of Praslin
its picturesque scenery makes it one of the most famous beach on Praslin
interesting combination of amazing boulder formations, crystal-clear water and pristine sand
ranked on the sixth position in the top best beach in the world realized by TripAdvisor in 2015
due to its popularity it is crowded, so it is recommended to arrive early to avoid other tourists
access on foot / by car (parking areas next to the beach) / by public bus (bus stop is more distant) / shuttle services (offered by some hotels)
natural shade
perfect for sunbathing, swimming, snorkeling and for taking photos; however, as the water gets deep quickly, make sure you stay in the area surrounded by the net when swimming; moreover, pay close attention to children when they are swimming!
the large sandy area makes it perfectly suited to families with children
nearby facilities (a few small shops and some restaurants)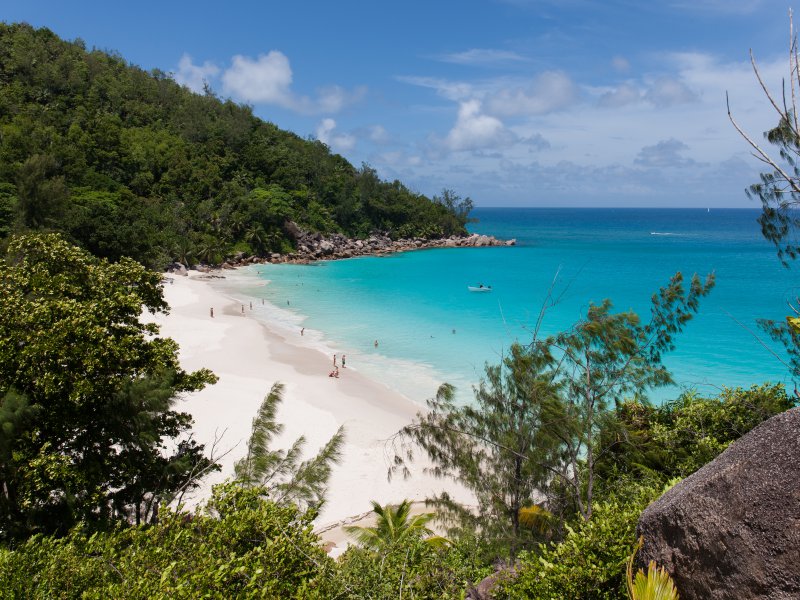 beach is located right near the Lemuria Resort, but it is open to everyone
it is amazing thanks to the turquoise ocean water and the pristine white sand
easy to be accessed by the guests of the Lemuria Resort (on foot or by using a golf cart); the other visitors should inform the hotel of their visit (it takes 30-minute to walk down to the beach through the resort's garden) or they can come by sea (boat tours)
natural shade
good for snorkeling or bathing (supervise the children at all times as water gets deep very quickly) and ideal for photographers
nearby facilities (at Lemuria Resort)
3. Visit Anse Volbert (Cote d'Or) beach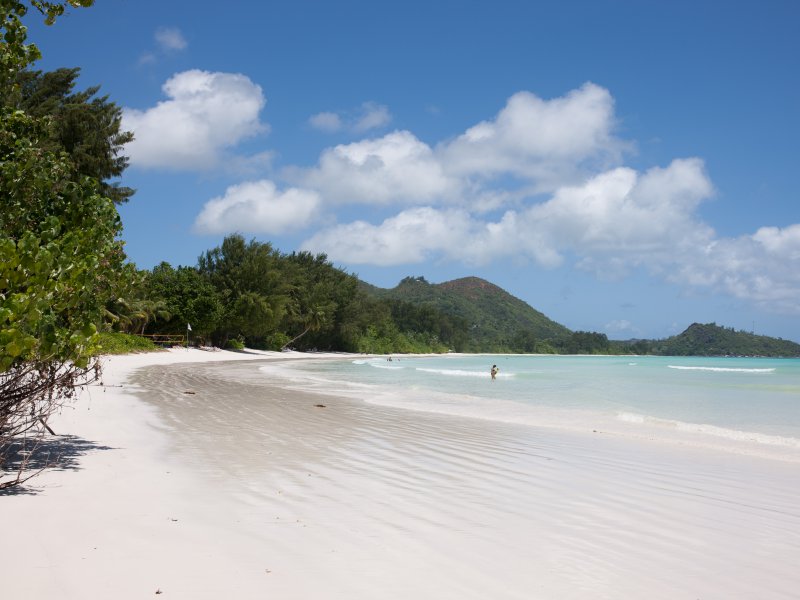 the longest beach on Praslin (about 2.5km long)
the beach passes by many accommodations and the areas in front of those buildings are more crowded
access on foot, by car (parking is possible on the road parallel to the beach), by bus or by boat
natural shade
high variety of activities to do on this beach like swimming (shallow water makes it well-suited to families with children) and different water sports (snorkeling, windsurfing, scuba diving, sailing etc)
nearby facilities
---
NATURE RESERVES – check out SeyVillas' website for a detailed description of the next two nature reserves from Praslin
4. Visit Vallée de Mai National Park (official website)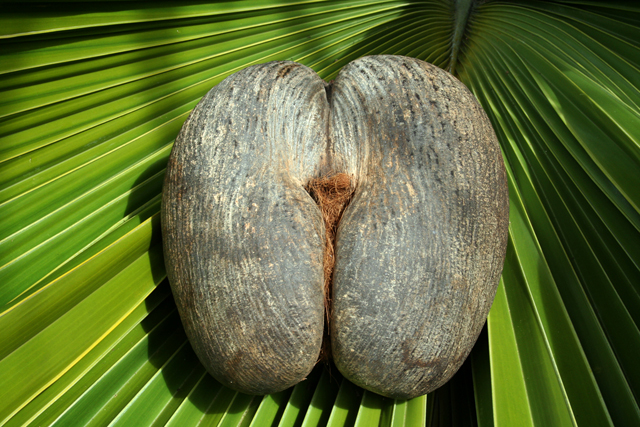 it is a part of Praslin National Park (UNESCO World Heritage Site)
it is by far the most visited natural site in the Seychelles
under the control of Seychelles Islands Foundation (SIF)
perfect for nature lovers, birders and photographers
home to the largest forest of Coco de Mer palm (which is endemic in the Seychelles and protected by the Seychelles Government)
Coco de Mer is a giant in the plant kingdom – World's biggest nut & heaviest nut & longest leaves of any flowering plant & longest male flower (the heart-shaped fruit produced by the female tree weighs up to 25 kg)
many other plants are found there like vanilla orchids and different species of palms; moreover, the park is home to many species of lizards, frogs and birds such as the Seychelles bulbul, the blue pigeon and the black parrot which is the national bird of the Seychelles
access by car (rented or taxi) / on foot / public bus / organized tour
the walking routes' distances around the park vary from 1.5 km to about 4 km
entrance fee is SCR 350
opening times 8.00 – 17.30 (closed on 25th December and 1st January)
free guided tours (in English or French) available daily at 9am and 2pm
onsite facilities (cafeteria, lockers, parking area, souvenir shop – it is possible to buy a Coco de Mer as a souvenir, but due to its uniqueness the prices are very high, between €200 and €600)
5. Visit Fond Ferdinand Nature Reserve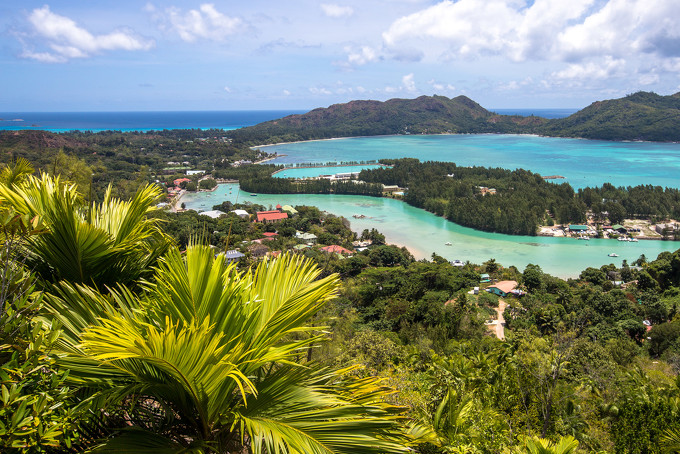 Image source © Simone Schwerdtner
located near Anse Marie-Louise beach (there is a red sign in the car parking that indicates the starting point of the reserve)
opened in 2013
can be reached by bus or car (rented / taxi)
six times larger than Vallée de Mai, but not as popular as that one
home to many more endemic plants and animal species than Vallée de Mai (including Coco de Mer)
it takes about 2.5h round trip up to the viewpoint (beautiful view over Praslin and other islands in the Seychelles)
a personal guide is always included
there are four tours daily (last tour leaves at 13:00 pm)
---
HIKING TRAILS – check out SeyVillas' website for more hiking trails on Praslin
6. Hike the Glacis Noir trail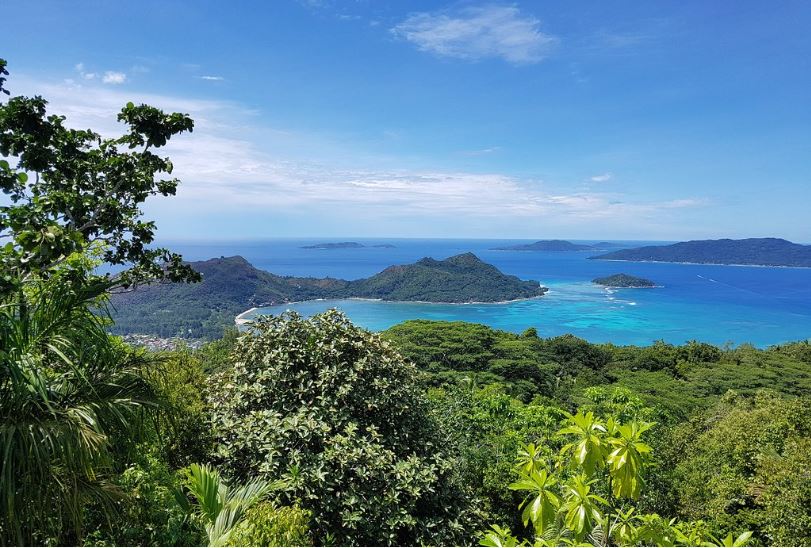 How to get there? The trail's starting point is next to Vallée de Mai Reserve. Walk a small distance from the park's entrance heading towards Baie St Anne until you reach a path with a chain. This is the start of the Glacis Noire trail. Follow that track until the end.
official trail in Praslin National Park
check out this link for a detailed description of the trail (map, duration, difficulty, elevation gain, details about flora&fauna, photos from the trail etc)
medium difficulty
not frequented by many visitors
on the trail there is a fire tower built on a hilltop; it offers a nice view of La Digue and surrounding smaller islands; it is advised not to climb that tower because it might be home to many termites
the trail between Vallée de Mai and the hilltop is easy, but the part after the viewpoint to Baie Sainte Anne is much more difficult because the path is not particularly well maintained, so it is covered by vegetation
along your way you may be able to see the Seychelles Black Parrot, the Seychelles Black Snail, the famous Coco de Mer (Lodoicea maldivica), all of them endemic to the Seychelles
the first part of the trail has areas that have been affected by fire and the vegetation is different there
---
DIVING & SNORKELING – check out Octopus Diving Center's website to find a detailed description of the amazing places where you can dive near Praslin and check out Snorkeling Report's website to see a map with snorkeling spots on Praslin
7. Do snorkeling or scuba diving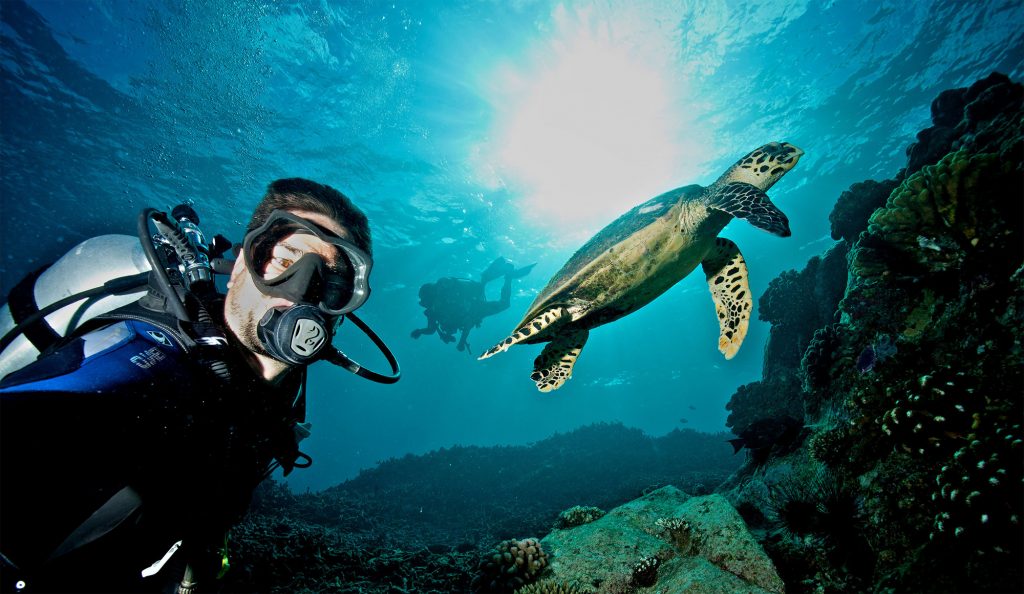 Diving and snorkeling around Praslin offers an amazing experience. That island offers many amazing spots with various rock formation and beautiful vegetation where the abundant marine life can be discovered. Visibility under water varies depending on currents and tide.
Contact one of the diving centers to plan your dive.
---
SIGHTS – check out SeyVillas's website for more suggestions of places to visit in the Seychelles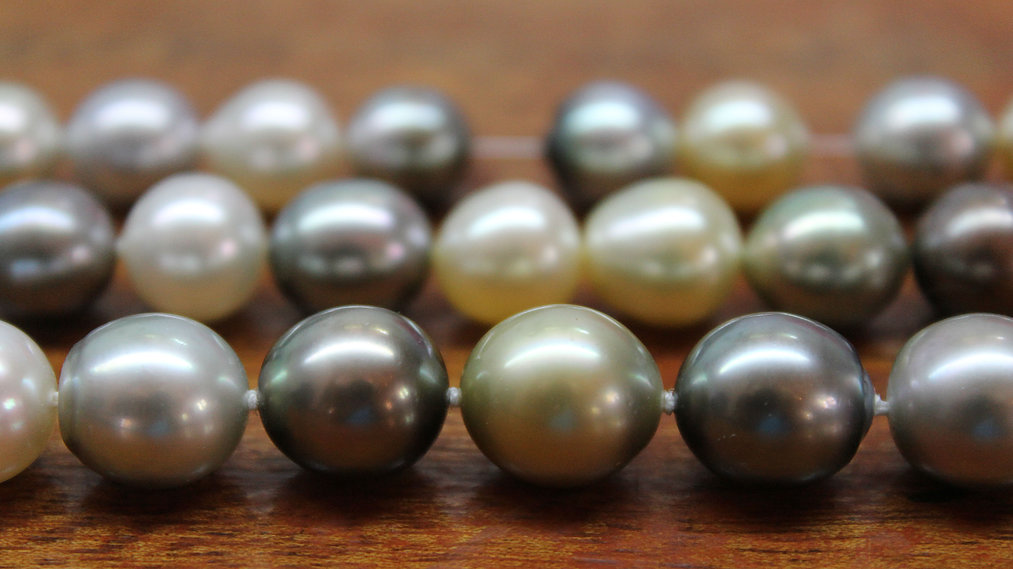 Image source
Black Pearl Seychelles has been in business for 20 years. They have a gallery and a workshop at Amitie on Praslin. The black-lipped oyster is the only one which produces the black pearl. In the workshop visitors can find those clams, see how the pearls are processed, and they can also buy a finished product (rings, earrings and pendants).
---
GOLF – check out this website to find the prices for playing golf
9. Play golf at Lémuria Resort Golf Course (official website)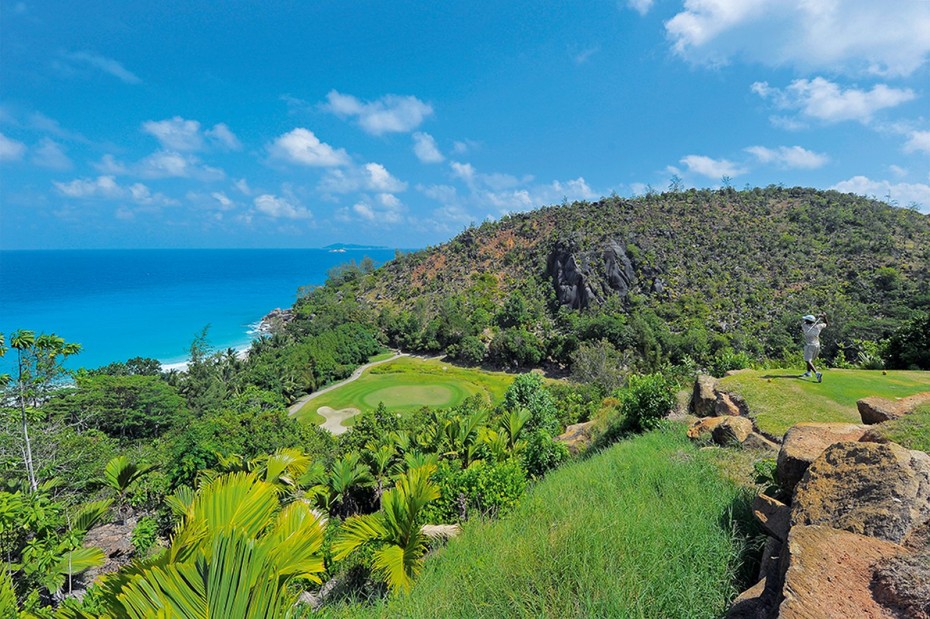 The Lémuria Resort Golf Course is one of the most spectacular golf courses in the World.  The terraced green fields offer an incredible view over the infinite blue ocean. Golf lovers will be amazed by this spot !
---
ISLAND HOPPING – check out SeyVillas' website to find more about the inner islands
10. Take a day trip to one or more of the neighboring islands
If you dispose of a higher budget go visit one of the most treasured inner/outer islands in The Seychelles to discover the spectacular wildlife. Those islands are conservation areas and for some of them you have to pay a landing fee which goes towards the maintenance of the reserves.
Praslin's surrounding islands include Curieuse and Aride Islands in the North, Saint Pierre in the North-East, Cousin and Cousine in the South-West. There are a few islets that lie offshore of Praslin including Round Island and Chauve Souris, both of which have hotel accommodations. There are also other islands like Félicité, Petite Soeur, Grande Soeur and Marianne, but they are closer to La Digue.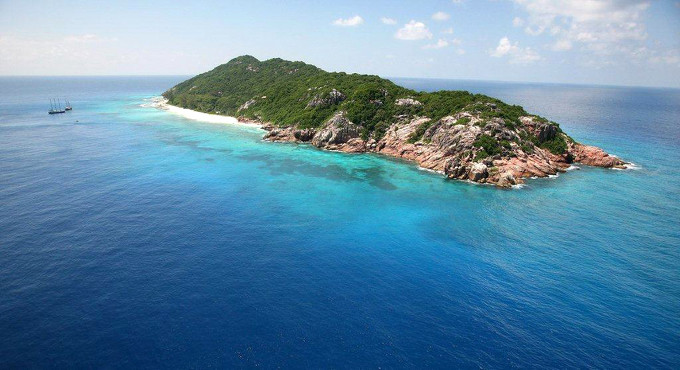 Image source
Chauve Souris
secluded place for an intimate vacation
granite island covered with tropical forest
privately owned
located at 300 meters away from Praslin
fauna is limited
more information here: General description & Hotel Chauve Souris Club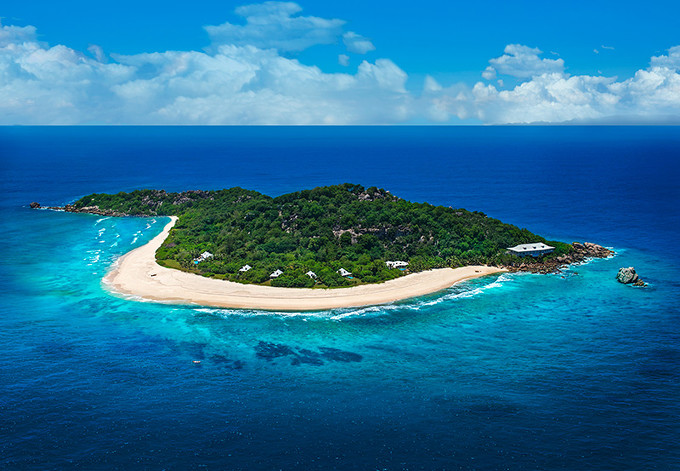 Image source © Seychelles Tourism Board – Photo: Raymond Sahuquet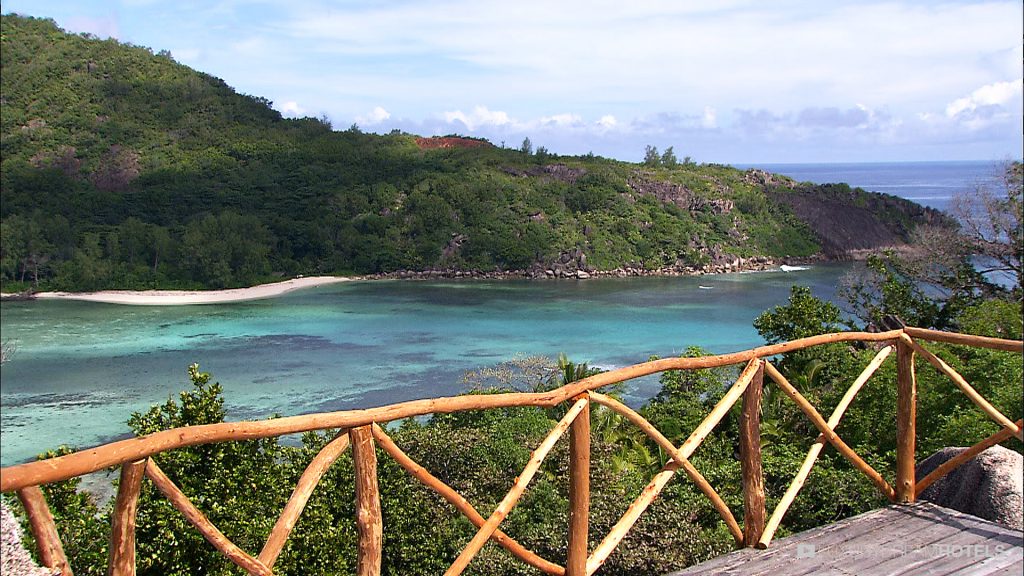 Saint Pierre Island
small uninhabited granite island
popular with sailors and snorkelers
more information here: General description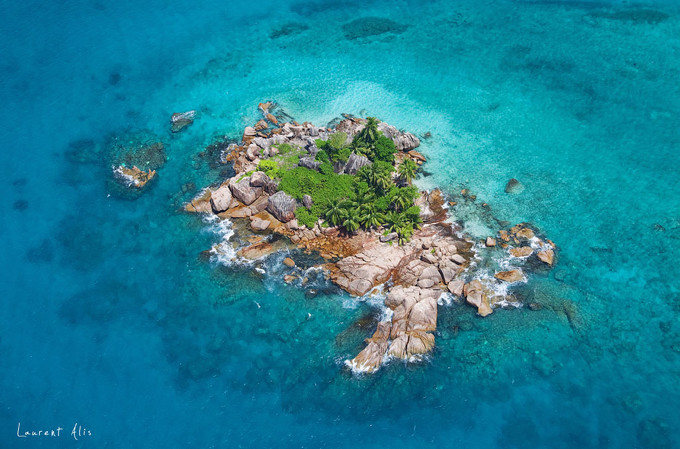 Keep on reading IDR's articles to discover the amazing Seychelles and many other incredible places on this Earth.
---
Additional sources: [7south.net][arideisland.com][booking.com][constancehotels.com][cousinisland.net][cousineisland.com][creolepay.com][go-seychelles.com][indian-ocean.com][inspirock.com][islandconservationseychelles.com][luxurydreamhotels.com][natureseychelles.org][octopusdiver.com][planetware.com][seychellesnewsagency.com][seyvillas.com][seychelles.travel][sif.sc][snorkeling-report.com][snpa.gov.sc][theculturetrip.com][tripadvisor.com][wikipedia.org][wildlifegolf.com]